Written by: William on May 29, 2015 at 1:47 pm | In
LIFESTYLE
|
No Comments
Mount Shindake has erupted without warning on the island of Kuchinoerabu, 130 kilometers south of Kagoshima. Boats have been sent to the island to evacuate the population of 147. So far there are no reports of damage or injuries.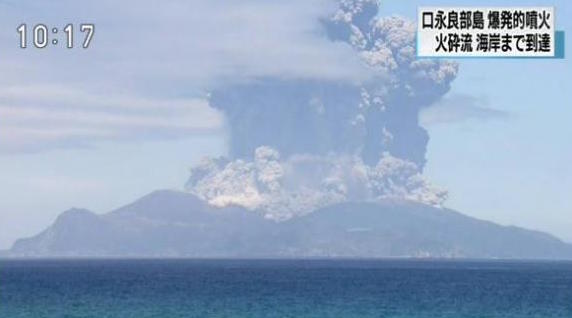 Here you can see videos of the incredible plume, which reached heights of over 9,000 meters.
The island's population is 147. A .gif of the eruption: pic.twitter.com/NFrmcnwcqW

— Nippon.com (@nippon_en) May 29, 2015
Another .gif showing the extent of the blast: pic.twitter.com/WZpsIUs0Om (via @satake_take)

— Nippon.com (@nippon_en) May 29, 2015
As often is the case with volcanic activity, the results are a strange mix of the beautiful and the terrifying.
A trip to nearby Yakushima turns into an incredible photo op for @TAKUYAbluewhale: pic.twitter.com/UjuGRiJsis

— Nippon.com (@nippon_en) May 29, 2015
The eruption has implications for air traffic in south Japan.
Mount Shindake is located about 650 metres above sea level and last erupted in August 2014 for the first time since 1980.
There has been a flurry of volcanic eruptions in Japan recently. Mount Ontake erupted in September 2014, killing 57 hikers. Sakurajima also erupted again in 2013, sending ash over Kagoshima City, followed by another eruption in April 2015.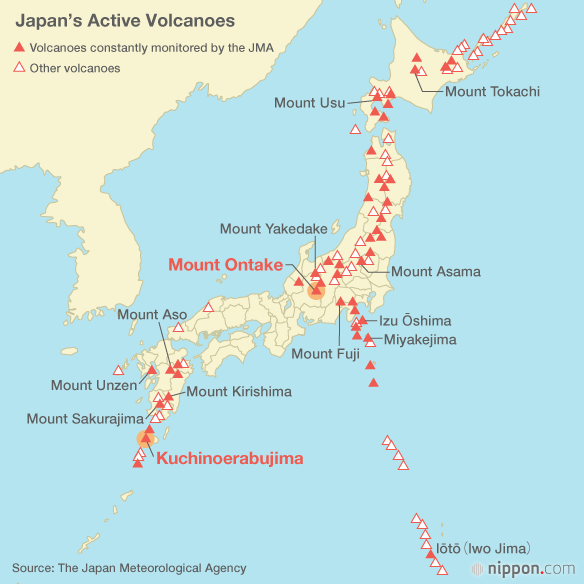 Though feted as a tourist destination and UNESCO World Heritage site, Mount Fuji is also an eruption-in-waiting. Such a disaster would displace 470,000 people due to ash fall and potentially cripple the Tokyo-based national government.
The resources to monitor Japan's 110 active volcanoes have also been decreasing in recent years, meaning the Japan Meteorological Agency keeps round-the-clock watches on only 47 peaks.

Tags: Disasters
Category: LIFESTYLE
Other categories: COOL PRODUCTS, CULTURE, GO SEE, NEW TECH
Written by: William on May 28, 2015 at 2:13 pm | In
COOL PRODUCTS
|
No Comments
Bandai Namco has announced it is offering individual customers a chance to their hands on their own Star Wars arcade machine!
Yes, if you're a real Star Wars fan you will definitely want to step inside the Star Wars Battle Pod, a fully immersive arcade game machine.
There's only one snag: it will cost you ¥4,560,000, roughly $37,000.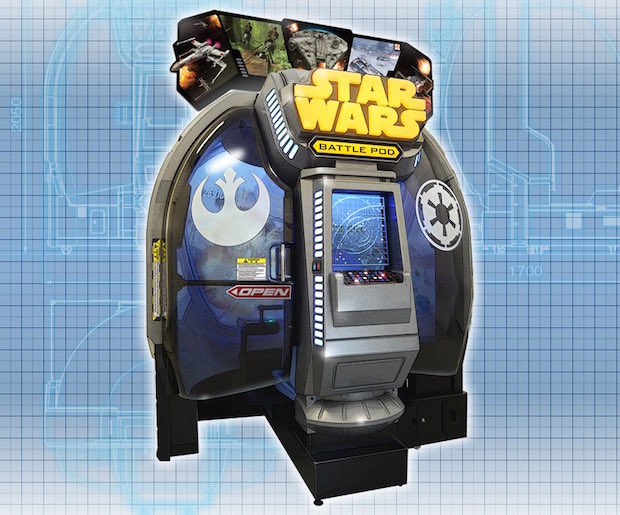 According to Kotaku, there is also a "premium edition" version that is even more: ¥12,000,000, or nearly $100,000!
The designs—a Rebel pilot's helmet and Darth Vader—are unique to the premium versions. The pod's movable seats are covered with real leather, the cabinet has exclusive carpeting, and the machine comes with a specially bound owner's manual.

Each cabinet is numbered and emblazoned with the owner's name on a plaque. And in the game, the owner's name appears in the credit scroll. And so, a hundred grand price tag.
However, the Bandai Namco website says that currently there are no plans to sell the premium edition.
Orders are only being taken domestically for the regular Star Wars Battle from June 18th.
In the words of the official website:
Star Wars™: Battle Pod™ is a experiential arcade game that features a dome-shaped screen, transporting players into heated battles in a galaxy far, far away. In iconic locations like the Death Star, players will be able to take control of some of the most memorable vehicles and morments in the Star Wars universe and pilot them to victory.
The new interactive arcade shooter by Lucasfilm, Disney Interactive, and Bandai Namco has multiple games and locations, including Hoth, Yavin, Endor and the Death Star.
If you can't afford your own Star Wars Battle Pod, you can check for arcade locations in America, the UK and Japan. There are currently two machines in Tokyo.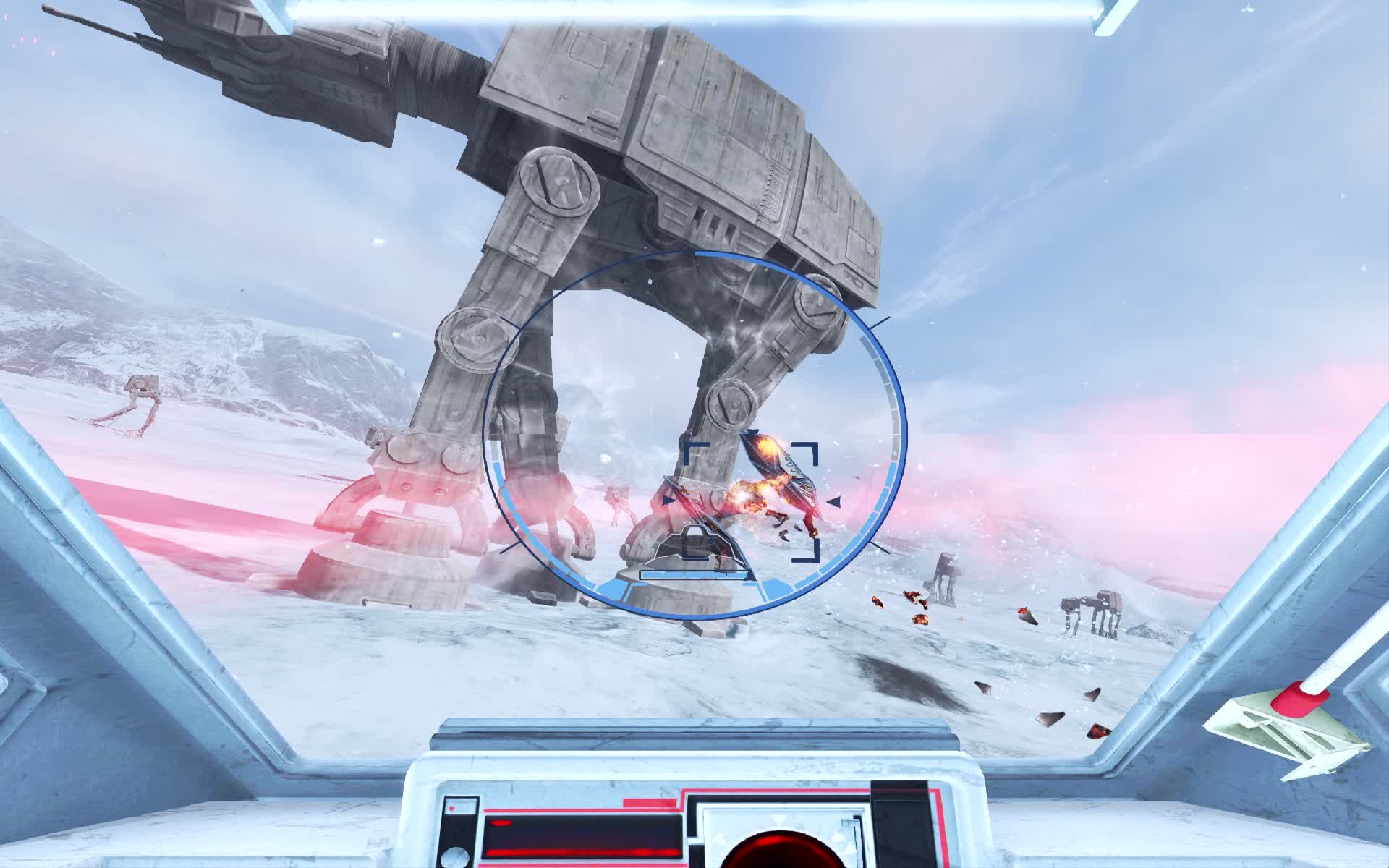 The Japan market frequently has exclusive tie-in merchandise that no one else gets.
The latest example is the Star Wars Interactive Bluetooth Snow Globe, which syncs with your smart device to create a "powder snow dance" effect in time with your music.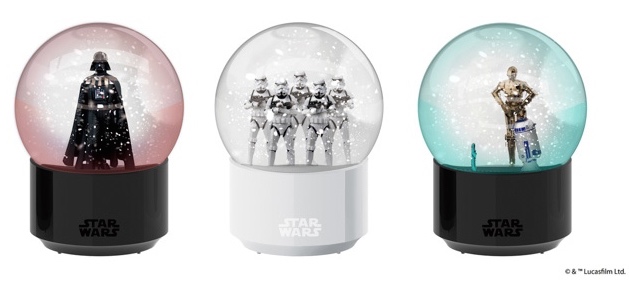 Past products include a holographic R2-D2 Original Sound Virtual Keyboard, the bestselling Star Wars English-Japanese Dictionary for Padawan Learners, the R2-D2 Talking Fridge Gadget, and the Star Wars Nestle Gold Blend Coffee Machine.
Star Wars is huge in Japan at the moment, including a massive exhibition in Roppongi.
Oh, and of course there's a certain small movie getting released this December. We can't wait to see what tie-ins that brings!

Tags: Video Games
Category: COOL PRODUCTS
Other categories: CULTURE, GO SEE, LIFESTYLE, NEW TECH
Written by: William on May 27, 2015 at 11:22 am | In
CULTURE
,
GO SEE
|
3 Comments
"Schoolgirl Animals" is an exhibition currently running at BAMI Gallery in Kyoto until May 31st, featuring an array of beguiling images of female school students in their uniforms and other schoolgirl paraphernalia, but with incongruous animal heads.
The solo exhibition showcases the work of Takumi Kama. His stunning portraits include schoolgirls combined with a zebra, cheetah, monkeys, giraffe, deer, and more.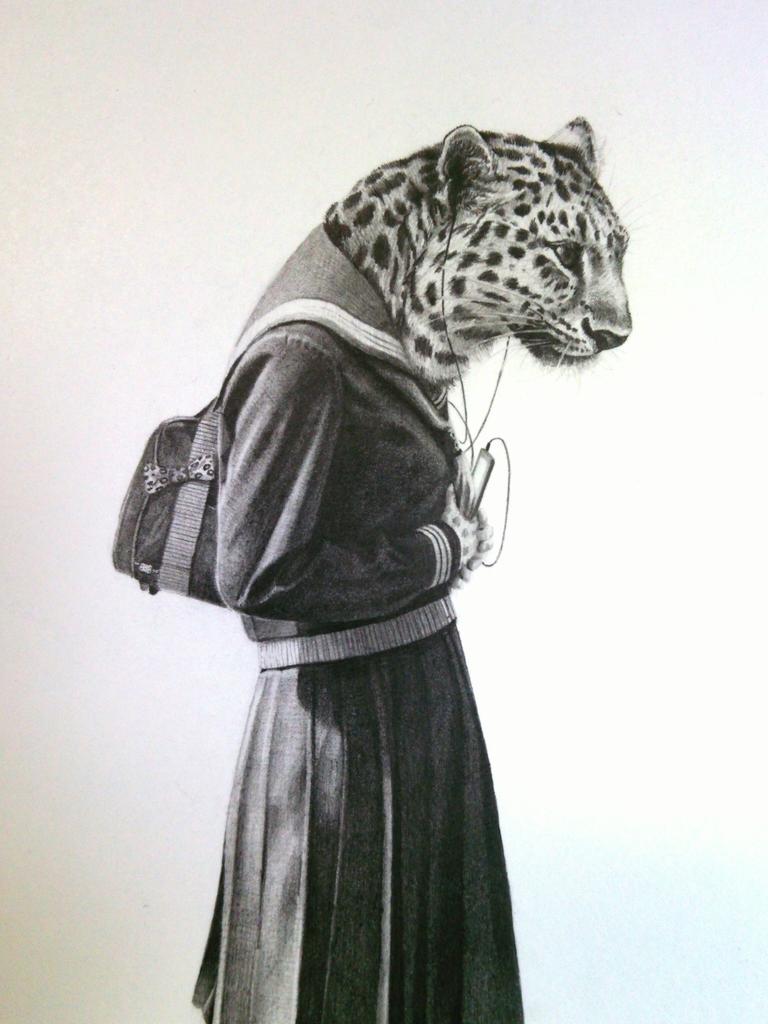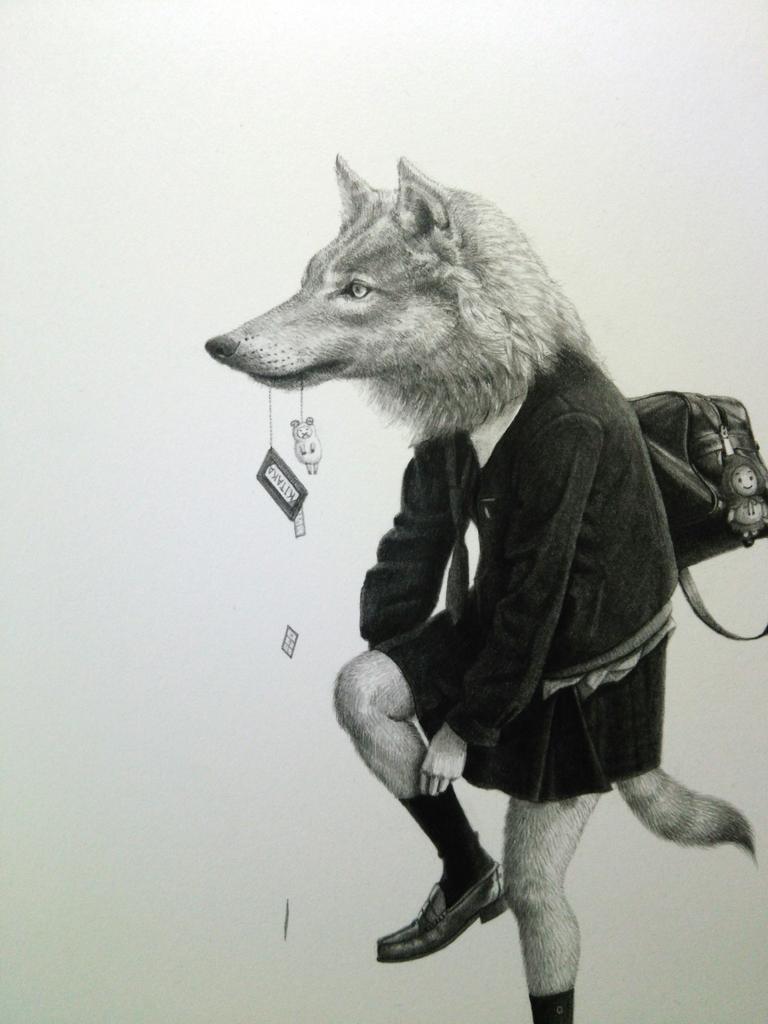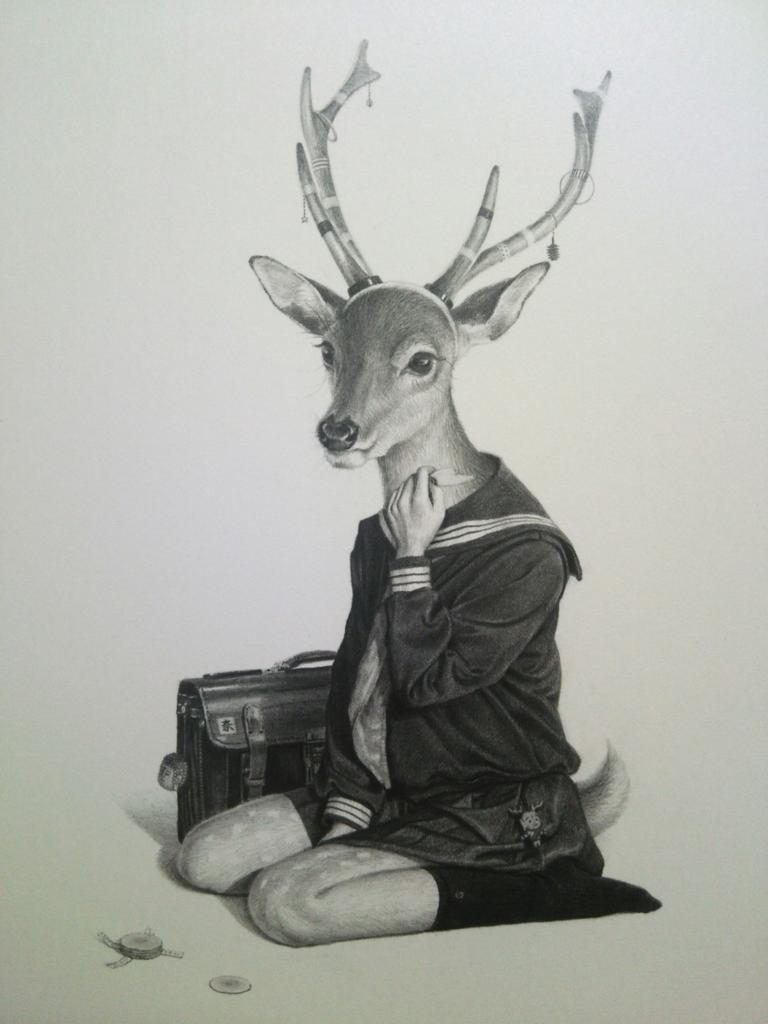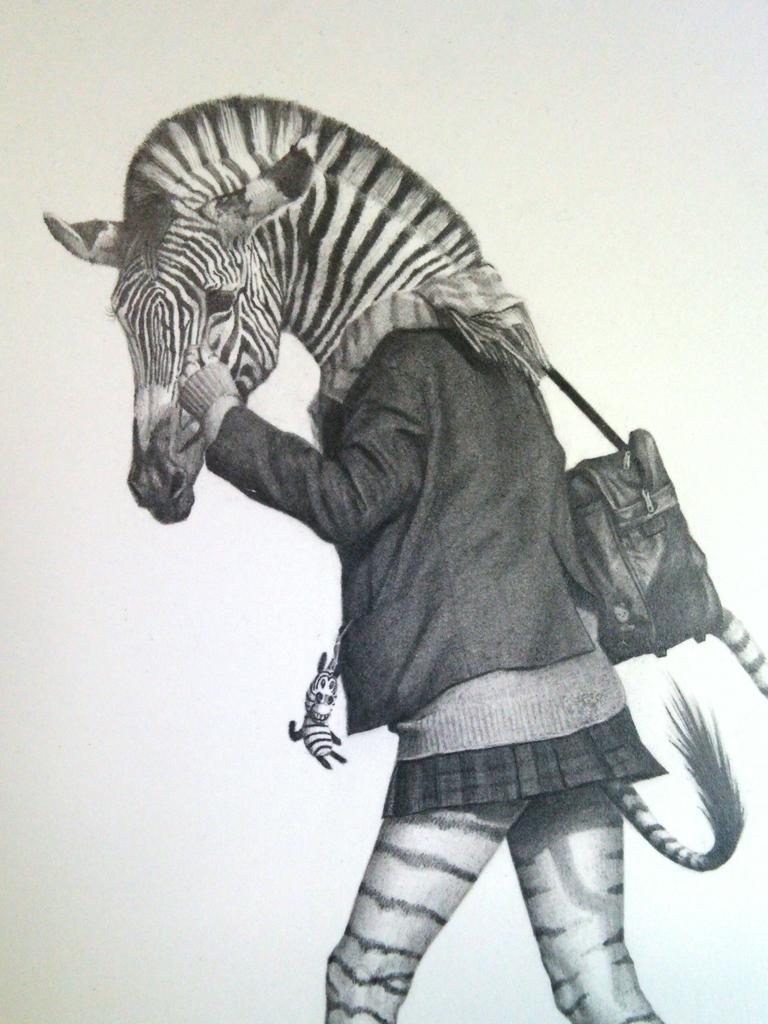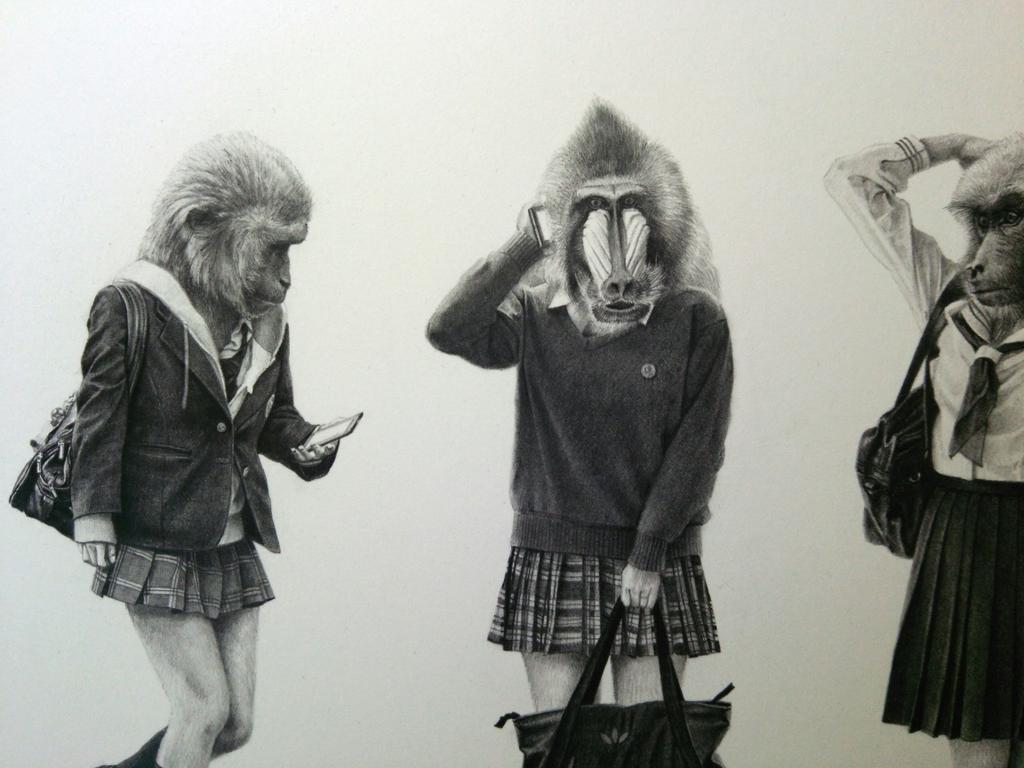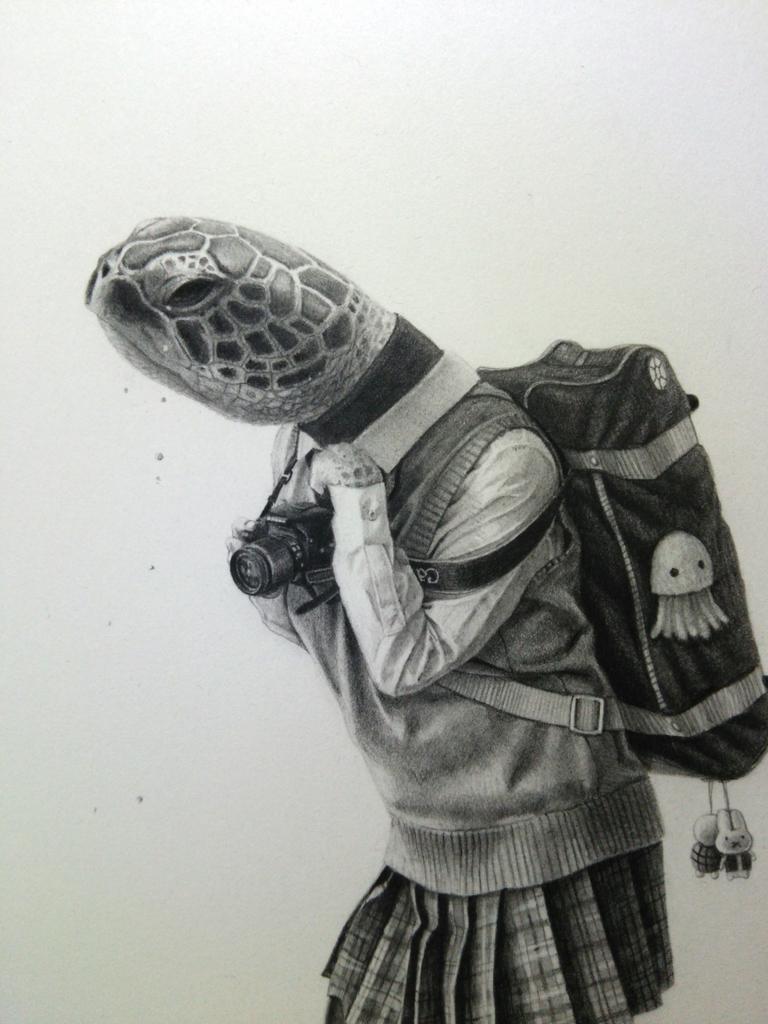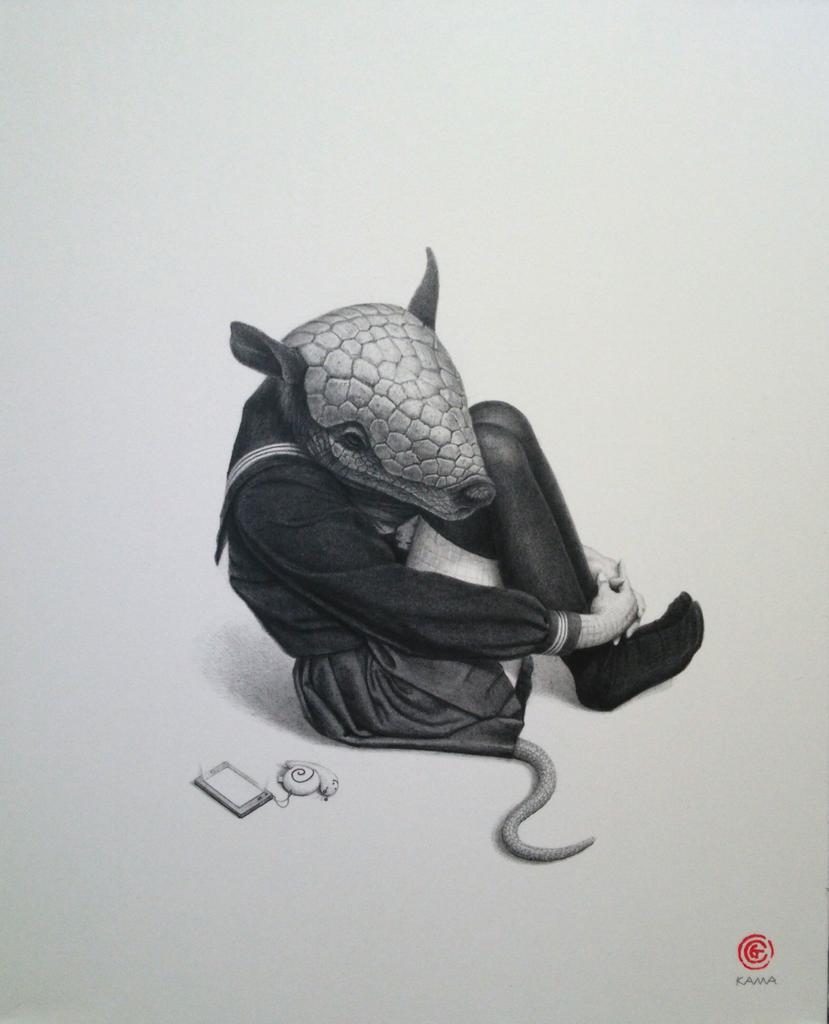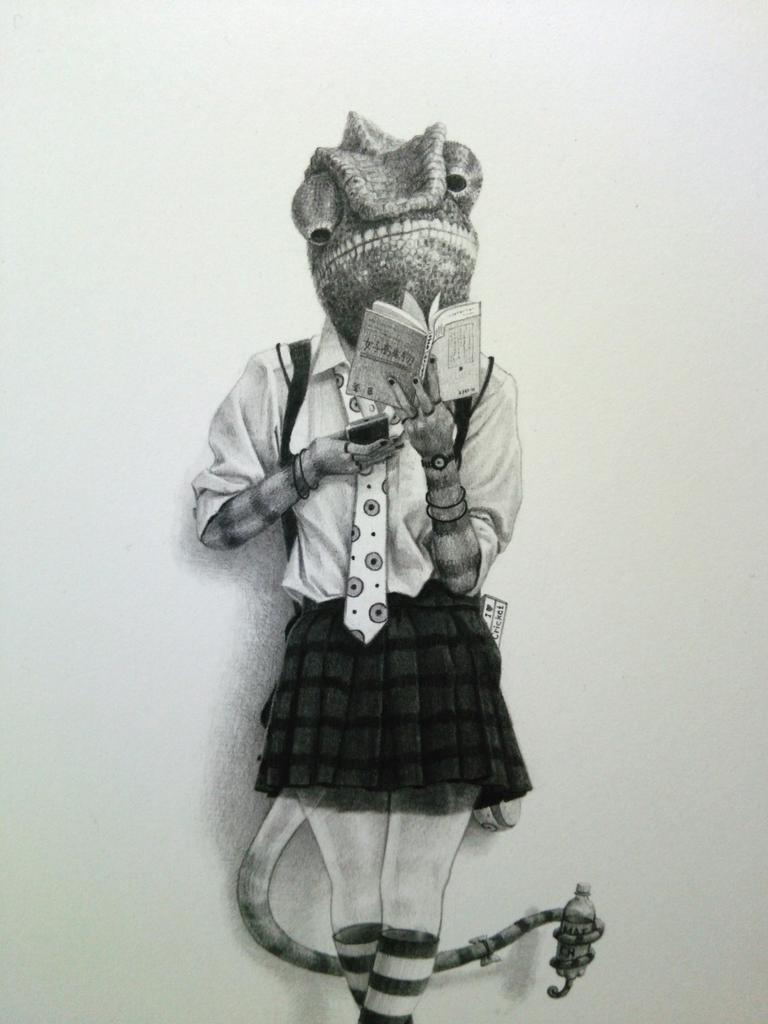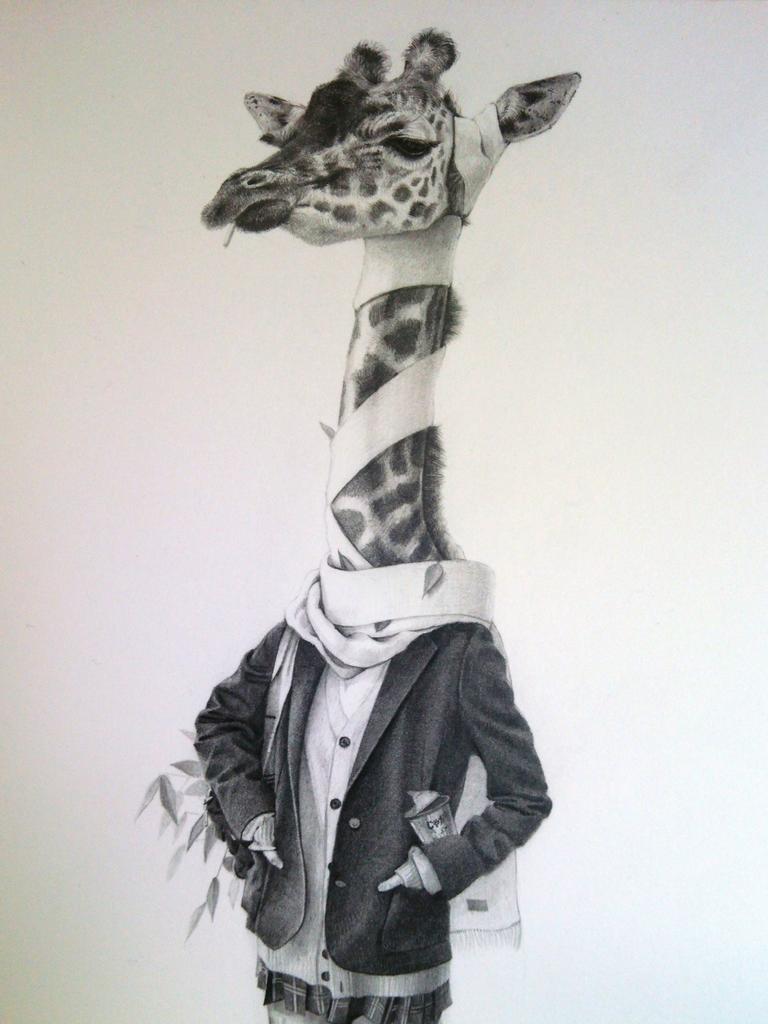 Schoolgirls are a continual obsession for artists and designers in Japan, especially their uniform as a motif.
Photographers like Yuki Aoyama have made whole careers out of series of schoolgirl images and the results aren't necessarily sleazy (though that taint does also, unmistakably, linger).
The recent Design Festa featured an "interchangeable schoolgirl uniform" by Maori Iguchi.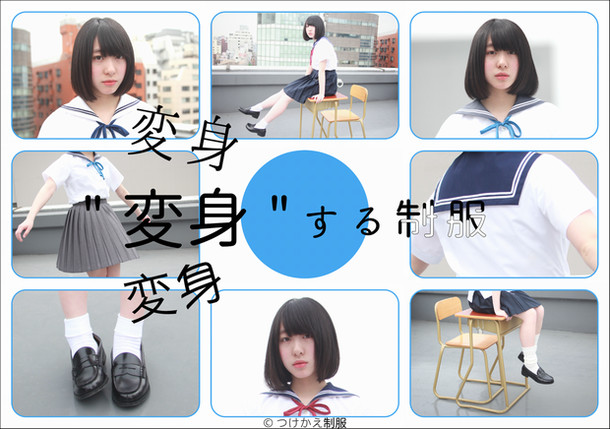 "Schoolgirl Animals" also taps into the culture in Japan for moe anthropomorphism, specifically kemonomimi. This is most famously expressed in the form of catgirl characters, where anime or illustrated figures have cat tails and cat ears (nekomimi) — something even clothes for pet-owners like to indulge in!

Tags: Art, Events
Category: CULTURE, GO SEE
Other categories: COOL PRODUCTS, LIFESTYLE, NEW TECH
Written by: Japan Trends on May 26, 2015 at 10:14 am | In
COOL PRODUCTS
|
No Comments
Japan's pet trends are never anything but surprising. Sometimes they are a bit silly, sometimes they are incredibly innovative. Sometimes they are just plain indefinable, such as the Oppo Dog Muzzle Quack, which went viral a couple of years ago.
The latest to get a lot of attention, online at least, is the Mewgaroo Hoodie Pet Pouch Sweatshirt. This is a special item of clothing designed by Unihabitat to include a "cuddle pocket" so your cat will always be near, whether you are watching TV, working, or just relaxing at home.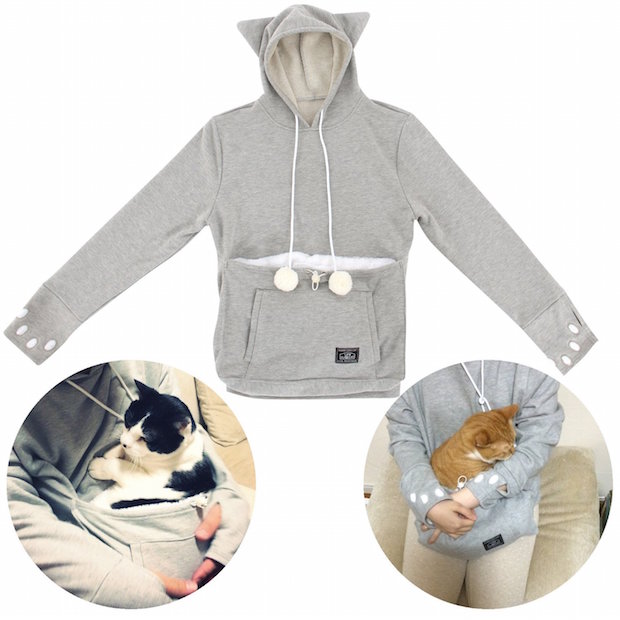 Even better, the medium-sized version has nekomimi (cat ears) so you can really make your feline friend feel at home with some cosplay.
There are also cat paw markings on the sleeves and dangling balls for the cat to play with while nestling up to you in the pocket.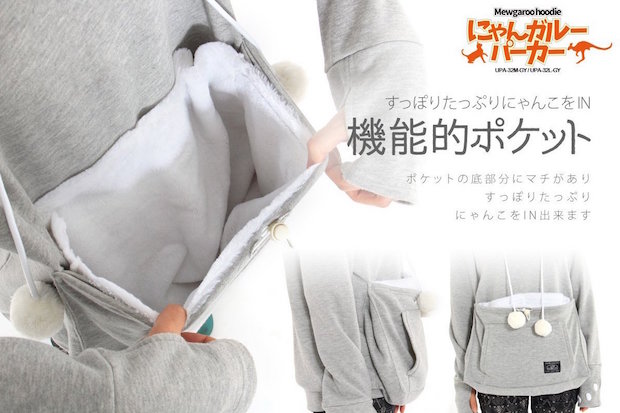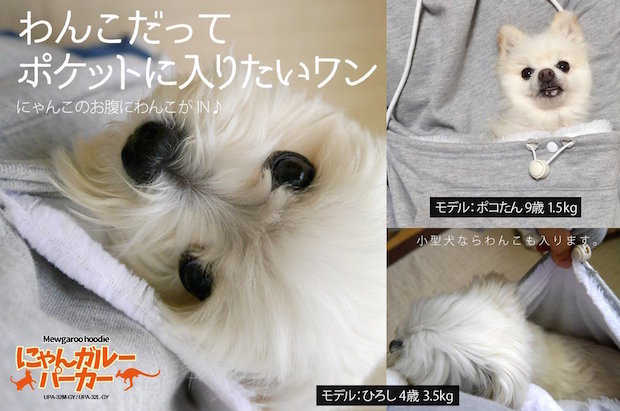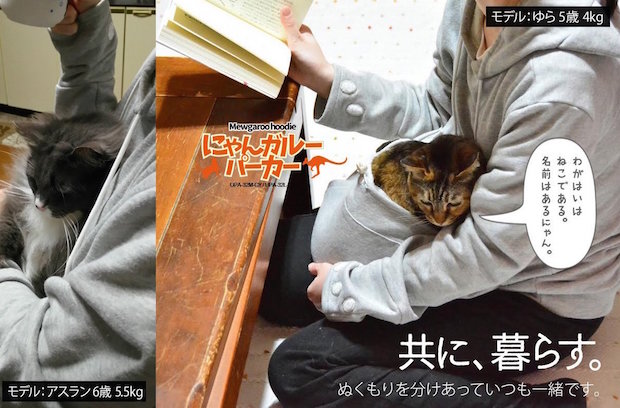 Don't worry, if you're a dog lover, small pooches should also fit in the Mewgaroo too.
The good news is that the waiting is over: after some days of frantic online buzz while it was still only on preorder, the Mewgaroo is now available for overseas orders.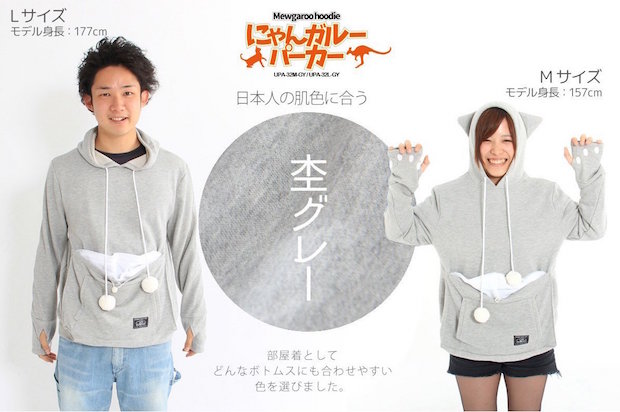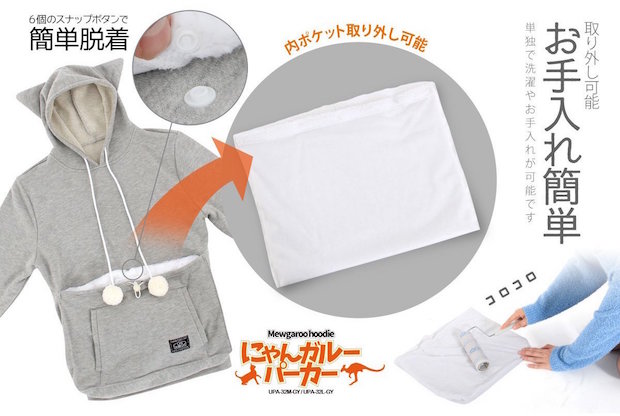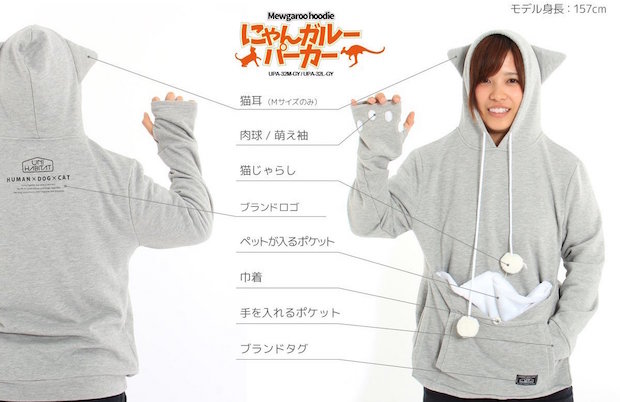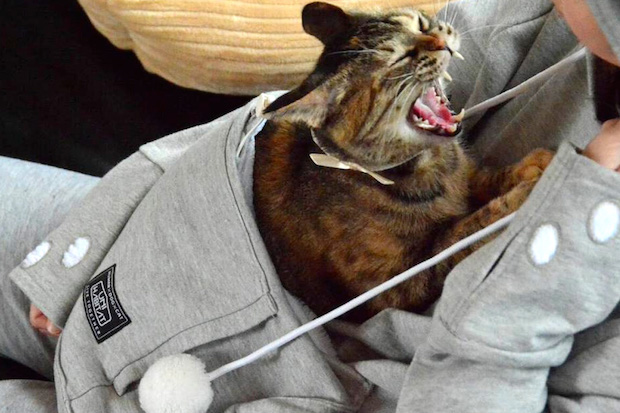 The hoodie comes in two sizes and in a gray color — bizarrely the color choice is claimed by Unihabitat to be motivated by the color that "best suits" Japanese skin. We think that's bosh but anyway, the Mewgaroo looks great.
Due to high demand, stock is limited so be sure to order your Mewgaroo as soon as you can.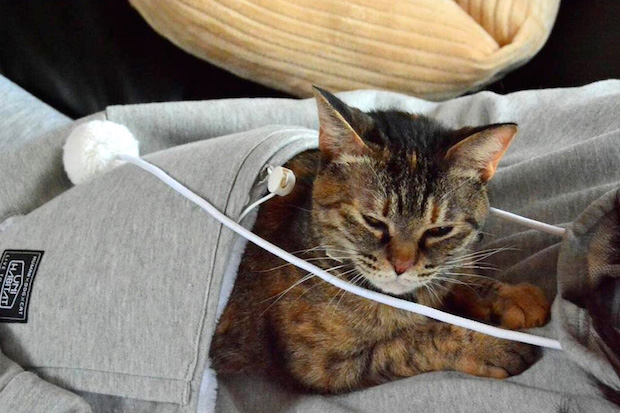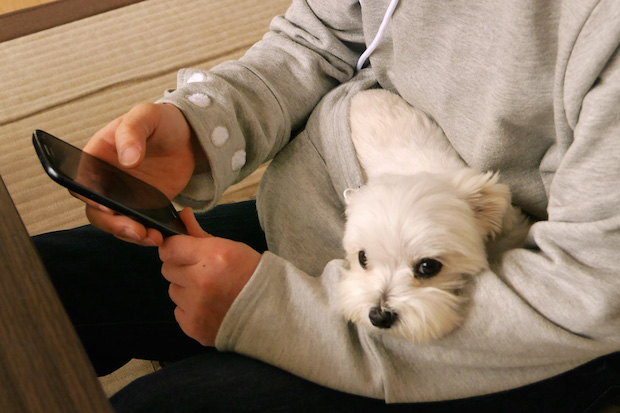 It's practical too: the pet pocket lining can be removed for ease of cleaning, since it's going to get a lot of hair in there.
Unihabitat is a newcomer to the scene but has already established themselves very firmly with a series of bold and fun pet accessories: there's the Katatsu Mobile Kotatsu Cat Table, the Hot Dog Canine Clothes, and the Extreme Cat Tunnel, to name just some.

Tags: Pets
Category: COOL PRODUCTS
Other categories: CULTURE, GO SEE, LIFESTYLE, NEW TECH
Written by: William on May 25, 2015 at 2:46 pm | In
CULTURE
,
LIFESTYLE
|
No Comments
Contributing further to the continuing public discourse in Japan about gay rights and same-sex marriage, the first volume of Otouto no Otto (My Brother's Husband) was published as a paperback on May 25th.
Published by Futabasha, Otouto no Otto is written by Gengoroh Tagame, whose website says he creates "gay erotic art". Clearly that also includes manga too and this new manga seems relatively mainstream compared to his more risque other titles. It is currently being serialized in Gekkan Action.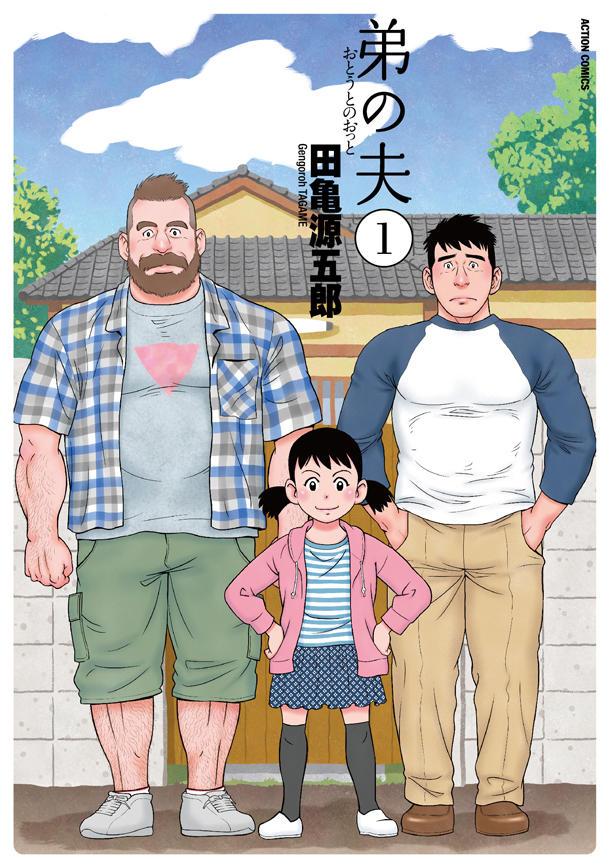 Otouto no Otto not only raises the timely issues of gay parenting and same-sex partnerships, it also examines interracial couples too. The story revolves around Yaichi and his daughter Kana, who are visited by Mike, the Canadian husband of Yaichi's twin brother.
Tagame, who is openly gay, has a growing reputation overseas and his work has been translated into French and English. He is arguably the most influential gay manga-ka today.
Shibuya ward recently gave tacit legal recognition to same-sex couples and the "marriage" of lesbian celebrity couple Ayaka Ichinose and Akane Sugimori also attracted a lot of media attention.

Tags: Manga, Sexuality, Social Issues
Category: CULTURE, LIFESTYLE
Other categories: COOL PRODUCTS, GO SEE, NEW TECH
Written by: William on May 22, 2015 at 9:28 am | In
LIFESTYLE
|
1 Comment
Konica Minolta Planetarium Manten in Sunshine City is set to undergo renovations in September and reopen in December with special "grass lawn" and cloud" seats.
The idea is that you can lie back and pretend you are watching the stars from your garden or while floating in the air.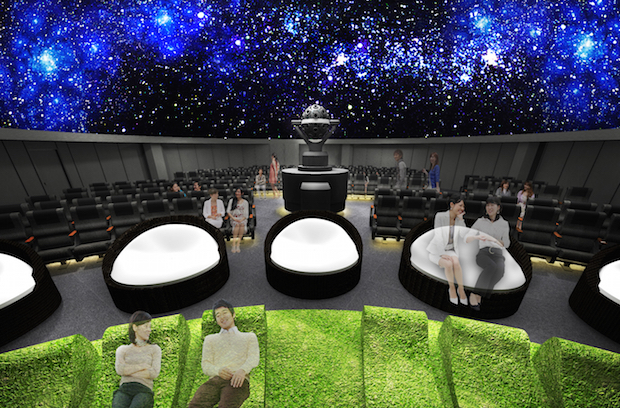 Located in Ikebukuro, a neighborhood in northwest Tokyo, the planetarium will still have regular seats but for anyone who has ever dreamed of riding a cloud to watch the heavens, now is your chance. The lighting is also going to be adjusted so it resembles candle light.
Hoping to benefit from the kind of renaissance east Tokyo has seen thanks to the Tokyo Skytree, Ikebukuro is attempting a face-lift ahead of the Olympics. While it's not quite the Hikarie, the oddly named Wacca complex opened in the famously rather run-down district last September. The local Toshima ward government also pours lots of funds into arts projects in the area, including Japan's largest theatre festival that takes place mostly at venues around Ikebukuro.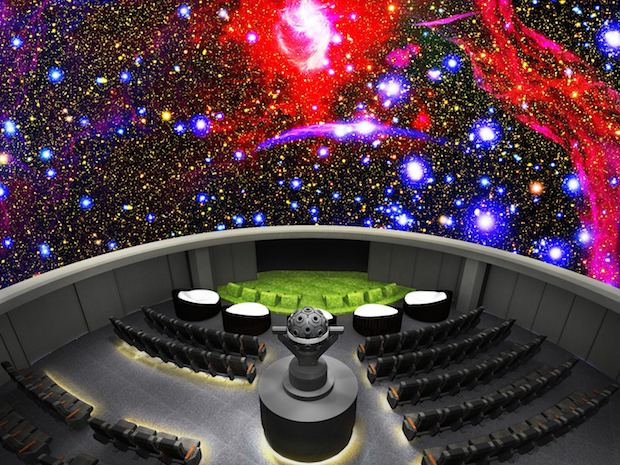 Japan has a fondness for planetariums (or planetaria, if we want to be formal). There are a surprising amount of planetarium facilities tucked away inside malls and even public libraries.
Back in the 1990's, Takayuki Ohira designed the Megastar, the largest ever planetarium with over a million stars.
He also helped developed the Sega Toys Homestar series of home planetariums. Though they have stopped releasing new entries in recent years, this was a phenomenally successful series and testifies to the interest in planetariums among Japanese consumers.

Tags: Going out
Category: LIFESTYLE
Other categories: COOL PRODUCTS, CULTURE, GO SEE, NEW TECH
Written by: William on May 21, 2015 at 9:15 am | In
LIFESTYLE
|
1 Comment
Get ready for "Kiss Day".
Yes, this Saturday, May 23rd, is apparently the day of smooching, at least in Japan at any rate.
And Edition, a club in Akasaka, central Tokyo, is celebrating by asking couples to kiss, though not in the way you'd think.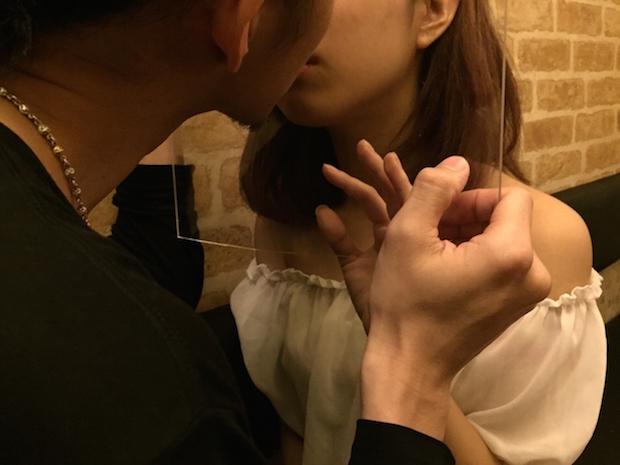 May 23rd is "Kiss Day" because it's the day that saw the release in 1946 of the first Japanese film with a kissing scene, Hatachi no seishun (20-Year-Old Youth). Not surprisingly, the scene was a decorous one by the standards of today but at the time it was a big deal.
Directed by Yasushi Sasaki and starring Kaoru Aikawa and Michiko Ikuno, the actors actually kissed each other through a gauze to protect their modesty.
Borrowing this concept, Edition's plan is to get several hundred couples to kiss through acrylic plastic panels of see-through plastic.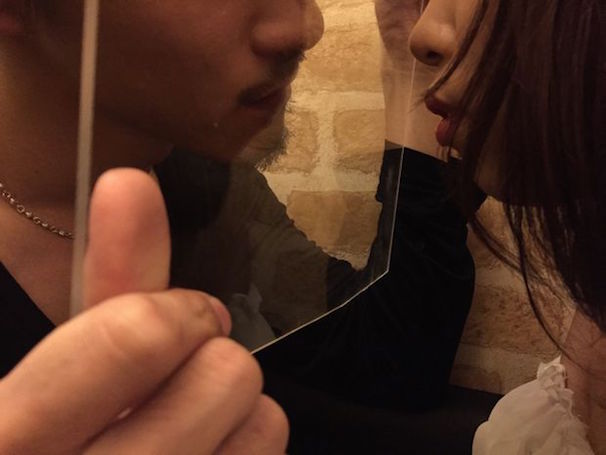 The party event is expected to attract around 250 people, though you have to be aged between 20 and 35 to join in. Oh, and it costs guys ¥5,500 ($45) and girls ¥3,000 ($25). That's an expensive kiss and we're not even sure if this counts as getting to first base.
Who says romance is dead?
In 2011 there was also this "kiss transmission" device. While the "acrylic kiss" is certainly more low-fi, we're not sure if it's any less weird.
Japan actually seems obsessed with anniversaries of late, from "Condom Day" (May 6th) to "Ninja Day" (February 22nd). Every month seems to bring another oddity, though the possibilities they present for promotional events are interesting enough.

Tags: Events
Category: LIFESTYLE
Other categories: COOL PRODUCTS, CULTURE, GO SEE, NEW TECH
Written by: Japan Trends on May 20, 2015 at 10:31 am | In
COOL PRODUCTS
|
No Comments
When I first arrived in Japan, my room mate had an alarm clock that played the Doraemon theme song — very, very loudly. So when he had to get up for his morning shift, it was like a full blue-and-white cat orchestra was playing right beside my ear, every single day.
This colored my perception of the time-travelling cat somewhat, though who can resist his charms for long? And who doesn't want a door that takes you anywhere?
Fujiko Fujio's Doraemon, despite being one of the longest-running manga and anime series in Japan, continues to attract new fans, and this then inspires new merchandise.
Like this Doraemon Giant Speaker.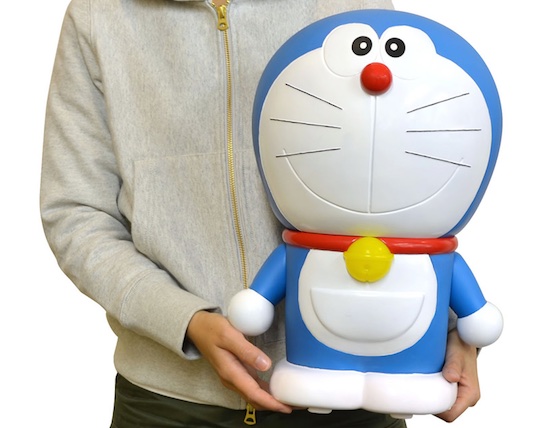 The large Doraemon figure features a speaker on the base that plays music from your MP3 player, phone or other audio device.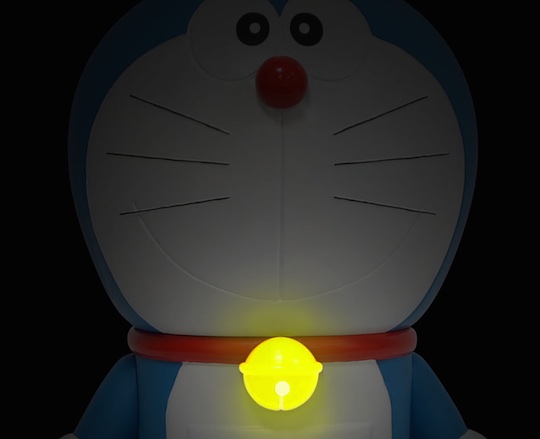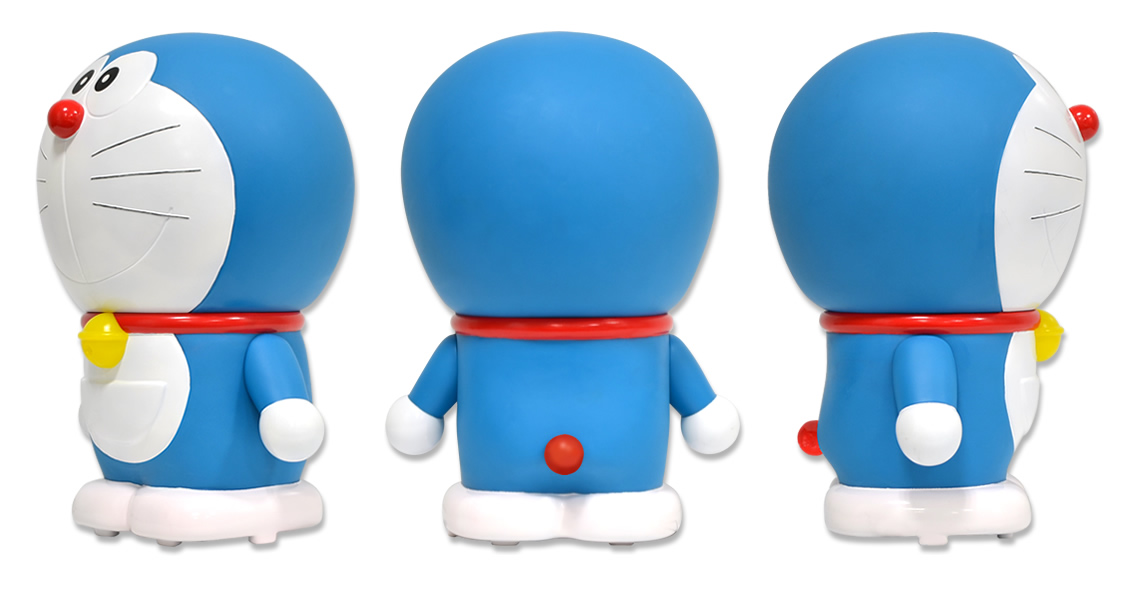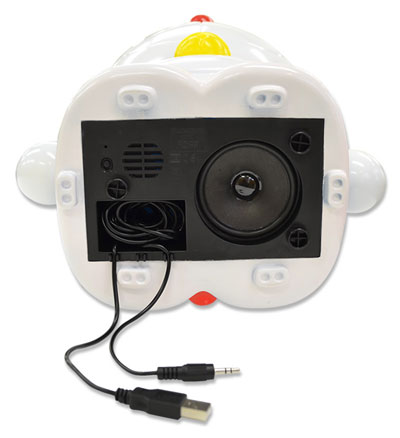 But perhaps the coolest thing is how Doraemon's cat bell lights up and flashes in time to whatever music playing.
There has been a revival of interest in the classic Doraemon franchise of late. The feature film Doraemon: Nobita no Himitsu Dogu Museum was the fifth highest-grossing movie of 2013 in Japan and made Doraemon more lucrative than Godzilla for studio Toho.

Tags: Anime, Manga, Music
Category: COOL PRODUCTS
Other categories: CULTURE, GO SEE, LIFESTYLE, NEW TECH
Written by: William on May 19, 2015 at 9:26 am | In
CULTURE
|
1 Comment
It was meant to be the triumph of the 2020 Olympic Games. But now it's going to be naked.
The controversial New National Stadium, the centerpiece of the Tokyo Games, will not be ready for the opening of the Olympics in five years' time. In order to be usable, the government says it wants to abandon the plan to have the stadium's dramatic retractable roof.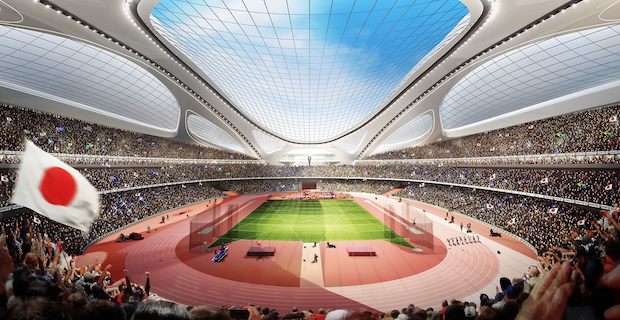 Japan's sports minister, Hakubun Shimomura, says it won't be complete in time and they need to make cuts to ensure it is ready for the opening. This also entails making 35% of the seats into temporary seating.
Designed by Iraqi-British architect Zaha Hadid, the stadium's arching roof is meant to rise 70m into the air. The stadium was proposed as a main venue for the 2020 Games as well as the 2019 Rugby World Cup, which is also taking place in Japan.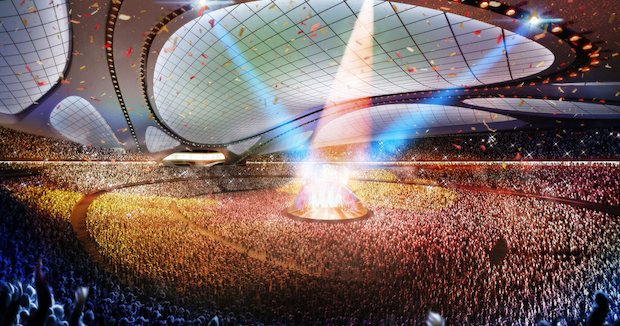 The 80,000-capacity stadium has been an albatross around the neck of the capital's Olympic preparations. Much criticized by Japanese architects since it was designed by an outsider and looks like a giant bicycle helmet, its size and budget has been heavily scaled back (it was $3 billion, now it's "just" $1.42 billion), and the national government and Tokyo are also haggling over who will foot the bill.
One of the main criticisms levelled at the stadium by Japanese architects was the roof, which heavily increases the cost of the project. However, the retractable roof was proposed to give the stadium a second life as a concert venue.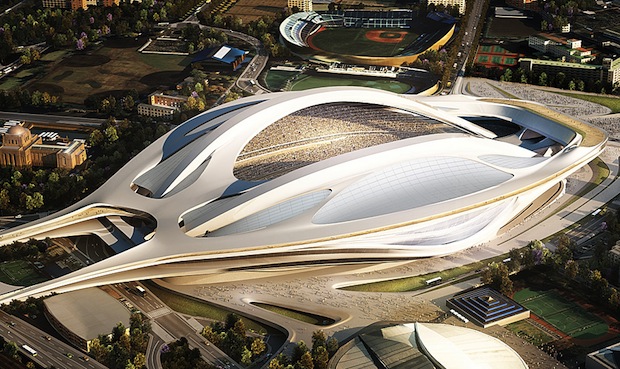 An opening ceremony in the stadium sans roof will affect the content of the ceremony, since the stadium is located in central Tokyo where there are strict rules on noise pollution.
The Tokyo Olympics was marketed as an "eco Games" because it could reuse many venues and facilities from the iconic 1964 Olympics.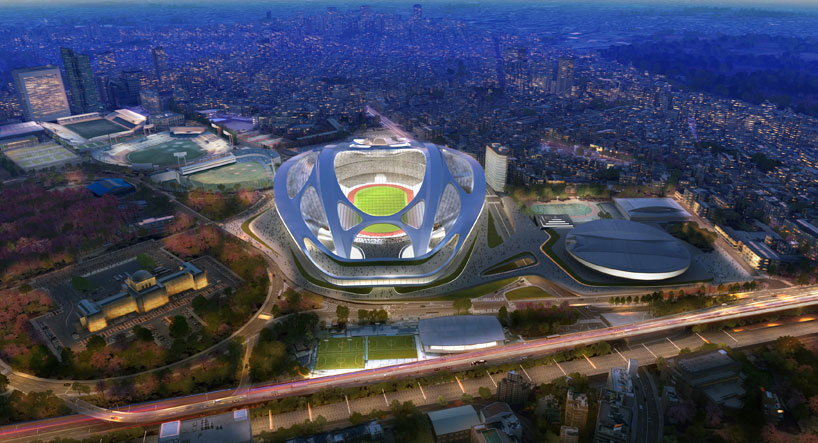 However, in reality, the 2020 bonanza has proved a major boon for real estate development around Tokyo Bay and the previous National Stadium has been completely demolished to make way for Hadid's new stadium.

Tags: Architecture, Olympics, Sport
Category: CULTURE
Other categories: COOL PRODUCTS, GO SEE, LIFESTYLE, NEW TECH
Next Page »