Tokyo has a new landmark, but it's not in the center of the city and it's certainly not a sight you might immediately associate with Japan's capital.
A popular elephant called Hanako now has a statue in her honor standing outside Kichijoji Station in west Tokyo.
The elephant was a resident of Inokashira Park Zoo, which is one of Tokyo's best animal attractions though often gets overlooked in the rush to see the famous pandas at Ueno Zoo. Hanako died last May at the ripe old age of 69, after arriving in Japan as a gift from Thailand and spending an initial stint at Ueno Zoo from 1949. She then transferred to Inokashira Park Zoo in 1954.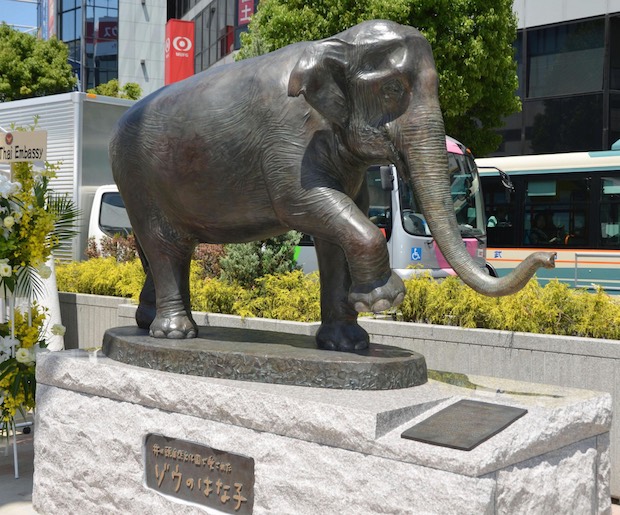 At the time she died Hanako was the oldest elephant in Japan. A ceremony to mark the unveiling of the bronze statue on May 6th was attended by a member of the Sarasas family from Thailand, which originally gave the animal to Japan.
The statue is 1.5 meters tall and 2.5 meters long. It was created by local artist Aki Fueda at a cost of ¥13.6 million, which was covered by donations, including from Thailand.
Though the statue has prompted an outpouring of press coverage and gushing about Hanako's popularity, she actually accidentally caused the death of a zookeeper at Inokashira Park Zoo and had to be chained up for some time. While she inspired a book and TV drama, she was nicknamed the world's loneliest elephant, reports Kyodo, because she was kept in captivity alone in an empty cement enclosure for many years. In fact, her treatment sparked criticism and even a petition as people urged Japan to send her back to Thailand so she could live out her life with her fellow animals.
Kichijoji is located in Musashino City in the west of Tokyo and is easily accessible by the Keio Inokashira Line and JR Chuo Line. The well-to-do area is popular with visitors because of its expansive park and attractions such as the Ghibli Museum.