Written by: William on December 24, 2012 at 9:27 am | In
CULTURE
|
No Comments
While the world goes mad for Christmas, anime fans are gathering in Akihabara for the Fuyu no Rajikan Matsuri 2012 (Winter Radio Kaikan Festival 2012), where so-called "itasha" (cars decorated with characters) will be parading on December 23rd and 24th.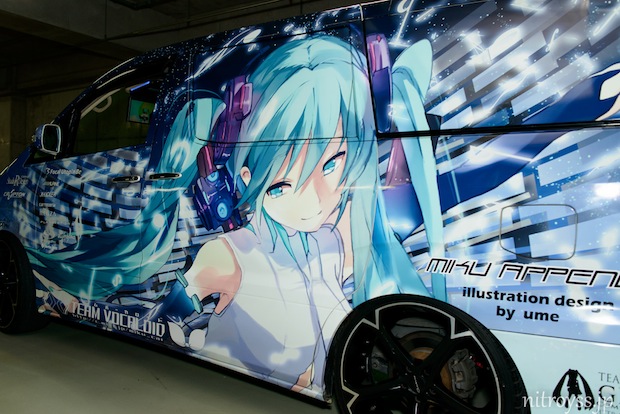 The underground car park of the Akihabara UDX building is playing host to the Christmas Itasha Festa, with Hatsune Miku-themed and other customized vehicles strutting their wares to camera-totting crowds. Not quite The Fast and the Furious: Tokyo Drift, but still pretty cool.

Owners pay ¥6,000 (around $70) per day to exhibit their vehicles in the car park. There will also be regular cosplay in the venue.

Such decoration trends have been becoming popular of late, spreading to trucks, bikes and more — and have been gaining recognition in mainstream culture as well. Previous Itasha festivals have been held in Odaiba, Maebashi and elsewhere.
"Ita" is a word commonly found in the otaku lexicon, literally meaning "painful" (itai) but here referring to the amount of money (and effort) involved in expressing your moe in this way.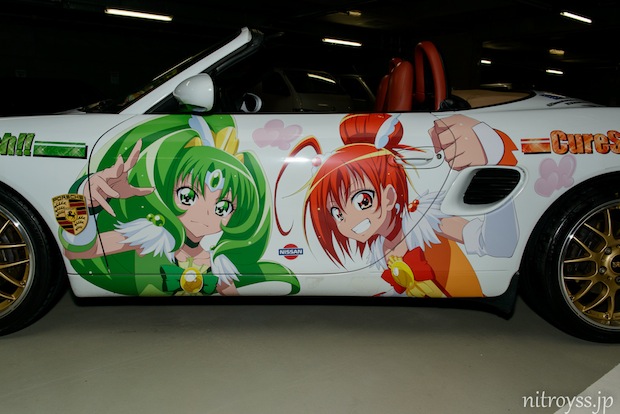 Whatever you think of otaku anime — and we know that many people have issues with its attitudes towards women and young girls — undoubtedly it is a subculture that truly celebrates individual playfulness in a fun way.

Tags: Anime, Automotive, Otaku
Category: CULTURE
Other categories: LIFESTYLE, PRODUCT INNOVATION
Written by: William on November 26, 2012 at 10:15 pm | In
CULTURE
|
No Comments
Forget Hayao Miyazaki, apparently the next force in Japanese anime is a German carmaker.
Mercedes-Benz has produced NEXT A-Class, a short anime film celebrating the Japanese launch of the A-Class hatchback. It features the new eponymous car chasing a 1955 Blue Wonder legendary ramen truck, neatly tapping into the Japanese obsession about food. Trust us, it looks better than it sounds and there are even English subtitles.
Automotive companies seem to like making anime these days. Toyota also recently co-produced PES, an environmentally themed anime about "a curious alien who explores the joy of driving and the importance of safety".
In case you didn't work it out, PES stands for "Peace Eco Smile". No, this kind of Jinglish you just can't make up!
Toyota have been promoting the PES campaign at anime events in Europe and Asia, plus at the Tokyo International Film Festival, of which they are the main sponsors.
The films and associated campaigns are clearly intended for different purposes and audiences, so perhaps it's unfair to make comparisons — but we reckon Mercedes-Benz are the hats down winners here. Their anime is much better quality (at least to eyes that are both foreign and relatively uninitiated) and exciting. The retro vibe off set with futuristic Tokyo cityscapes and fast racing scenes crush the rather naff eco message being plugged by the Toyota movie, which is a bit hard to stomach from a car company, even one that gave the world hybrid vehicles.
Tags: Automotive
Category: CULTURE
Other categories: LIFESTYLE, PRODUCT INNOVATION