Written by: William on May 6, 2013 at 12:14 pm | In
CULTURE
,
LIFESTYLE
|
No Comments
If Kabukicho had a theme park starring Akihabara chika aidoru ("underground" idols), this might be it…
After opening last summer amidst much sound and fury, we finally paid a visit to the Robot Restaurant in Shinjuku's Kabukicho district.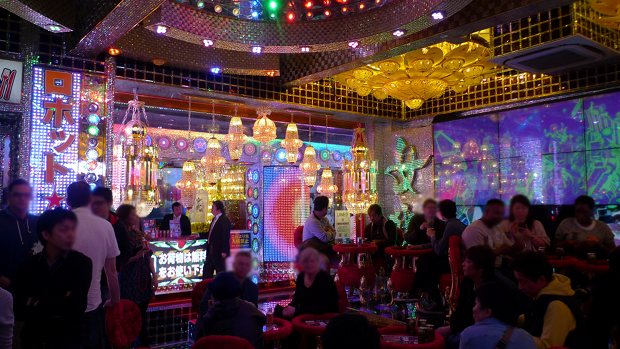 It is located in the heart of Shinjuku's world of the erotica. The entrance is a garish, bright open plaza manned by cold beefy bouncers who are if not quite rude, certainly very unwelcoming and unhelpful (don't expect any kind of guidance). In other words, just like a sex club or strip club.
Anyway, then you go over to the main building on the other side of the street to a horrifically bright waiting room. Seriously, it's so bright that your eyes hurt. There you are surrounded mirrors and flashing lights, and constant sound.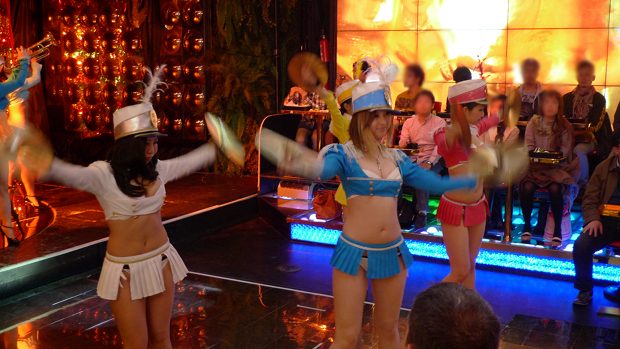 After waiting for the audience to leave from the previous show, you then go down the stairs to the basement performance area where you are given a bento lunchbox and asked to take a seat on one of the two audience areas. It is a kind of traverse stage, with the "show" happening in the hallway between the two blocks of seats.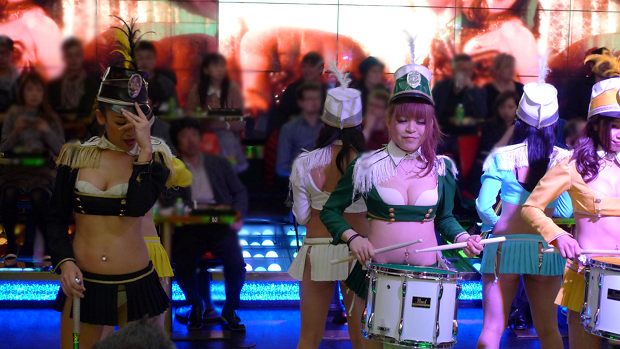 This means you spend as much time watching the giant walls of screens showing cheap CGI battles and images of female warriors on horseback, and, naturally, the faces of the other audience members.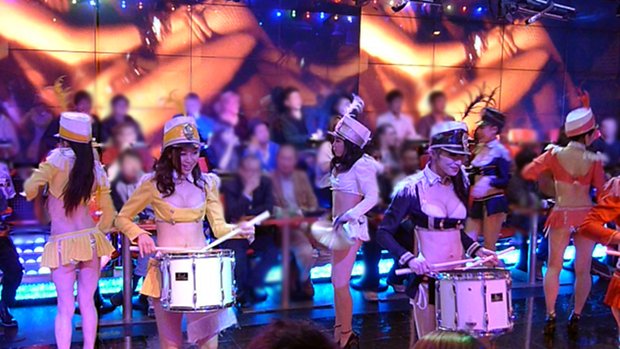 We were expecting an audience of sleazy guys or otakus, but actually it was mostly just curious Japanese and foreigners. Considering that the club has advertised itself on its mammoth budget (10 billion yen or $130 million!), the handful of empty seats are not a good sign, though. (Saying that, we can't really see where the money went but anyway…)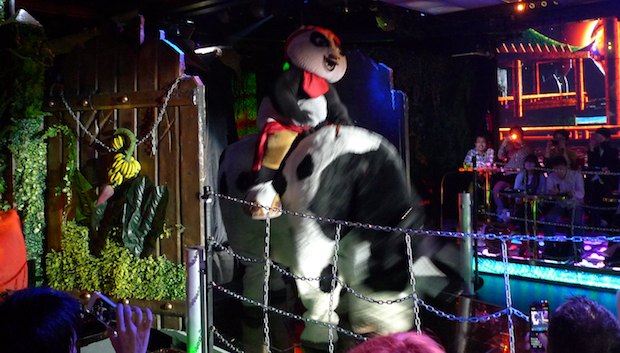 Now to the show itself. Words fail me. It features essentially about 20 dancers who play instruments and, well, dance. Stylistically it's the biggest smorgasbord of kitsch and the burlesque you are likely to see outside of a Takarazuka performance, only with Kabukicho strip culture and Akihabara chika aidoru motifs thrown in for good measure. It is also erotic; all the girls are scantily clad, plus some had busts we hadn't seen in Japan except in a porn film.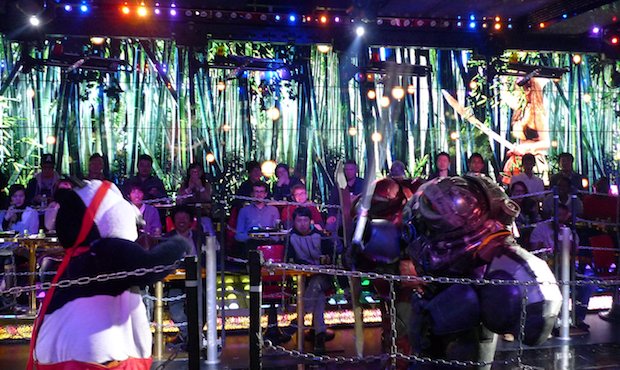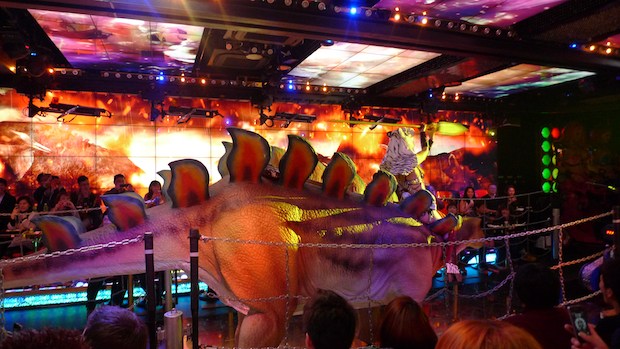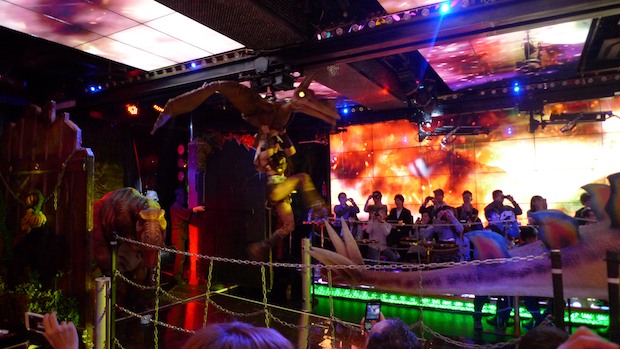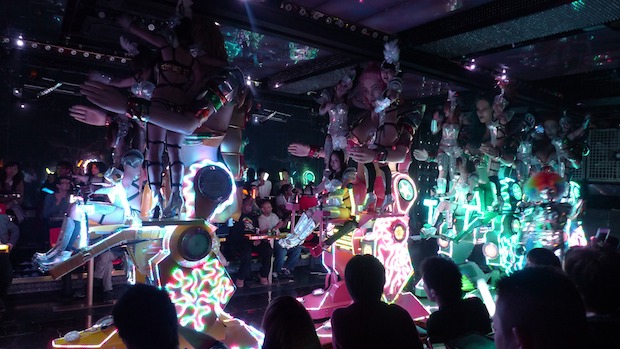 But more than being aroused, we were most of just simply befuddled by the swirling vortext of influences and elements poured into the mix here. A fighting panda. Drumming girls. A dinosaur. A tank. Sci-fi. Robots. Sex. Sexism. Cheesy smiling idol subculture with genuinely alluring sexuality (well, actually, that's quite common in Japan so we're at least used to that).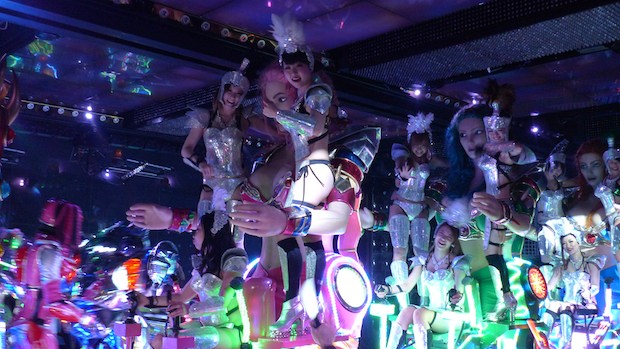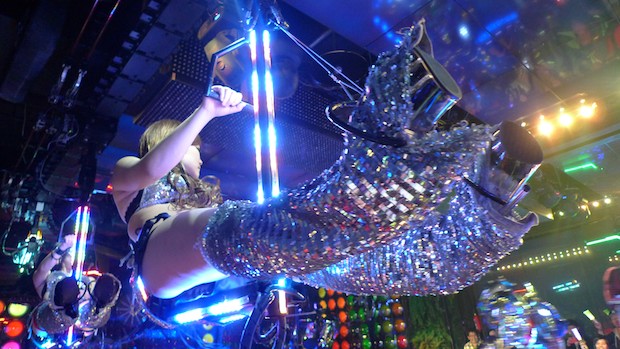 It is around an hour long, though structured as a series of numbers, so there are quite frequent pauses. Considering it now costs ¥5,000 (with a bento lunchbox meal and drink included), it is a little expensive then, though the kitsch is priceless. For the record, I went with a group of gay Americans and they all seemed to have a whale of a time.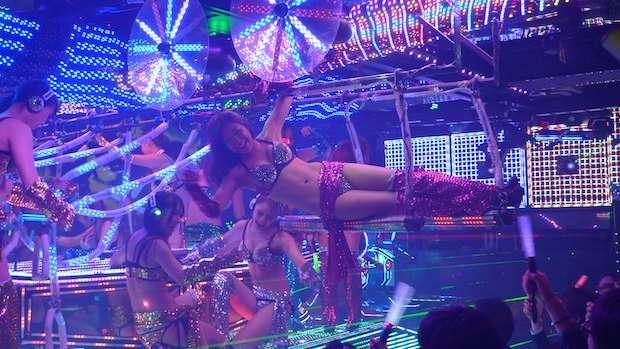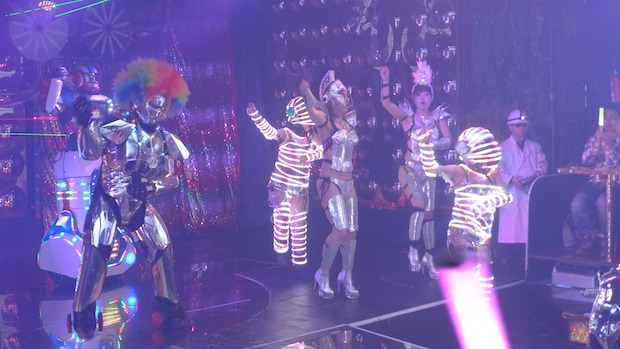 The style of the dancing and music was more Gekidan Shinkansen than genuine strip club, and the finale with the carnival float robots (you have to wait quite a while for the robots to appear!) and a neon tank, followed by dancers who hang from the ceiling, is utterly impossible to define.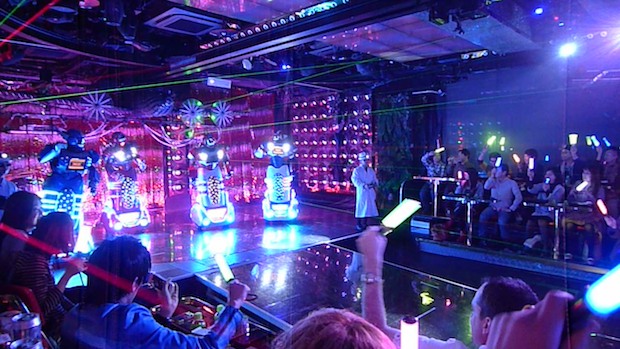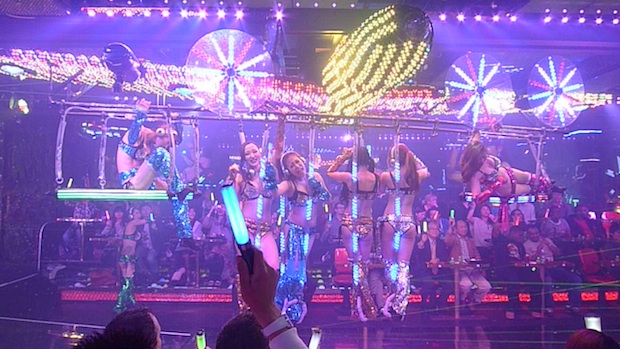 Here's the video we made!

Tags: Kabukicho, Robots
Category: CULTURE, LIFESTYLE
Other categories: PRODUCT INNOVATION
Written by: William on September 17, 2012 at 3:45 pm | In
LIFESTYLE
,
PRODUCT INNOVATION
|
No Comments
What happens when the eroticism of Kabukicho meets the tech boffins of robotics industry and the cosplay and otaku cultures of Harajuku and Akihabara?
You get the Robot Restaurant, built at a reputed cost of 10 billion yen ($130 million).
We've had Gundam Cafe, the Evangelion Karaoke Room, a Evangelion Lawson convenience store… heck there was even a model railway hotel room. And now we have this. But how to describe it?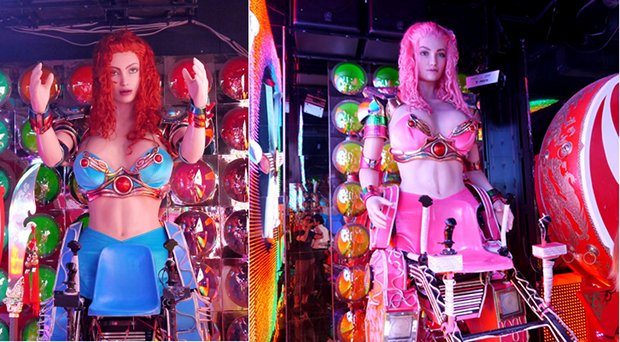 Kind of like the leftovers from an unfinished Mad Max sequel, these scantily clad ladies ride around on large "robots" for pseudo-idol performances, only without much singing or dancing.
Following its opening over the summer, the Robot Restaurant has proved so popular that the charge has now increased to a whopping ¥4,000 yen ($50). Each "show" lasts around one hour and is held three to four times a day. Heck, it's cheaper than Vegas, maybe?
We do like the nod to traditional Japanese theatre (namely Bunraku puppet theatre) with the stagehands dressed in black (kurogo), since officially they are "not there" as they arrange the set. Actually the whole affair has an air of Kabuki (appropriately for its location) or Gekidan Shinkansen — high octane, utterly superficial and silly, and yet kind of entertaining as well.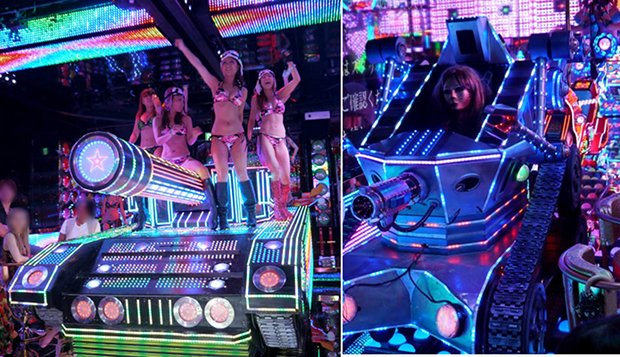 There is also an interesting list of types of customers who will be turned away at the door. It includes host and hostesses (or other people working in mizushobai industry — a large amount of whom ply their trade in Kabukicho), as well as cosplayers and otherwise "unusually" dressed people, and even "pushy" personalities (presumably to protect the performers). (Plus you cannot watch the show wearing sunglasses.)
This is intriguing since the concept of the restaurant is definitely Akihabara and Harajuku subcultures, mixed with the naughtiness of Kabikicho — and yet all the genuine minions of these domains might not be allowed in to see the results!
We haven't been ourselves yet and we wonder how longer this place will be around… but we're tempted.
Tags: Akihabara, Kabukicho, Robots
Category: LIFESTYLE, PRODUCT INNOVATION
Other categories: CULTURE