Written by: William on April 9, 2014 at 12:01 pm | In
LIFESTYLE
|
No Comments
Take two things Japan does very well — and combine them!
Just when you think there isn't much more room for innovation with the world of karaoke, along comes FamilyMart with a new branch, FamilyMart + Karaoke DAM Kamata Minamiguchi Ekimae.
The chain has got together with karaoke parlor Dam to launch this special half-conbini, half-karaoke singing joint at the south exit of Kamata Station, in west Tokyo. The 27-room parlor opens on April 17th and if it succeeds, it could be the start of a new business model.

This isn't just a collaboration between two service industry chains and a simple "combined facility". They have come up with a way to fuse the services, so customers are now allowed to purchase food and drinks from the convenience store and then take them into the karaoke box. For example, normally at a karaoke parlor, you can only order from the menu — and sometimes they have complicated one-drink mandatory rules. Either way, the drinks will usually be pretty poor (watered down beer) and the food is of the deep-fried and fast variety. Plus it will cost you more than a convenience store, naturally.
This way you can get a bit more choice and things will be cheaper. The new store also presumably doesn't need to hire more staff and set up extra facilities to handle the cooking and drink preparation.
After all, convenience stores in Japan already offer a host of services, from dry-cleaning drop-off and pick-up to ticket purchasing, paying for online purchases via Amazon and other vendors, courier drop-off, and even buying tickets for special garbage disposal.
Karaoke Dam has 369 karaoke parlors around Japan, while FamilyMart currently has over 10,000 stores nationwide. That's a lot of chances, then
Brian Ashcraft at Kotaku ponders if the next step is allowing the karaoke singing to take place actually inside the convenience store!

Tags: Convenience Stores, Karaoke
Category: LIFESTYLE
Other categories: COOL PRODUCTS, CULTURE, GO SEE, NEW TECH
Written by: William on November 19, 2012 at 10:36 am | In
COOL PRODUCTS
|
No Comments
No more flabby anime fans. Stop watching Evangelion and get off the couch. You've got walking to do!
That's what health gadgets maker Tanita is banking on with this Evangelion Digital Pocket Pedometer, a limited edition tie-up fitness device now on pre-order, to be sold in Lawson convenience stores from March next year.
As you might expect, there are different versions for different characters — Asuka Langley Soryu, Kaori Nagisa, NERV, and the insanely popular Rei Ayanami — aimed at otaku, hardcore or not, who like the series and want to get fit.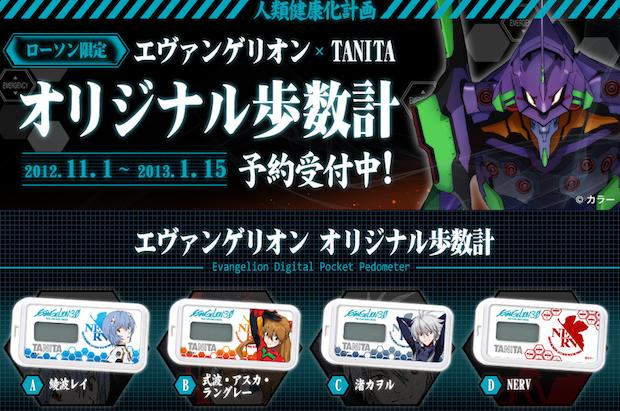 And if you live in Tokyo you will also be able to take part in a competition with other Evangelion pedestrians, with data of your route sent to a campaign website that tracks a map of everyone's promenades. There are locations from nineteen key Evangelion scenes placed virtually into the Tokyo landscape.
You can use the FeliCa reader in the Loppi terminals in Lawson stores to upload your calorie burn-off, walking distances and more to the website where you can manage your progress (there's apparently a ¥2000 yen six-month fee for use of the service). Just don't then get tempted in the shop to buy one of those fatty cream buns.
If you walk 8,000 steps in a day you get one point. Sending your data to the site from a Loppi terminal rewards you with another point. Every ten points means you can apply to receive special (but unspecified) tie-up merchandise.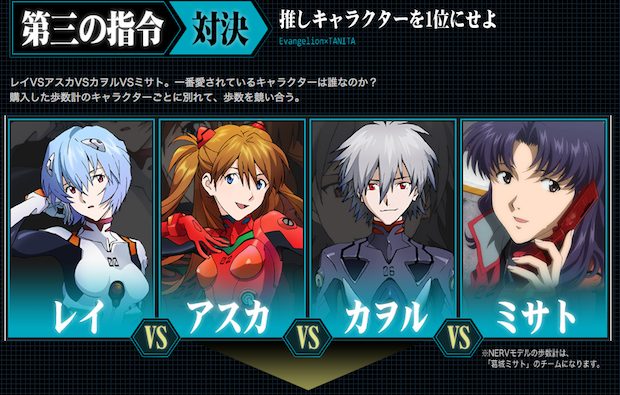 The idea is that fans walk 400,000 steps or 280km in 50 days. The more you walk, the higher your ranking (and we all know how competitive subculture fans can get).
Lawson seems to like positioning itself as the convenience store of choice for otaku (though it's not alone among competitors). It previously held a campaign selling merchandise for the K-On! and Puella Madoka Magica franchises, plus there was the now infamous Evangelion-themed store in Hakone in 2010 that was so popular it had to close almost immediately.
Tags: Anime, Convenience Stores, Otaku
Category: COOL PRODUCTS
Other categories: CULTURE, GO SEE, LIFESTYLE, NEW TECH
Written by: William on November 15, 2012 at 9:03 am | In
LIFESTYLE
|
No Comments
Lawson, Japan's second biggest convenience store, has a good knack of adapting itself to fit its surroundings, a kind of chameleon chain.
We noticed one great example of this recently.
Hikarie, the swanky shopping plaza that opened this spring in Shibuya, is not above offering its patrons the delights of the super cheap products you can browse in a conbini. But the store itself on the eleventh floor of the complex still has to fit in with the rest of the decor.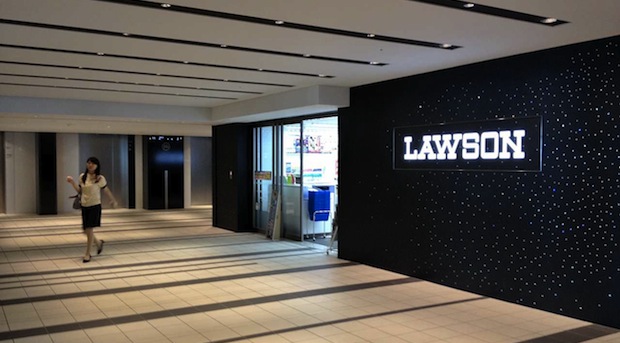 [Image source]
Lawson did this par excellence here, adding Swarovski Crystal-style glittering diamonds to create a "gorgeous" luxury-looking branch that Hikarie's largely female shoppers will love snapping shots of with their iPhones.
Saying that, it also slightly resembles a starry night sky — ironically, since, Hikarie is owned by Tokyu, which also operates the popular planetarium in Shibuya that you can see from the windows of the new shopping mall.

[Image source]
We also like the designer Lawson on Inokashira-dori, near the plush Yoyogi Uehara neighborhood, which is on the ground floor of a fancy condo and thus has spruced itself up to fit in — even emitting gentle blue lights that seem to hum in the night like an illumination show.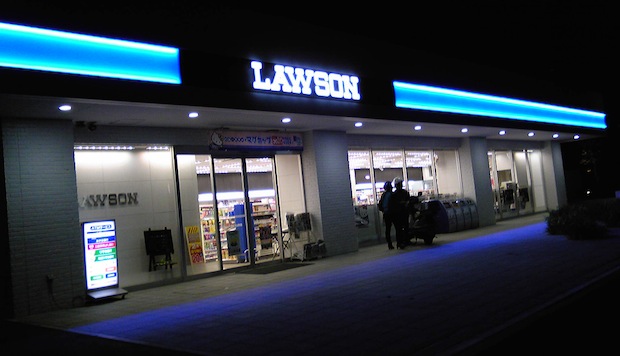 Tags: Convenience Stores, Retail
Category: LIFESTYLE
Other categories: COOL PRODUCTS, CULTURE, GO SEE, NEW TECH