If Tokyo has one enduring image abroad it's that everyone and everything is rushing. In the mornings, high-heeled women in skirt-suits can be seen running down the sidewalk towards the train stations. In Shibuya, the famous crossing is constantly full of undulating masses of people. Trains and buses come one after another, often with timed precision. Heck, even sushi moves fast in some restaurants, delivered on miniature bullet trains directly to your table. Though this is just one side of Tokyo it certainly is a big part of it. What's fueling all of this movement?
Caffeine is easy to find here in Japan, and it comes in many forms. There's everything from the $10 cup of coffee to the $1 dollar can. Unfortunately we can't always afford the time or the yen for the best cup of coffee, and that's where convenience stores come in. Convenience stores, or konbini, are essential to daily life. Most are opened 24 hours and offer everything from pre-made pasta dishes to fresh packs of underwear. Coffee has now become a big part of that business.
Each of the main konbini chains boasts that they have the best coffee. The shiny automated java machines in each store are unique to the company and so are the beans. For each cup of coffee made, the coffee is ground to order and brewed on the spot. Sure, it's not the best, but it's still pretty cool. I've had plenty of coffee from these automated baristas and I've done my best to dissect them. Taste is subjective, but so is everything, and I've done my best to rate these coffees on a scale of 1-5 only against each other. I drank all these coffees black and hot.
Here are my reviews on the four most common convenience store coffees.
7-Eleven
7-Eleven's coffee has a floral and nutty aroma. It's a very traditional cup of coffee that would be at home in any diner. There was nothing surprising or upsetting about this cup, which is what you want from a cheap cup of coffee on-the-go. It had notes of cashew and milk chocolate and a slightly sweet and citrusy aftertaste. It's totally fine. It's not ambitious, it knows exactly what it is: a cup of coffee from a convenience store.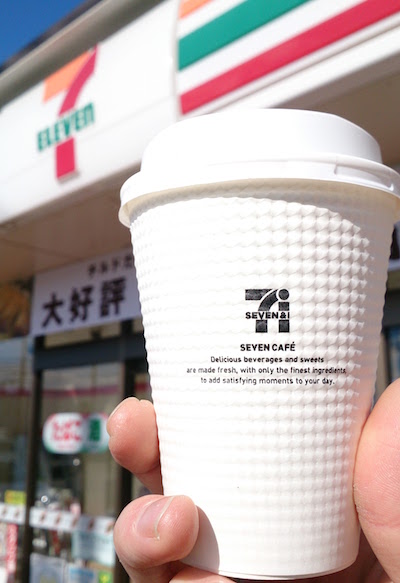 | | |
| --- | --- |
| Body | 3 |
| Acidity | 2 |
| Aroma | Floral, Nutty |
| Flavor Note | Cashew, Milk Chocolate |
| Overall Score (1-5) | 4 |
Family Mart
There was something about the machine at Family Mart that made me nervous about the coffee quality. It is was by far the least futuristic looking of the bunch. Heck, to get a large cup of coffee the directions are to press the button to brew a small coffee then when it's done (and your cup is half full) press it again. That being said, Famima Cafe wasn't as bad as I thought it would be. It had a faintly sweet, oddly perfume like aroma. It was a bit thinner in mouth feel than others, but had the traditional coffee flavors; nutty and chocolaty. There was a note of apple like sweetness to it that made it stand out, however. Unfortunately, the aftertaste was a long-lingering char flavor.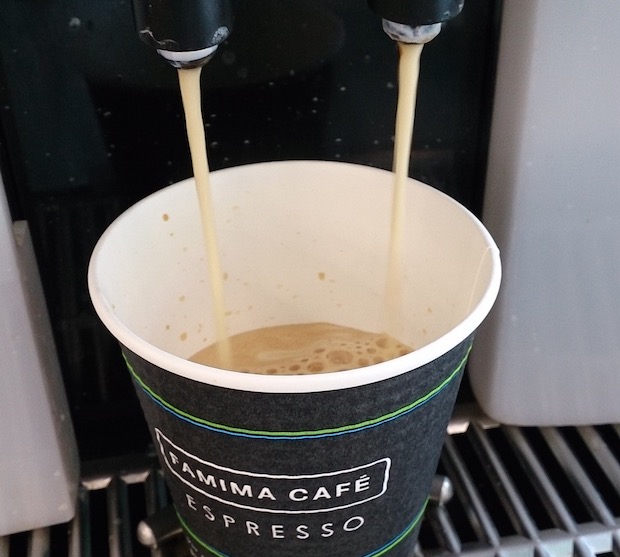 | | |
| --- | --- |
| Body | 2 |
| Acidity | 3 |
| Aroma | Sweet |
| Flavor Note | Nuts, Chocolate, Apple |
| Overall Score (1-5) | 2 |
Ministop
Ministop's coffee was subtle and certainly not in-your-face…at first. I actually had a hard time picking out any flavors from it. This coffee too had a slightly sweet and nutty aroma and a very light body. As it cooled a lot of citrus and berry-like flavors could be picked up. The aftertaste was a lingering char flavor, but slightly more astringent than the others. At first I liked this one best, it was similar to canned coffee in its unobtrusiveness. As it cooled, however, it started to lose me. Certainly it was the most fun to drink due to its ever changing and elusive flavor. But an enigma is not what everyone wants from their cup.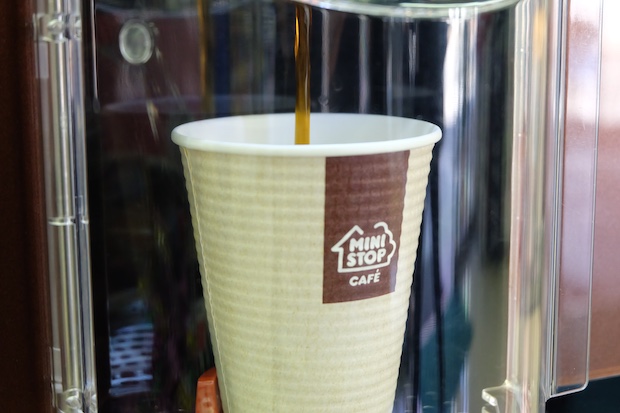 | | |
| --- | --- |
| Body | 3 |
| Acidity | 4 |
| Aroma | Sweet and Nutty |
| Flavor Note | Cherry, Lemon, Chocolate |
| Overall Score (1-5) | 3 |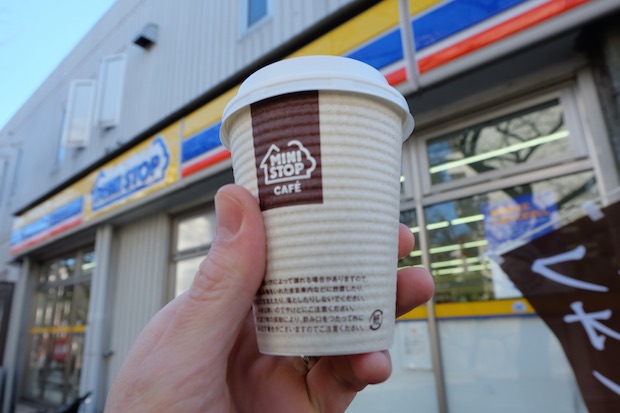 Lawson
Lawson's Machi Cafe stands out because it is the only konbini coffee out of the fours featured here that the staff pours for you. Also, their machine is the prettiest. The coffee was mild and mellow. It was the most middle-of-the-road and left little impression on me. The aroma was similar to hazelnuts and vanilla. The strongest flavor in the coffee itself was cocoa powder. The aftertaste here too was char-heavy, but has a sweetness to it. Just fine in it's simplicity.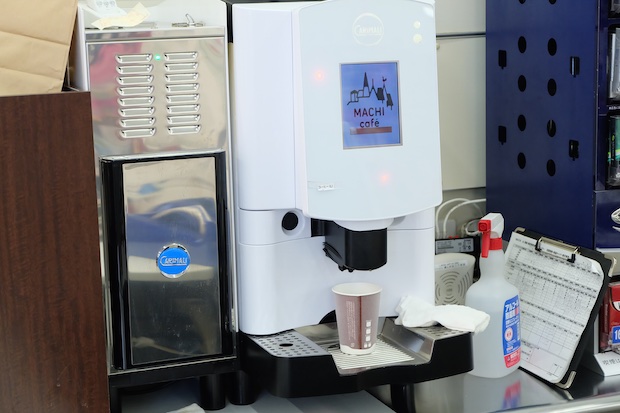 | | |
| --- | --- |
| Body | 2.5 |
| Acidity | 2 |
| Aroma | Hazelnut |
| Flavor Note | Cocoa Powder, Milk Chocolate |
| Overall Score (1-5) | 4 |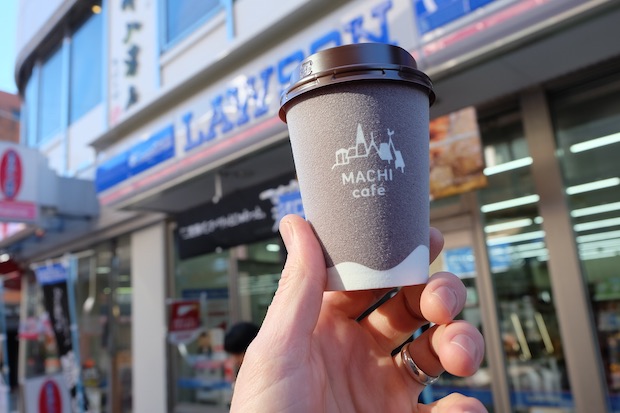 Now, I'm sure there is a lot of variation from shop to shop. How often the machine itself is cleaned thoroughly, how old the beans are, and even the water used can greatly effect the flavor of the coffee. But hopefully most of the observations I made still hold true from place to place. I scored the coffees that were simple and unsurprising higher because those coffees generally had less unpleasant aftertastes.
Overall the coffee quality was better than expected for all of these shops. As I said before, they aren't serving gourmet coffee in these stores. But, true to their names, they are serving convenient coffee. It's cheap, it's caffeinated, and it'll satisfy your needs.
Also see how we rated canned coffee in Japan.