Written by: Mina on August 30, 2013 at 1:55 pm | In
CULTURE
,
PRODUCT INNOVATION
|
No Comments
A little while ago we introduced a plucky newbie yuru-kyara mascot, Funassyi.
As a native of Funabashi in Chiba prefecture, he has been striving to revitalize the local culture and economy of the city. His name Funassyi is a combination word of the city name, Funabashi, and nashi (pear), which is the city's local specialty. With a simple face that is often described as like child's doodling, while he might not be the most kawaii of mascots, he has proven the old saying, action matters more than words –- and maybe appearances too.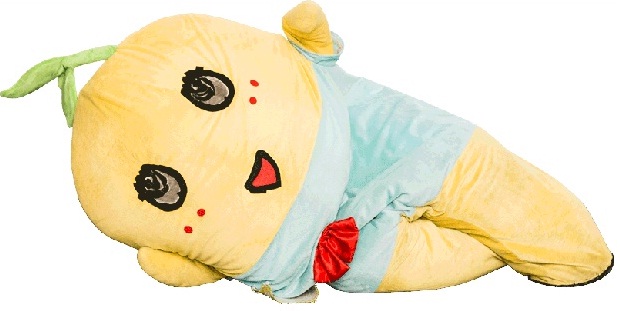 He was recently voted No.1 in the Regional Mascot Contest, sponsored by Japan Department Stores Association.
In a different contest held last year, he ranked 506th out of 865 entries, which by the way wasn't bad at all considering that he had no backing from the local government, unlike others — and he still does not hold any "official" title or approval from the city.
At this point, though, he probably does not want any support from public officials. I don't think I'm the only one who sees more of the entrepreneur spirit in Funassyi, a kind of gutsiness that is definitely lacking in Japan's "official" government. It's no surprise, then, that Funassyi is now taking the lead in promoting his own community and bringing more people and money to his territory.
A new DVD titled "Funanomics" released at the end of July sounds very much like a parody of the supposedly more powerful Abenomics, yet Funassyi is all serious when it comes to getting to work.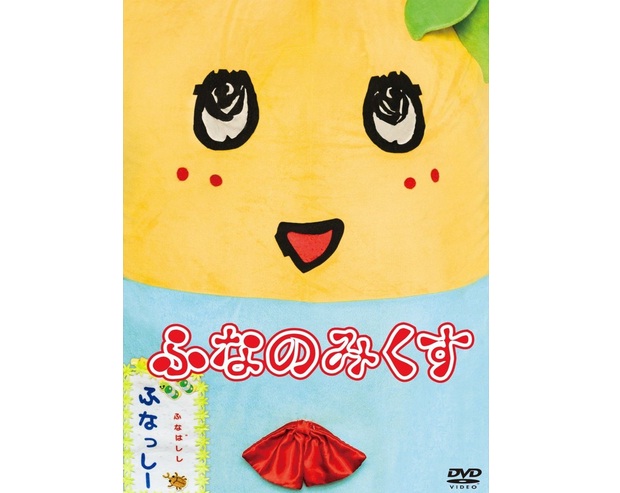 As mentioned earlier, his character is best appreciated in action! Here's the promotional video for the DVD.
In collaboration with Yahoo! Japan, Funassyi is now also running a charity marathon with the catch phrase "You can participate anytime 24 hours a day!"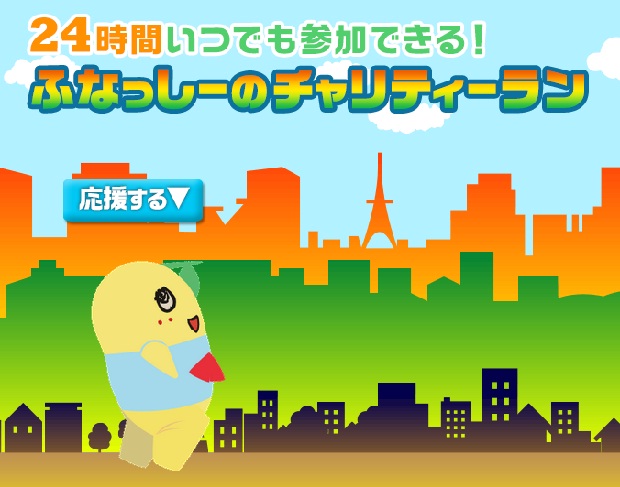 At first the title might sound too confusing, as it suggests that the project will only run for 24 hours. But this is not the case. In fact, it might just be a satirical swipe against Nippon TV's 24 hour telethon, which was aired last weekend over August 24th and 25th. Charity is certainly not something that should be forced on, nor should it be promoted as a business on national television, with (reportedly) millions of money spent on paying all the popular celebrities who made appearances on the show.
In his marathon, Funassyi runs ten centimeters for every yen that is donated. For every twenty-five kilometers he runs, a new version of the downloadable Funassyi wallpaper is added to the list of four wallpapers as gifts for the participants and donors.
The donations will be used to help people in the disaster-affected areas in various parts of Japan and to fund non-profit organizations that aim to develop society through the Internet.

Tags: Charity, Mascots
Category: CULTURE, PRODUCT INNOVATION
Other categories: LIFESTYLE
Written by: William on July 25, 2013 at 11:25 am | In
LIFESTYLE
|
No Comments
You might have thought that communism was safe from mascots but then you'd be wrong.
As shared by Matt Alt, the Japanese Communist Part has its own kawaii characters now, the so-called Proliferation Bureau, including a snazzy expensive-looking website.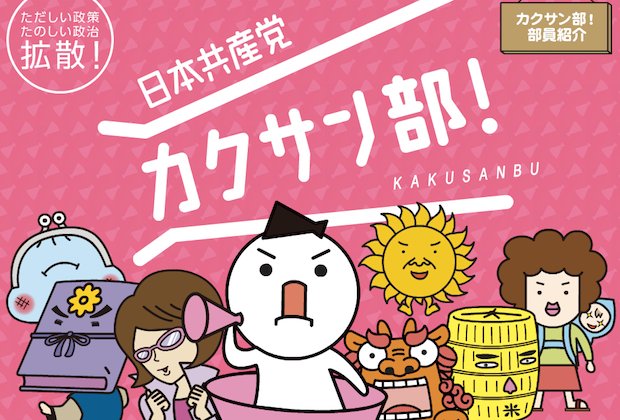 The cast of eight mascots include Otento-sun, a sun who is fighting nuclear power, a purse called Gamagucchan who looks after tax reduction for ordinary households, Shiisa, an Okinawan lion dog (shisa) in charge of the issue of US bases in Okinawa, and Kakusan ("proliferation"), the leader.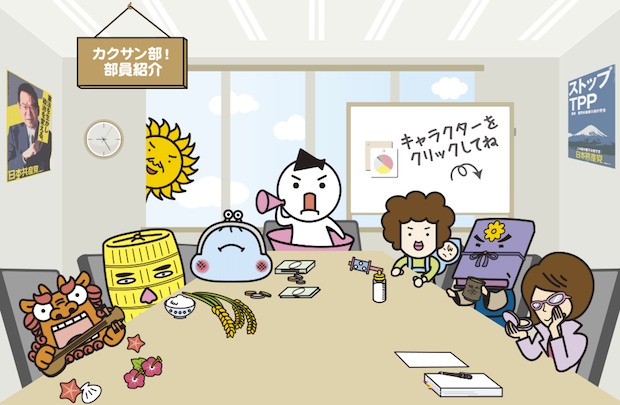 The characters were used as part of the campaigning for the recent election and communist cosplay could be seen around Japan, with supporters dressed up as the characters. The idea is to make politics easier to understand and engage potential voters via digital media. (The recent elections also marked the first time that candidates were allowed to use the Internet in campaigning, indicating the things are gradually changing.) Before scoffing, we should remember that the turnout for the recent Upper House election fell several percent — so anything that raises the profile of genuine politics can't be a bad thing.
The JCP is actually not a communist party in the true sense of the word. It does not aspire to implement communal ownership of property, nor has it done so for decades. Perhaps the most radical thing it might do if it ever gained a majority might be to re-nationalize a few things. After the war, having been heavily persecuted during the militarist era and then again by the US occupation authorities, it still tried to
It sent guerilla activists into the mountains to try to kick-start local subversion and rebellions against dam projects, but all was to no avail. It realized it was never going to get elected this way and official renounced armed struggle. It named its new identity "lovable communism" (aisaseru kyosanshugi).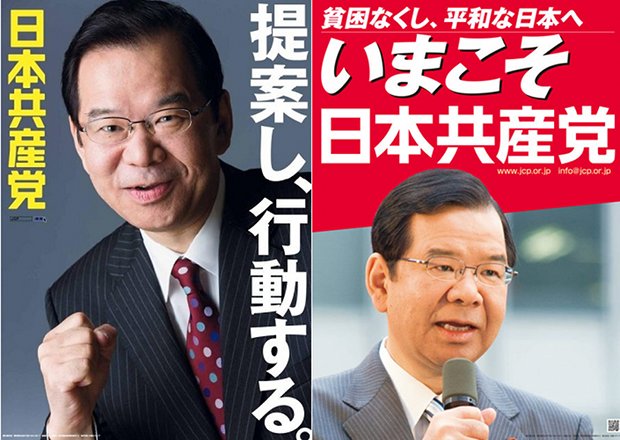 Since the late Fifties it has never advocated subversive actions and its participation in the Anpo struggles in 1960 and 1970 were peaceful, as were its contribution to the anti-Vietnam War campaigns. However, for this it earned the ire of student radicals and other groups, especially for its failure to assist properly in the protests against Narita Airport and the controversial docking of a US submarine in Sasebo in 1968. A student group split from its youth movement in the late Fifties and thus began the New Left/Old Left dichotomy that essentially defined Japanese left-wing politics after the war.
Today the JCP is doing rather well. Its membership and subscription to the Akahata have risen in recent years with the fears of growing disparity in Japan since the Lost Decade began, fears which were then further exasperated by the worldwide recession that saw lots of temps laid off and soup kitchens in Tokyo. In the recent local government elections and Upper House election it made small but significant gains.
However, its protectionist policies might be baffling to some. For example, it is opposed to the increasing of consumption tax — surely the most universal and fair way to raise money for the burden of the aging population — and is against the TPP trade tariff agreement. (Actually, as a more learned commentator has pointed out, the inherent conservatism of all the parties that form the ostensible opposition to the ruling LDP, a bone fide conservative party, are all lacking in progressive, active policies.)
It should also be noted that the JCP apparently hired an ad agency to design the mascots, which hardly smacks of trying to pulling down the pillars of capitalism.

Tags: Mascots, Politics
Category: LIFESTYLE
Other categories: CULTURE, PRODUCT INNOVATION
Written by: Mina on May 7, 2013 at 5:19 pm | In
CULTURE
|
No Comments
As Japan's population continues to decline, we see more and more non-human characters pop out and come to life on a daily basis. The yuru-kyara boom which started less than a decade ago is now gaining momentum and dominating our everyday lives.
Yuru-kyara refers to a character or a mascot representative of a city or a prefecture, whose primary mission is to promote and vitalize its local culture and community. The name yuru-kyara is an abbreviation of two words: yurui which means "loose", and kyara – character.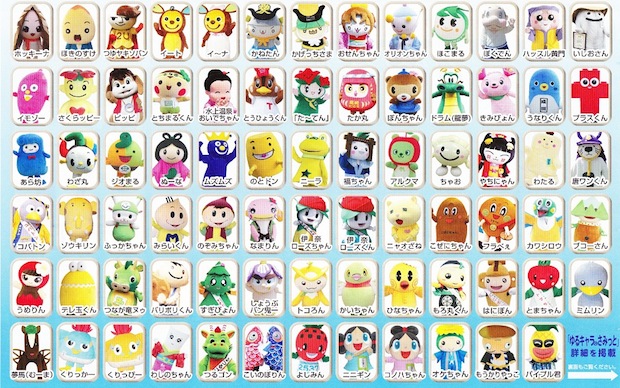 They are not meant to be lovable in the obvious way that facilitates money-making like other commercial figures (Mickey Mouse, Hello Kitty, Snoopy etc) or anime characters — at least not when they were first introduced to the scene. This notion obviously is starting to change as we see more and more people see monetary value in the popularity of their promotional mascot characters, which is completely understandable.
For example, the very popular Kumamon mascot, Kumamoto's yuru-kyara, is estimated to have generated around 640 million yen for the prefecture, and the sales of Kumamon merchandise totaled over 2,500 million yen in 2011.
While many of these characters are now becoming more like commercial figures, here I would like to introduce a lesser-known newbie, a native of Funabashi City, Chiba, and one which is not even approved or supported by the local government. This unofficial mascot called Funassyi is a "pear" fairy (the word for pear in Japanese is nashi) and looks like, well, a yellow pear with a face.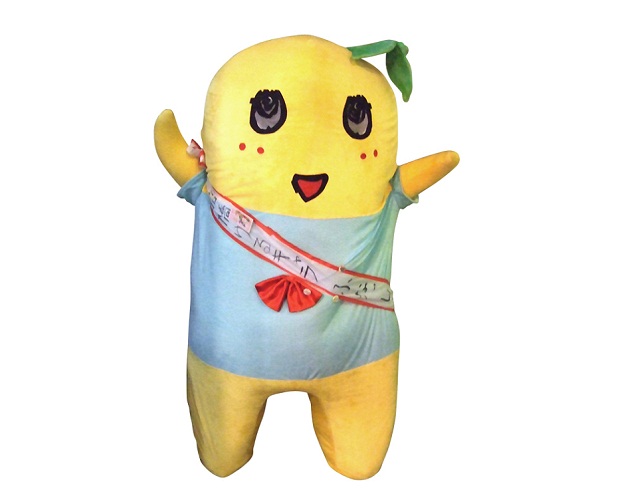 Despite its unofficial status and supposedly low publicity, Funassyi ranked 506th in the 2012 yuru-kyara "grand prix" popularity contest, out of 865 entries, which I guess isn't too shabby. Now Funassyi is everywhere.
Incidentally, the winner of the 2012 Grand Prix was Barii-san, the simple but huggable character for Imabari in Ehime, and who jumped up from being second place last time. That's him below.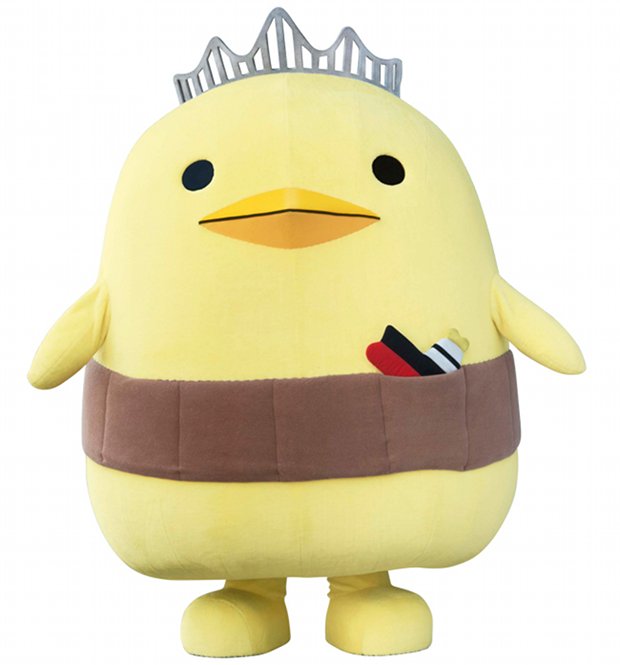 Perhaps what makes Funassyi quite different from many others is that he is a talking mascot (and he talks a LOT) and appears to be a bit wacky as well. In this clip, his talk starts around 1:00 in (after a spot of dancing). Notice the enthusiastic waves and responses he gets from the crowd.
So why hasn't Funabashi City adopted him? The answer is rather obvious – because they don't want to. Instead, they recently announced their own "official" city mascot named Funaemon, who has no resemblance whatsoever to Funassyi.
This is Funaemon below, a more conservative and "human" yuru-kyara than the pear that is Funassyi. But which is the better mascot?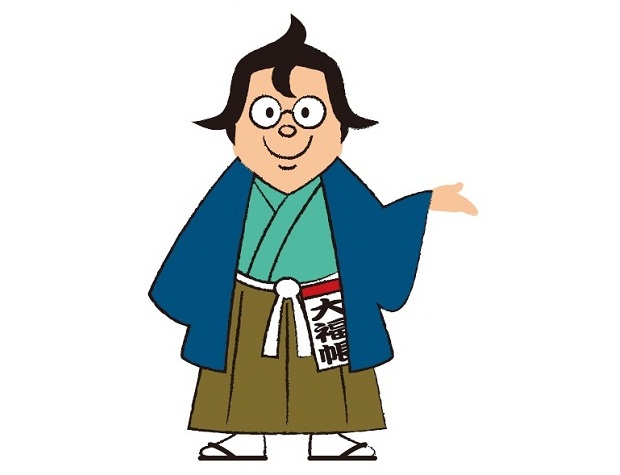 Will this move be enough to kick the unofficial yet one-and-only Funassyi out of the game? It seems like the odds are against the bureaucrats!
Tags: Mascots, Tourism
Category: CULTURE
Other categories: LIFESTYLE, PRODUCT INNOVATION