Written by: William on August 9, 2013 at 10:36 am | In
LIFESTYLE
,
PRODUCT INNOVATION
|
No Comments
One of those myths about Japan is the used panties vending machine. Well, these blogger at least has heard of genuine panty vending machines (at least the machines were real, though we can't vouch for the validity of the "used" factor) but at any rate, they were very much in areas of town not visited by most of the population.
Now this may well do something to off-set the myth — or it might just tip the balance further into the "wacky Japan" zone.
Wacoal, one of the country's leading lingerie makers, will be offering products from the wireless bra series Fun Fun Week by its subsidiary une nana cool for a limited time in Shibuya Parco. Okay, nothing new there, right? Except that the new autumn collection products are being sold via a vending machine.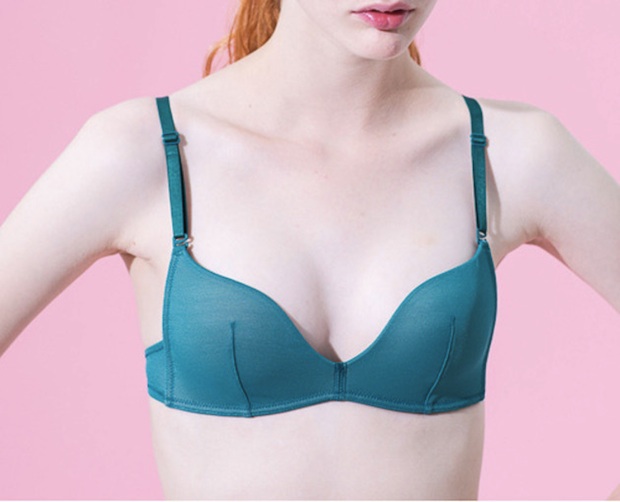 So there you have it. A bra-dispensing vending machine.
You can purchase your bras at the vending machine from August 9th to 31st at Shibuya Parco, and then from September 1st to 30th at the une nana cool store in Futako-Tamagawa.
No decent pictures are available of the vending machine itself yet, but no doubt after it opens today there will be some floating around. Will this perpetuate more myths? Or are une nana cool bras cute enough to raise above the sniggering tide?

Tags: Fashion, Vending Machines, Women
Category: LIFESTYLE, PRODUCT INNOVATION
Other categories: CULTURE
Written by: William on September 17, 2012 at 3:38 pm | In
LIFESTYLE
,
PRODUCT INNOVATION
|
2 Comments
Jins, one of Japan's big spectacles sellers, set up the country's (the world's?) first vending machine for glasses earlier this year in July.
The first ones were in Tokyo Bay and three other rather lackluster spots, namely Aeon malls in the 'burbs.
They have since announced they are planning a further fifty locations, including now at Kansai Airport.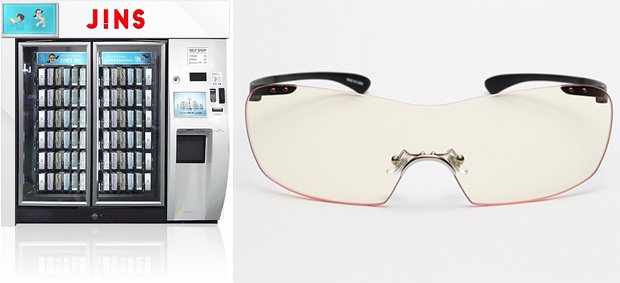 It's not just a pop-in-your-coins kind of vendor either. This is a "next generation vending machine" (okay, these are often trumpeted but perhaps there is more than one generation round the corner?) and has a flashy name, the Jins Self Shop.
It is complete with touch panels and can go online to manage its stock. It even takes credit cards, a rarity in cash-happy Japan.
This is nice, since you see a lot of different kinds of things being sold from machines in Japan (bananas, batteries, canned coffee) but, except for prototypes and the occasional super energy-zapping hi-tech one, most are actually pretty low-fi. The novelty of the purchase is often the selling point.
Glasses in Japan are not your usual kettle of fish.
Jins and its main rival Zoff both run big ad campaigns and target young consumers. Jins uses Yu Aoi while Zoff has the equally lovely Kiko Mizuhara, plus they indulge in fancy augmented reality "digital glasses" projects from time to time too. Both chains also have large stores in Harajuku.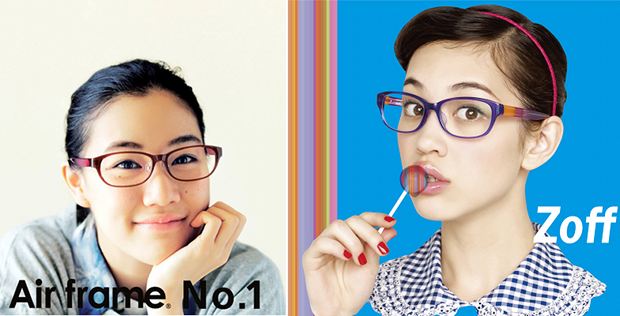 We've always liked how almost all regular spectacles stores will usually have a little cleaning spray machine set up outside, so as you pass by you can give your specs a rinse. Especially useful in the humid summer!
Tags: Eyewear, Vending Machines
Category: LIFESTYLE, PRODUCT INNOVATION
Other categories: CULTURE