Nestlé Japan has installed a new vending machine in Kyoto that lets you create personalized Japanese Kit Kat chocolates.
The Travel Memories Kit Kat vending machine is located inside the Omiyage Kaido (Souvenir Highway) JR Kyoto Station building for a limited time only. Customers can buy a box of Kit Kat chocolates in a Uji matcha green tea flavor that also comes in packaging personalized with their own photos. The vending machine can connect with customers' phones to print their choice of photo on the box in about five minutes. (The press release doesn't make the technical side clear but we may assume it uses Bluetooth or something similar to receive the data from a device.) The back of the packaging is even designed like a postcard, so you can write an address on the back, add a postage stamp, and then mail it from the station. How's that for an original souvenir?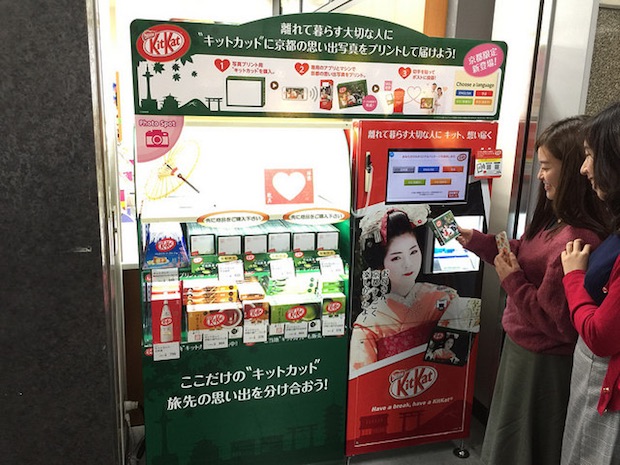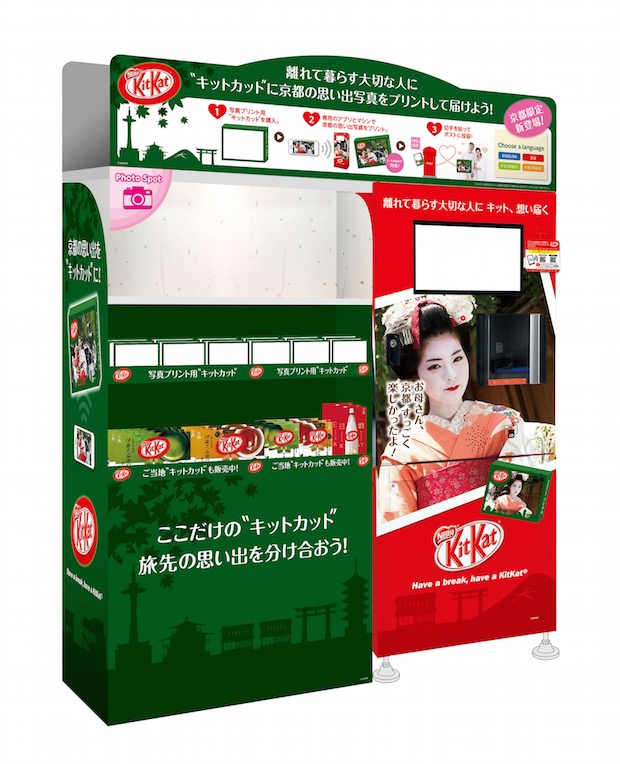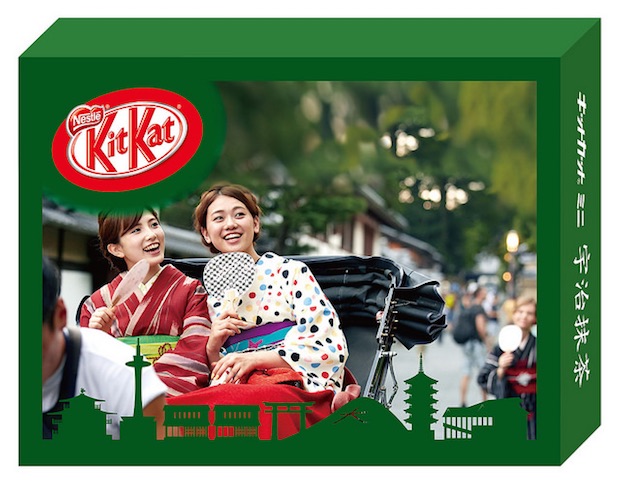 Omiyage culture is huge in Japan. This Kit Kat omiyage will prove a hit with tourists in Japan, who crave local candies and sweets. Alongside the genuine items original to a regional, food and drink brands often produce special customized versions that can only be purchased at a particular place.
Nestlé Japan has attracted much success with its uniquely localized Japanese products, including matcha green tea Kit Kat, a Hiroshima maple-shaped adzuki version, a Tokyo Banana collaboration, more recently, sake-flavored Kit Kat.
Running from November 2nd and until mid-April next year, the start of the Travel Memories Kit Kat campaign perfectly timed, as Kyoto is about to get a big boost in tourist numbers when thousands descend on the old capital for the picturesque autumn leaves (momiji) season. Visitors during the romantic Valentine's Day and White Day (March 14th) periods will also surely take advantage of the vending machine, as will the flocks of tourists who arrive during the cherry blossom in the spring.
Nestlé Japan has previously experimented with this kind of interactive and customizable campaign, launching the online Choco Labo service in 2010.