If you've been to Japan you've seen them: Brightly lit vending machines with rows of beverages lined up, each facing the passerby and beckoning to be sampled. Maybe you've noticed the coffee options as well. Where I'm from drinking coffee out of a can, never mind a hot can, sounds crazy. Yes, that's right, in the cooler months of the year these things give you the option of coffee, tea, and more in a warm can. Sounds awful right? Maybe not.
I'm a coffee lover. I relish the chances I get to try new types of coffee, visit new shops, and talk coffee. Sometimes I can't wait to go to bed just so that I can wake up and drink that first cup. I've worked behind as espresso machine for years and I currently spend my time harassing baristas in third-wave coffee shops about their java. Yes, I love coffee, but I'm not a coffee snob. Canned coffee from Japan has a special place in my heart.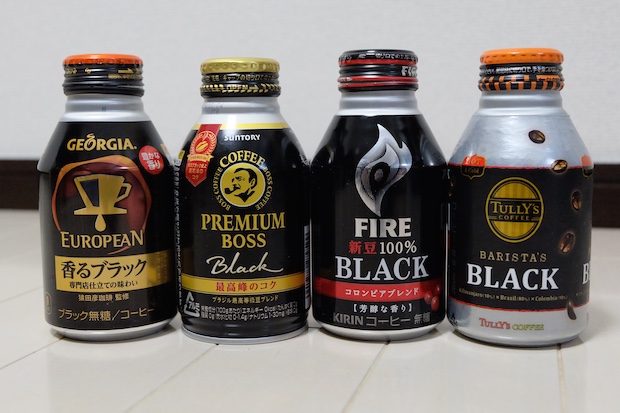 Many of my coffee loving friends have been shocked by the contents of these cans. The most surprising part for them being that it's not bad. It's surprisingly inoffensive. It's fine. We all expect it to taste tinny, sour, old, or strange. But it doesn't. It's perfectly passable and often is a better option than the coffee chain choices. It's incredibly consistent and it's certainly cheaper. There aren't the same surprises you might encounter at some cafes where a green aproned staff member didn't measure things correctly and you get a watery cup of joe. Though I prefer other types of coffee they aren't always available, or sometimes I just need the caffeine.
I decided to try the most common black canned coffee options in Tokyo area and compare them. I tried really hard to pick out any distinguishable flavors and anything else that stood out. Sure, this whole thing is a little tongue in cheek, but I also took it as seriously as I could. So, here are my notes on 4 different companies' canned black coffee. All ratings are on a scale of 1 to 5 and they overall score is based only against other canned coffees.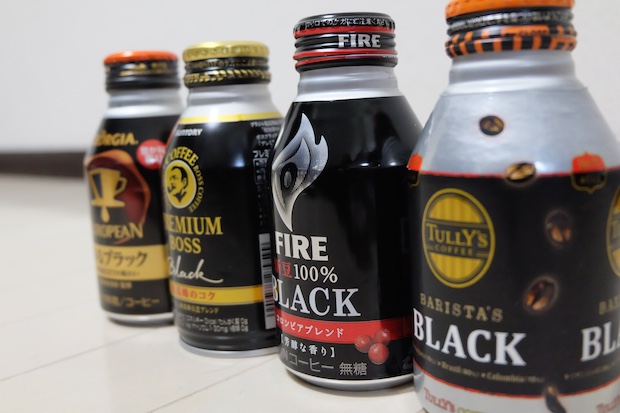 Kirin Fire Black
This can boasts that there are only fresh beans from Columbia used in their coffee. I doubt that all the beans came from the same farm, so I'm assuming that it's a Columbian blend. I couldn't detect much of an aroma from this can but found it smooth and easy to drink. There was very little going on in this coffee. It had a very mild coffee flavor and a lingering cocoa aftertaste. If I concentrated really hard I could pick up a faint raspberry taste in the acidity. There is nothing at all offensive about it. Totally drinkable.
| | |
| --- | --- |
| Body | 3 |
| Acidity | 1 |
| Aroma | Faintly sweet |
| Flavor Note | Powdered cocoa |
| Overall Score (1-5) | 3 |
Premium Boss Black
Boss seems to change it's black coffee recipe relatively often and give it a series of different ambitious names. I'm glad that this time around it doesn't contain trace amounts of silicone like their Relaxing Black series. I was assured that it was safe to drink, but that didn't make it any more appealing. Premium Black Boss has a faint apricot aroma. Aside from that there wasn't too much notable about this coffee. It's pleasant though, and has a faintly sweet lingering aftertaste. It has a medium body and a very mellow flavor.
| | |
| --- | --- |
| Body | 4 |
| Acidity | 2 |
| Aroma | Faintly apricot |
| Flavor Note | Brown sugar |
| Overall Score (1-5) | 4 |
Tully's Barista Black
Tully's is a cafe chain in Japan that stands out among it's competitors because the staff actually makes the coffee there. There aren't just automatic machines that spit out coffee-drink with the push of a button. That's rare these days in the corporate world of coffee. Their canned coffee stands out the most in this group, but not for good reasons. The first whiff out the can smells of beef jerky. I gave it a moment to recalibrate my senses and gave it another go. Unmistakably beef jerky. Beef jerky and spices. This coffee is a lot fuller in body than the others, but is roasted a bit darker. The flavor of the roast overpowers most everything else. The aftertaste is strictly char. If you like your coffee smokey, then this one is for you.
| | |
| --- | --- |
| Body | 5 |
| Acidity | 1 |
| Aroma | Beef jerky, spices |
| Flavor Note | Milk chocolate, char |
| Overall Score (1-5) | 2 |
Georgia European Black
I've seen a lot of ads for this coffee lately. People are presented a cup of coffee and then later are surprised that it came from a can. I think those people are all actors. Maybe my nose was doing really well when I tried this coffee but it had the most complex aroma of the bunch. Hints of cinnamon, brown sugar, even orange are present. The most distinguishing flavor from this can was it's faint sweetness. Almost like a slightly burnt caramelized sugar. the aftertaste was a long lingering char flavor. A little more complex coffee than Tully's, but just as darkly roasted. There's really nothing wrong with this canned option.
| | |
| --- | --- |
| Body | 4 |
| Acidity | 3 |
| Aroma | Cinnamon, brown sugar, orange |
| Flavor Note | Caramelized sugar, char |
| Overall Score (1-5) | 4 |
At the end of the day all of these coffees are mass produced beverages specifically designed to be unmemorable. If any of their flavors were too strong or too interesting then it would probably only attract a small group of potential customers. There aren't too many major differences among them, regardless of what the ads may claim. That being said, it's pretty amazing how OK they all are. It's very easy to make bad coffee, and I'm sure we've all had our fair share. Somehow this aluminum encased joe doesn't quite deserve a negative label. Japan's canned coffee options are a safe bet for that extra jolt you need to keep moving around this amazing country.