Wearable Clothing by Urban Research is a virtual dressing room interactive digital unit was recently installed for a trial run in Ikebukuro Parco department. The fashion brand Urban Research created the unit which can be set up anywhere there's electricity and wifi, and enough space. Like the many next-generation smart touchscreen vendors now commonly found in central Tokyo train stations, it uses a camera to scan the user's body and in this case lets you browser Urban Research products, "try" them on, and connect to the label's e-commerce platform so you can purchase them online.
The first test unit was available as a pop-up for use by shoppers (in English, Chines or Japanese) in Ikebukuro from June 17th to 30th. Look out for similar machines in train stations, departments stores and airport terminals; Urban Research plans to install six virtual fitting room vendors in 2014 and to have around 100 units in operation by 2020, including overseas. The brand already has a showroom in Taipei and wants to push the new virtual dressing room to Asian markets in the future, since it is much cheaper than opening up actual branches in new regions. Its online retail arm also currently occupies roughly a 20% share of its sales and it is aggressively expanding on this.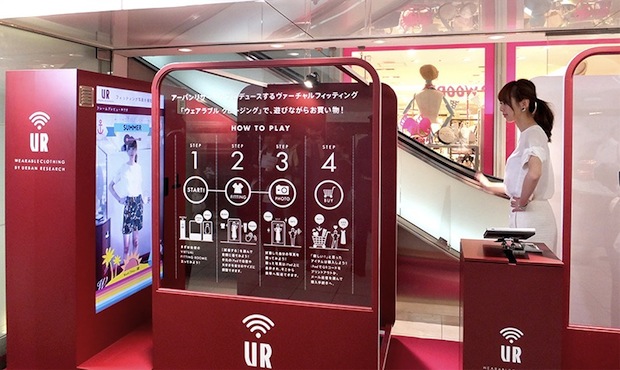 This kind of tryvertising technology has been developing in Japan for several years now. Past successes include Shiseido's "digital cosmetic mirror". Japan also has a well-established tradition of "unmanned shops", from its thousands of varied vending machines to roadside vegetable stalls.
The Wearable Clothing system uses Kinect, a 60-inch LCD display, and an iPad. Kinect is increasingly the software of choice for these augmented reality virtual fitting units; a similar one for Topshop also utilized it back in 2011. Urban Research spent a year working on the project with a web development company, spent some ¥20 million ($200,000) to create two initial vendors.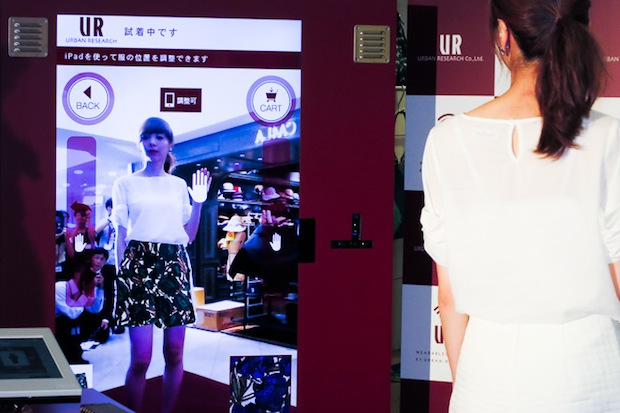 It responds to the user's movements in real time as you try on your selected item (3D "real-time fitting", as the makers term it) and even promises to give you a virtual experience of the texture of the clothing materials (so-called "cloth simulation"). As the Time Out blogger put it, "way more satisfying than fiddling with zips and buttons and bad lighting in a real dressing room." If what you browse or try on takes your fancy, you can then add it to your basket and use the QR code it prints to access the brand's online store and complete your purchase of the item.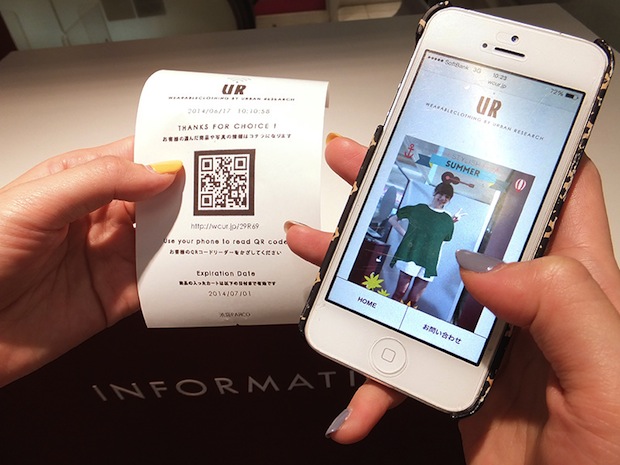 Urban Research is boasting that this is the first example in the apparel industry of a single unit offering a virtual fitting and retail service all in one, as well as coordination with users' social media.
The Wearable Clothing virtual fitting room is planned to appear next at Tokyo Skytree's Solamachi mall this August.
The question, though, is whether in Japan, a culture with a very strong customer service ethos, could these types of virtual vendors truly take off and replace staffed stores completely?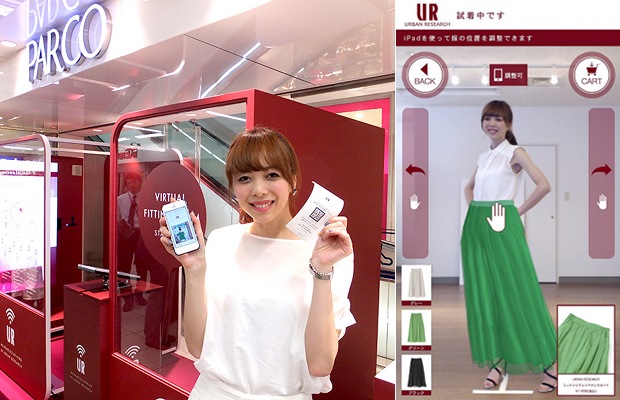 [Image sources:
here
and
here
]