Jins, one of Japan's big spectacles sellers, set up the country's (the world's?) first vending machine for glasses earlier this year in July.
The first ones were in Tokyo Bay and three other rather lackluster spots, namely Aeon malls in the 'burbs.
They have since announced they are planning a further fifty locations, including now at Kansai Airport.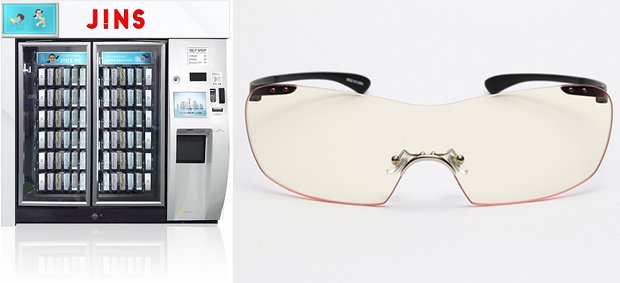 It's not just a pop-in-your-coins kind of vendor either. This is a "next generation vending machine" (okay, these are often trumpeted but perhaps there is more than one generation round the corner?) and has a flashy name, the Jins Self Shop.
It is complete with touch panels and can go online to manage its stock. It even takes credit cards, a rarity in cash-happy Japan.
This is nice, since you see a lot of different kinds of things being sold from machines in Japan (bananas, batteries, canned coffee) but, except for prototypes and the occasional super energy-zapping hi-tech one, most are actually pretty low-fi. The novelty of the purchase is often the selling point.
Glasses in Japan are not your usual kettle of fish.
Jins and its main rival Zoff both run big ad campaigns and target young consumers. Jins uses Yu Aoi while Zoff has the equally lovely Kiko Mizuhara, plus they indulge in fancy augmented reality "digital glasses" projects from time to time too. Both chains also have large stores in Harajuku.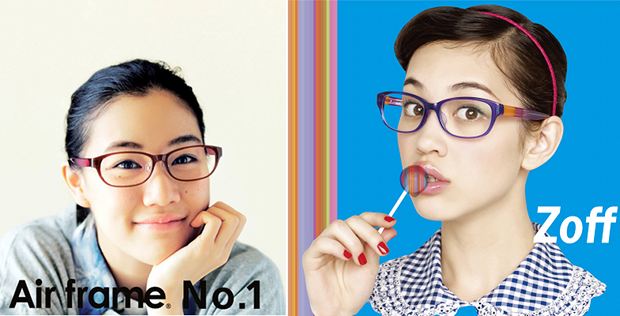 We've always liked how almost all regular spectacles stores will usually have a little cleaning spray machine set up outside, so as you pass by you can give your specs a rinse. Especially useful in the humid summer!