Written by: Japan Trends on July 9, 2014 at 8:55 am | In
COOL PRODUCTS
|
No Comments
The Japanese are obsessed with bathing. From hot springs (onsen) to public baths (sento), and even home foot baths for feet saunas, the Japanese take the water, temperature, location and duration of a bath very seriously. They will make special trips to a place just to visit a certain bath.
But sometimes this isn't practical. It's hard to read in the bath, as we know, and it's also getting more dangerous for the wallet as we change the way we read. Dropping a magazine or paperback in the tub is one thing; letting slip your tablet or smartphone is quite another. Luckily there are some waterproof covers and bags to help you stay safe from butterfingers while browsing on your device.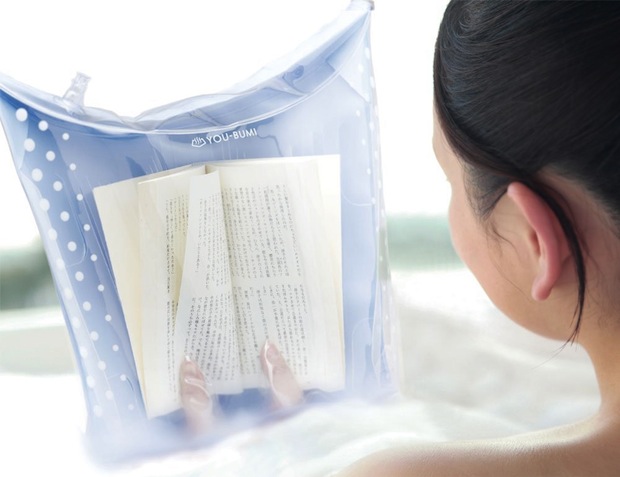 But what about books? Yes, Japan once had the reputation for being the world's leading producer of hi-tech, a status it has ceded recently to Korea (i.e., Samsung) and America (i.e., Apple). But this nifty product reminds that people are still innovating — just not in the way you may initially assume. After all, why always move forwards when there is space sideways?
Some people are still very analog (hey, we're not all digital immigrants, after all) and like to read using good ol' fashioned paper pages. If you also like to take long baths, you arrive back to that well-known conundrum of how to avoid getting your book wet and wrinkling the pages. Well, the You-Bumi Waterproof Book Cover Bath Bag has you covered, or, to be precise, it has your book covered.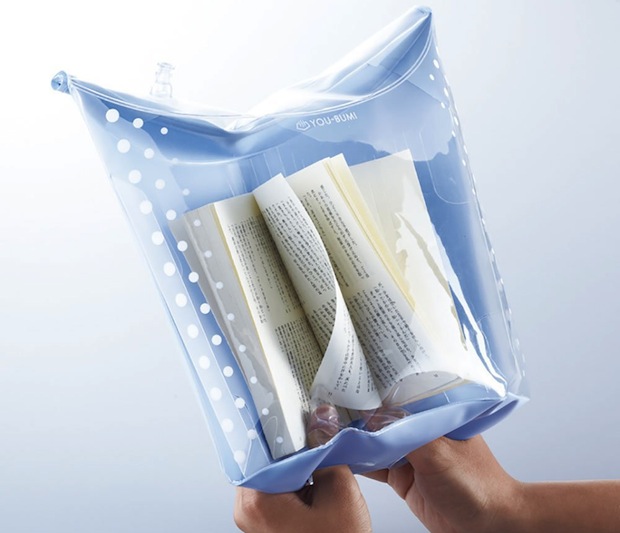 Available now from the JapanTrendShop, this unusual device is a special inflatable bag for holding your book in the bath. It can hold a variety of book sizes and comes with carefully designed finger slots so you can grasp your favorite tome more easily and — here's the rub — TURN the pages without getting any page-blotting water involved.
It comes in a pale blue color (obviously transparent) and while you shouldn't fully submerge the You-Bumi (the name means "bath literature", by the way) when you've got a book inside, it should mean you never had to worry about getting a damp book again.
Created by Jerry Cole Design (despite the name, they are Japanese), Gizmodo makes a nice comparison to the water wings that kids wear when learning to swim and calls it an inflatable, waterproof life jacket for books that means you can even read in the rain.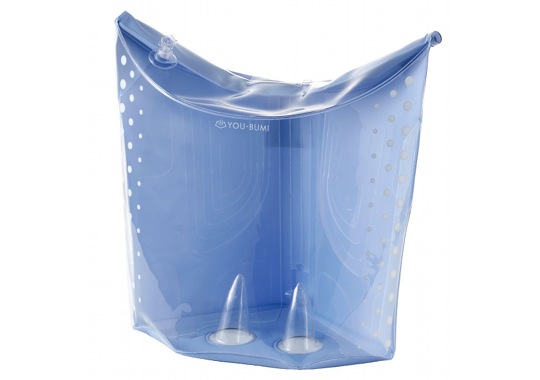 You can order the You-Bumi Waterproof Book Cover Bath Bag from JapanTrendShop.

Tags: Bathing
Category: COOL PRODUCTS
Other categories: CULTURE, GO SEE, LIFESTYLE, NEW TECH
Written by: Japan Trends on June 25, 2013 at 7:02 pm | In
COOL PRODUCTS
|
No Comments
Since the rise of the hipster, the handlebar has come back with a vengeance. If you thought you had seen the last of the lip hair being in fashion way back in 1989, unfortunately a generation of guys in their early thirties in corduroy, riding expensive bikes and with esoteric coffee shop habits are redressing the balance again.
Mercifully Japan is hipster-free for the most part. Here facial hair is not such a fashion statement, no doubt partly due to the genetic difficulty in growing really thick and impressive examples. This is why we reckon the Hige Mustache Bath Pillow may well be more popular overseas than locally.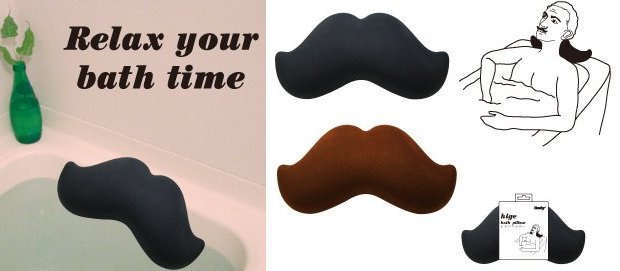 In a nutshell, this is a pillow (albeit one not made from feathers, natch) to help you relax in the tub, shaped in the not-so-relaxing form of a mustache.
What, so leaning back and relaxing on someone's mustache doesn't sound enticing to you? Apparently you are in the minority. Either way, this is rather good fun and trust a Japanese company to come up with this, since we know the Japanese take their bathing very seriously — from bathing in fermented sawdust to turning terrible comedies about Roman bathhouses into major blockbusters.
The Hige Mustache Bath Pillow is made by Toffy but available internationally via the JapanTrendShop.
And if you are really interested in Japanese facial hair, you can even get some fake beards by Propia to create a unique trendy Tokyo male look.

Tags: Bathing
Category: COOL PRODUCTS
Other categories: CULTURE, GO SEE, LIFESTYLE, NEW TECH
Written by: Bella on March 5, 2013 at 6:17 pm | In
LIFESTYLE
|
1 Comment
Forget the Lemon Detox, no-carbs-after-4pm and anything-that-can-be-eaten-through-a-straw detox plans and try an Enzyme Bath instead! Just 15 minutes in this bath full of naturally fermented sawdust and rice bran can make you sweat as much as you would in a 2 hour marathon.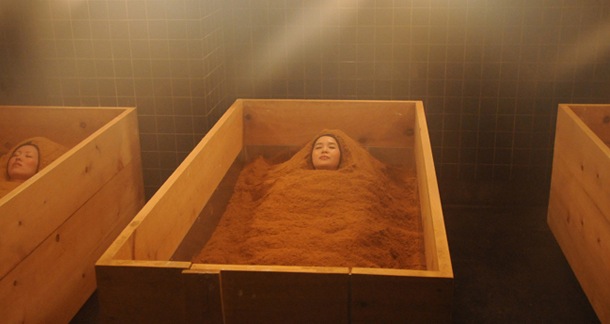 As your body is engulfed in sawdust at a temperature of around 40 degrees Celcius, the body is warmed from the core. This activates your internal organs, apparently optimizing metabolism, increasing your immune strength, and improving circulation. It's also great for easing constipation and even insomnia. The dry sawdust also promotes the release of sweat without clogging your pores where excess dirt and sebum from your skin is also washed away.
Kousoyokuen Leaf in Shinjuku, Tokyo, is just one of the many salons from around Japan that offer this sawdust service. The sawdust, which comes from the Yoshino Cypress tree grown in the Nara Prefecture, is finely ground and undergoes a unique fermenting process. Naturally occurring enzymes from fruit and flowers are added to the sawdust, assisting it to reach temperatures of 70-80 degrees without the need for any artificial heat.
These baths can set you back ¥6,300 for a 15 minute session but with such miraculous benefits and of course, the novelty of bathing in sawdust, who wouldn't want to try this out? At least it's not fermented soyabeans, right?!

Source: Roomie, Kousoyokuen Leaf
Tags: Bathing, Beauty
Category: LIFESTYLE
Other categories: COOL PRODUCTS, CULTURE, GO SEE, NEW TECH