There are many things you could say about teamLab. Their work is so broad and brings together so many different fields that "installation art" doesn't do the group justice. Perhaps one of the best ways to describe their output is that they are exactly what people who haven't been to Japan have in mind when talking about it: utilizing all the technology available at any given moment in the 20 years they have been around, their creations transform reality and the audience's perception of it, resulting in science fiction environments that fit perfectly the idea (and often, the stereotype) of Japan as a futuristic utopia with little connection to any other place in the world.
Of course, things are much more down-to-earth in reality: the collective, based in a building in Kanda, one of Tokyo's more traditional areas (but fittingly, just a 15-minute walk from Akihabara, the celebrated "high-tech hub" of Tokyo), reflects the vision of founder, Toshiyuki Inoko, a graduate of the Department of Mathematical Engineering and Information Physics in the University of Tokyo's School of Engineering, who also studied natural language processing and art. And that is to build a creative laboratory where a group of people could experiment with art and technology, and produce artworks that would change viewers' values and behavior.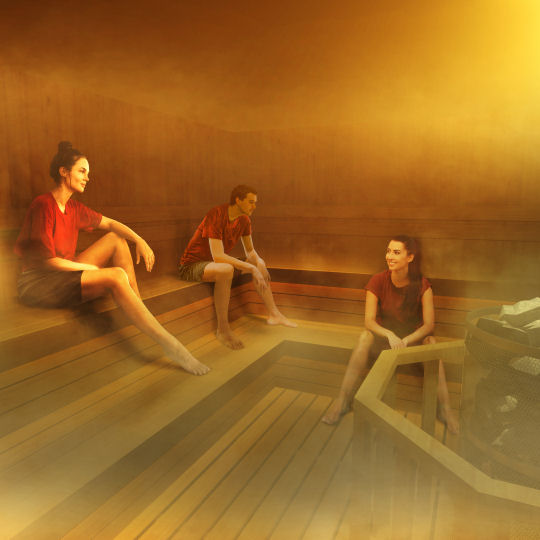 In these 20 years, teamLab have produced hundreds of these artworks all over Japan and abroad, some permanent and some temporary. The group use the word "exhibition" for their creations but there really isn't a single word that can describe the breadth and depth of their work. You can get a taste of their YouTube channel but going to one is the best way to experience them. Tired as it might be, the word "experience" is the only one that truly applies to the panorama of sights, colors, lights, sounds, and interactions that make up any teamLab event.
Their latest, Reconnect: Art with Rinkan Sauna, is no exception. Held in a sauna and bath space in Roppongi from March until August, the event aims to help visitors reconnect their body and mind through exposure to art and a sauna and bath experience. If sounds like a novel idea, it isn't really: teamLab actually drew their inspiration from rinkan no cha no yu, a 15th-century practice that combined communal baths and chado (tea ceremony). The difference is that now, after the sauna and the subsequent cold bath, instead of matcha green tea and its utensils, the visitors has the opportunity to appreciate works of contemporary art.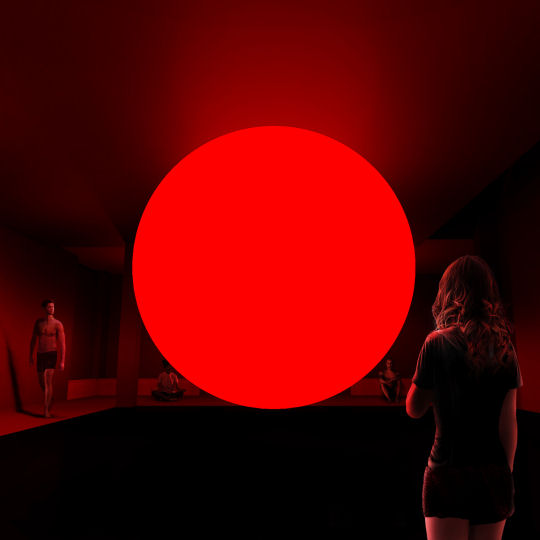 TeamLab hasn't already announced all the artworks that will be featured in the exhibition's three spaces (Art Submersion Area, Cold Bathing Area, and Sauna Area. They have said that they will be on the theme of their new art project, Supernature Phenomenon, dealing with phenomena that transcend the laws of the natural world and the changes in our understanding that occur when we come in contact with such phenomena. Judging from the two of them, "Levitation," featuring a giant red levitating sphere, and "Proliferating Immense Life – A Whole Year per Year," featuring a wall of digitally projected flowers that bloom and wither and respond to touch, the whole experience will be among the most powerful teamLab has produced!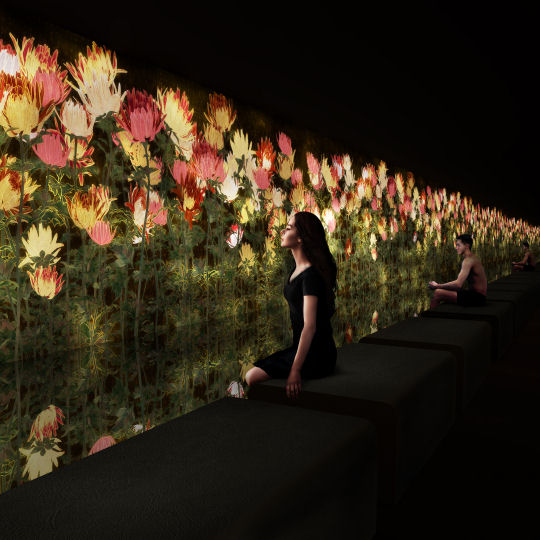 Covid-19 being what it is and with Tokyo riding its third wave, there is some doubt about if Reconnect: Art with Rinkan Sauna will be held according to schedule. Hopefully, and with the situation having been handled better in Japan than most countries, there's high hope that by spring things will be better – among other things, Tokyo's next Olympic Games depend on it! One thing is certain though: whenever it's held, teamLab's new project is going to be an experience not to be missed. Yes, one that could have been part of a science fiction movie.