There are some things that, no matter how long I say here, I still just can't get my head around.
The preference for natto. Honey on pizza. The appeal of SMAP.
Japanese people have some idiosyncratic tastes and this is reflected in their cinema. Surely no other country could make a film called Udon: The Movie (2006) and it be a hit.
Kamome Shokudo (Kamome Canteen). Nankyoku Ryorinin (The Chef of the Antarctic). Almost every week there seems to be yet another film or TV series opening about a restaurant, a cake shop, a cafe or some other such cuisine-connected locale. We even blogged earlier this week about a food-themed manga tackling the Fukushima disaster.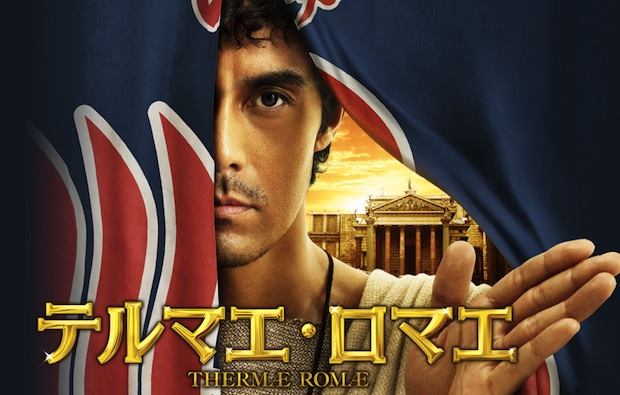 The biggest movie blockbuster in Japan last year was Thermae Romae, telling the "hilarious" story of an ancient Roman who gets sucked through a portal in a bathhouse to arrive in modern day Japan.
The premise is a familiar fish-out-of-water-cum-time-travelling tale with lots of obvious jokes about how the "foreigner" does things differently to the locals.
The comedy may well be universal. But much more impenetrable might well be the fundamental appeal of a film about, well, bathing. (Arguably it is more a film about bathing than about outsiders in Japan.)
The movie, based on a bestselling manga, rests on the idea of a Roman architect tasked with designing a bath, who is then able to travel to present day Japan and experience the wonders of local sento (public baths). What can he learn from the delights of modern day facilities? And there you have a box office smash.
Starring Hiroshi Abe and Aya Ueto, the film was so popular that the makers have just announced a sequel will appear to be shot in Bulgaria later this year.
It goes without saying that a film catering to such esoterically local tastes will never travel much beyond these shores. What does that mean for the industry as a whole?