Forget the Lemon Detox, no-carbs-after-4pm and anything-that-can-be-eaten-through-a-straw detox plans and try an Enzyme Bath instead! Just 15 minutes in this bath full of naturally fermented sawdust and rice bran can make you sweat as much as you would in a 2 hour marathon.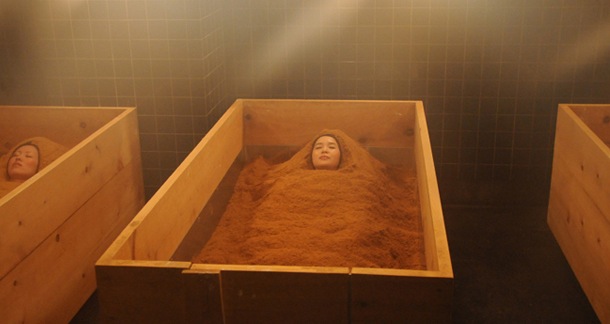 As your body is engulfed in sawdust at a temperature of around 40 degrees Celcius, the body is warmed from the core. This activates your internal organs, apparently optimizing metabolism, increasing your immune strength, and improving circulation. It's also great for easing constipation and even insomnia. The dry sawdust also promotes the release of sweat without clogging your pores where excess dirt and sebum from your skin is also washed away.
Kousoyokuen Leaf in Shinjuku, Tokyo, is just one of the many salons from around Japan that offer this sawdust service. The sawdust, which comes from the Yoshino Cypress tree grown in the Nara Prefecture, is finely ground and undergoes a unique fermenting process. Naturally occurring enzymes from fruit and flowers are added to the sawdust, assisting it to reach temperatures of 70-80 degrees without the need for any artificial heat.
These baths can set you back ¥6,300 for a 15 minute session but with such miraculous benefits and of course, the novelty of bathing in sawdust, who wouldn't want to try this out? At least it's not fermented soyabeans, right?!

Source: Roomie, Kousoyokuen Leaf