The Japanese are obsessed with bathing. From hot springs (onsen) to public baths (sento), and even home foot baths for feet saunas, the Japanese take the water, temperature, location and duration of a bath very seriously. They will make special trips to a place just to visit a certain bath.
But sometimes this isn't practical. It's hard to read in the bath, as we know, and it's also getting more dangerous for the wallet as we change the way we read. Dropping a magazine or paperback in the tub is one thing; letting slip your tablet or smartphone is quite another. Luckily there are some waterproof covers and bags to help you stay safe from butterfingers while browsing on your device.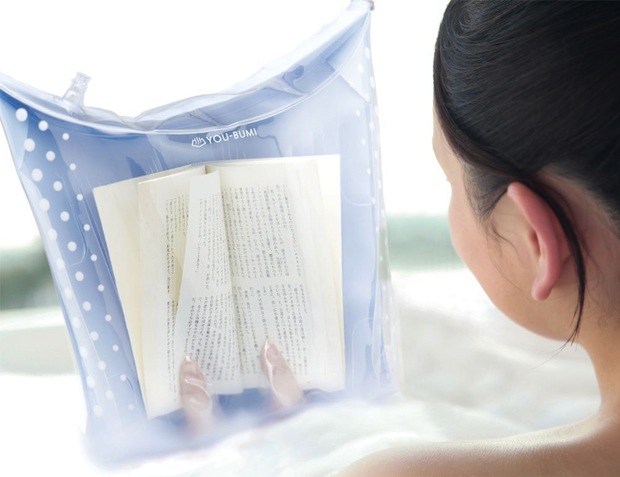 But what about books? Yes, Japan once had the reputation for being the world's leading producer of hi-tech, a status it has ceded recently to Korea (i.e., Samsung) and America (i.e., Apple). But this nifty product reminds that people are still innovating — just not in the way you may initially assume. After all, why always move forwards when there is space sideways?
Some people are still very analog (hey, we're not all digital immigrants, after all) and like to read using good ol' fashioned paper pages. If you also like to take long baths, you arrive back to that well-known conundrum of how to avoid getting your book wet and wrinkling the pages. Well, the You-Bumi Waterproof Book Cover Bath Bag has you covered, or, to be precise, it has your book covered.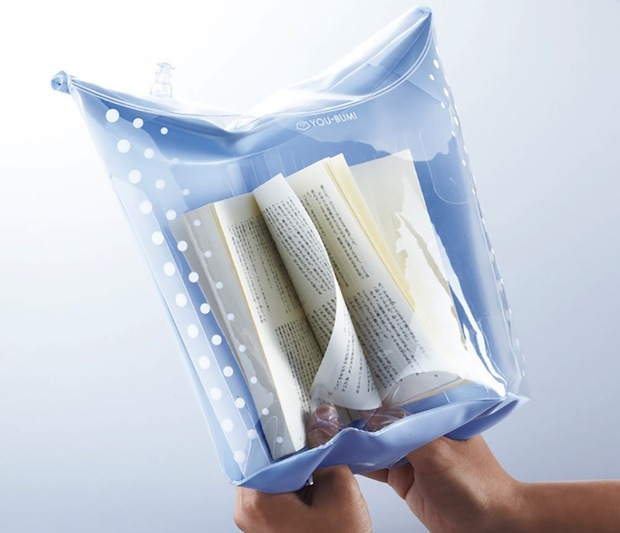 Available now from the JapanTrendShop, this unusual device is a special inflatable bag for holding your book in the bath. It can hold a variety of book sizes and comes with carefully designed finger slots so you can grasp your favorite tome more easily and — here's the rub — TURN the pages without getting any page-blotting water involved.
It comes in a pale blue color (obviously transparent) and while you shouldn't fully submerge the You-Bumi (the name means "bath literature", by the way) when you've got a book inside, it should mean you never had to worry about getting a damp book again.
Created by Jerry Cole Design (despite the name, they are Japanese), Gizmodo makes a nice comparison to the water wings that kids wear when learning to swim and calls it an inflatable, waterproof life jacket for books that means you can even read in the rain.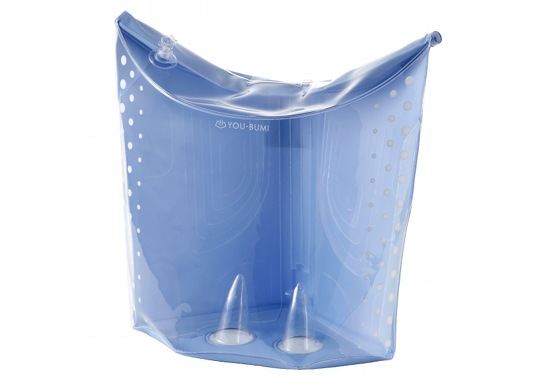 You can order the You-Bumi Waterproof Book Cover Bath Bag from JapanTrendShop.