Since the rise of the hipster, the handlebar has come back with a vengeance. If you thought you had seen the last of the lip hair being in fashion way back in 1989, unfortunately a generation of guys in their early thirties in corduroy, riding expensive bikes and with esoteric coffee shop habits are redressing the balance again.
Mercifully Japan is hipster-free for the most part. Here facial hair is not such a fashion statement, no doubt partly due to the genetic difficulty in growing really thick and impressive examples. This is why we reckon the Hige Mustache Bath Pillow may well be more popular overseas than locally.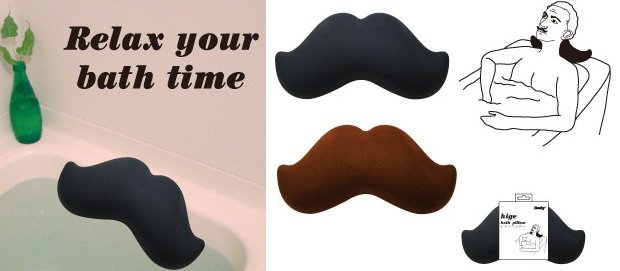 In a nutshell, this is a pillow (albeit one not made from feathers, natch) to help you relax in the tub, shaped in the not-so-relaxing form of a mustache.
What, so leaning back and relaxing on someone's mustache doesn't sound enticing to you? Apparently you are in the minority. Either way, this is rather good fun and trust a Japanese company to come up with this, since we know the Japanese take their bathing very seriously — from bathing in fermented sawdust to turning terrible comedies about Roman bathhouses into major blockbusters.
The Hige Mustache Bath Pillow is made by Toffy but available internationally via the JapanTrendShop.
And if you are really interested in Japanese facial hair, you can even get some fake beards by Propia to create a unique trendy Tokyo male look.