Written by: William on May 29, 2015 at 1:47 pm | In
LIFESTYLE
|
No Comments
Mount Shindake has erupted without warning on the island of Kuchinoerabu, 130 kilometers south of Kagoshima. Boats have been sent to the island to evacuate the population of 147. So far there are no reports of damage or injuries.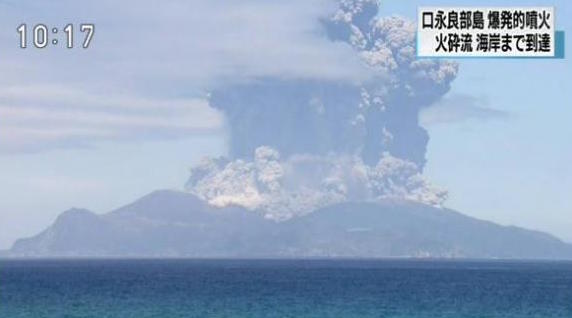 Here you can see videos of the incredible plume, which reached heights of over 9,000 meters.
The island's population is 147. A .gif of the eruption: pic.twitter.com/NFrmcnwcqW

— Nippon.com (@nippon_en) May 29, 2015
Another .gif showing the extent of the blast: pic.twitter.com/WZpsIUs0Om (via @satake_take)

— Nippon.com (@nippon_en) May 29, 2015
As often is the case with volcanic activity, the results are a strange mix of the beautiful and the terrifying.
A trip to nearby Yakushima turns into an incredible photo op for @TAKUYAbluewhale: pic.twitter.com/UjuGRiJsis

— Nippon.com (@nippon_en) May 29, 2015
The eruption has implications for air traffic in south Japan.
Mount Shindake is located about 650 metres above sea level and last erupted in August 2014 for the first time since 1980.
There has been a flurry of volcanic eruptions in Japan recently. Mount Ontake erupted in September 2014, killing 57 hikers. Sakurajima also erupted again in 2013, sending ash over Kagoshima City, followed by another eruption in April 2015.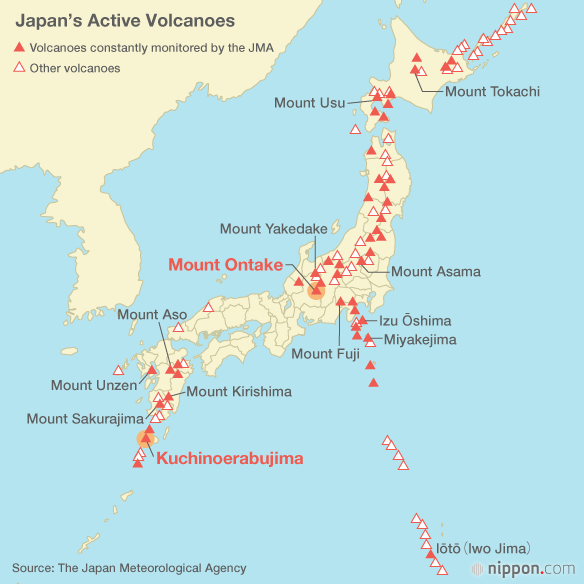 Though feted as a tourist destination and UNESCO World Heritage site, Mount Fuji is also an eruption-in-waiting. Such a disaster would displace 470,000 people due to ash fall and potentially cripple the Tokyo-based national government.
The resources to monitor Japan's 110 active volcanoes have also been decreasing in recent years, meaning the Japan Meteorological Agency keeps round-the-clock watches on only 47 peaks.

Tags: Disasters
Category: LIFESTYLE
Other categories: COOL PRODUCTS, CULTURE, GO SEE, NEW TECH
Written by: William on December 15, 2014 at 11:04 am | In
CULTURE
,
LIFESTYLE
|
No Comments
Following last year's top trends and major buzzwords and memes, we are going to take a look back at the big trends and topics for 2014 in Japan. We already examined some of the main Twitter buzz of the year, but what about the overall trends?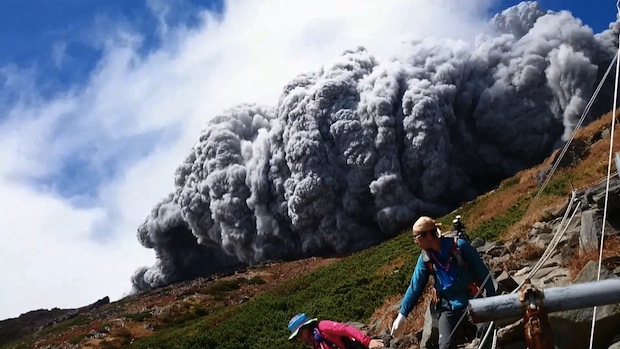 Natural Disasters
Sadly there is rarely a year in Japan without natural disasters. Mudslides in Hiroshima in August killed over 70.
Even more dramatically, Mt Ontake suddenly erupted, killing over 50 hikers. Nikon provided one of the most heartwarming stories of the year, however, when they restored a digital camera of one of the deceased and returned the data to his family.
Tax
While Abenomics continued to falter, the nation was hit by a comprehensive price hike when the sales tax, for years a very modest 5%, was bumped up to 8% in the spring. One day everything changed, since shops and restaurants started advertising prices without tax included in an effort to persuade consumers that their items were still cheap, only to frustrate and confuse at the register when the actual price is revealed.
While sales tax in Japan remains far lower than most industrial nations, it was a big shock for a population whose wages had no increased in real terms for decades. It ended up becoming the Kanji of the Year.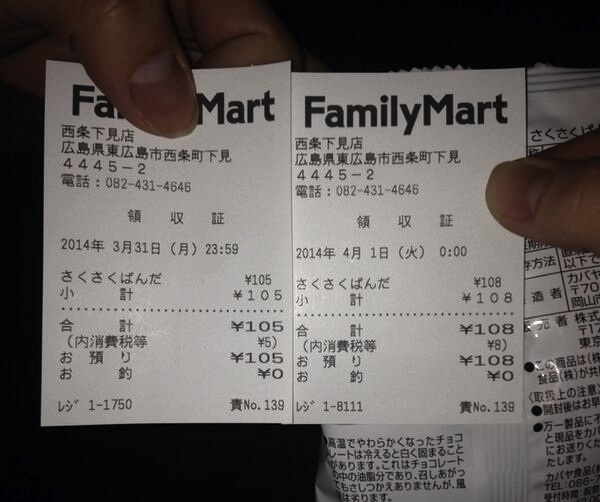 Self-Immolation and Politics
As the Shinzo Abe government continued to push forward with controversial changes to the Constitution after the introduction of a worrying state secrets law last year, there were two shocking acts of protest. One man attempted to kill himself by self-immolation in the heart of Shinjuku one Sunday, while another succeeded one evening in November in Hibiya Park.
The government's newly introduced "right to collective self-defense" then became one of the "words of the year", though for all the wrong reasons. Members of the Abe government were also accused of having ties to ultra-nationalists and race hate groups.
Abe apparently made a gesture of reconciliation with China when he met with Xi Jinping at the APEC Summit in November, though the lack of enthusiasm on both parties' faces showed how they really felt about each other. Was this the world's most awkward head-of-states handshake ever?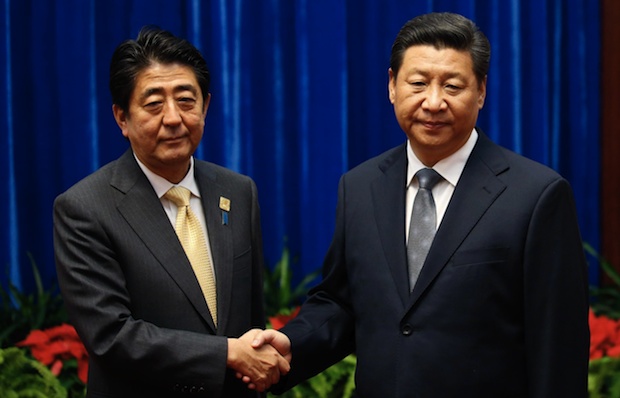 Wailing and Whaling
In late March, the International Court of Justice ruled that Japan's "scientific whaling research" was illegal, though it has not yet halted the nation's disputed annual hunt.
Meanwhile, Hyogo politician Ryutaro Nonomura became a global sensation for his incredible, tearful apology at a press conference as he attempts to explain his suspicious expenses to the public.
Ghostwriters and Liars
The year also saw a "modern-day Beethoven" exposed as a fraud who had a ghostwriter composing his music for years. Oh, and he wasn't even really deaf.
Even more seriously, the female scientist at Riken who claimed to have discovered STAP cells was found to have doctored part of her paper. It was later withdrawn and Haruko Obokata was made a scapegoat, vilified by the media who had so hyped her up in the first place. Riken also backpedalled over its support for its young "star" and her supervisor eventually committed suicide.
Tennis
Japan's biggest sporting success is an easy one: Kei Nishikori went on to become World No. 5 and secured a place in the finals of the US Open, the first male Asian ever to reach the last match of a Grand Slam tournament. "There's no one left I can't beat," declared the confident Nishikori at one point (though he was ultimately beaten by Croatian player Marin Cilic).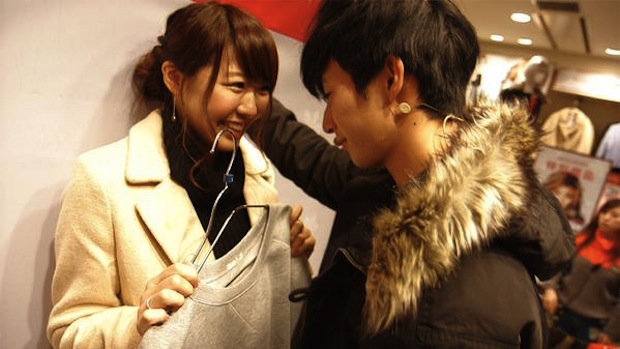 Kabe-don
A fun one to end with. The word seemed to come out of nowhere and now it is being used for marketing events by GU and Morinaga. Originally a phrase for describing how you might "pound the wall" when your neighbor is being loud, now it seems to mean when a guy traps a girl against a wall and leans in for a smooch.

Tags: Disasters, Marketing, Politics, Social Issues
Category: CULTURE, LIFESTYLE
Other categories: COOL PRODUCTS, GO SEE, NEW TECH
Written by: William on November 11, 2014 at 8:46 am | In
LIFESTYLE
|
No Comments
It has been over a month from the surprising Mt Ontake volcanic eruption in late September, which ultimately killed 57 people.
One of those who perished was Kazuo Wakabayashi (66), from Matsumoto City in Nagano Prefecture.
It goes without saying that his family struggles to cope with their loss and nothing will bring back Wakabayashi. However, Japanese camera maker Nikon have tried to help in the best way they can.
Wakabayashi was a camera buff who loved to shoot landscapes when he went hiking or fishing. He took a Nikon camera with him on his fateful hike to Ontake and the device was later returned to his family on October 1st, coated in ash and broken.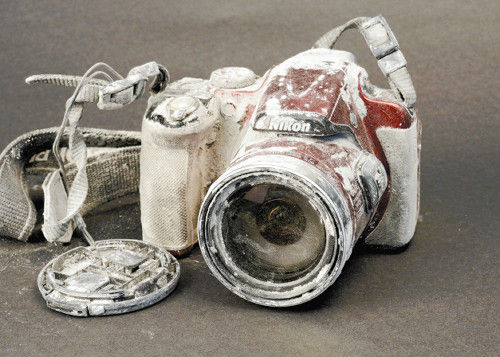 The camera was a new one; he had only bought it in July. The data had also been lost in the disaster and Wakabayshi's family was only able to view images taken on one day. The rest were gone. Nikon heard about the camera in a Yomiuri Shimbun newspaper article and then offered to repair it for the family.
Though it was damaged beyond repair in the eruption, over 10 days Nikon was able to restore the lens, the filter, and the circuit board, all without charge of course. The camera body was also cleaned up and handed back to Wakabayashi's eldest daughter on October 30th.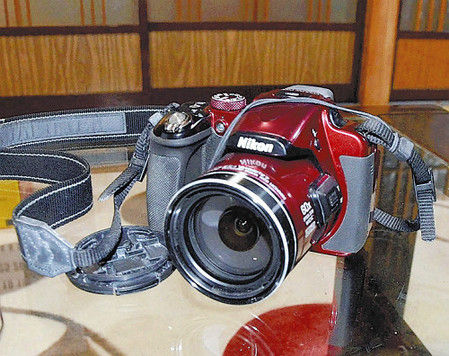 They were able to recover the digital data for the family so that they could see the roughly 200 photographs Wakabayashi took before his death and which his family feared had been lost forever.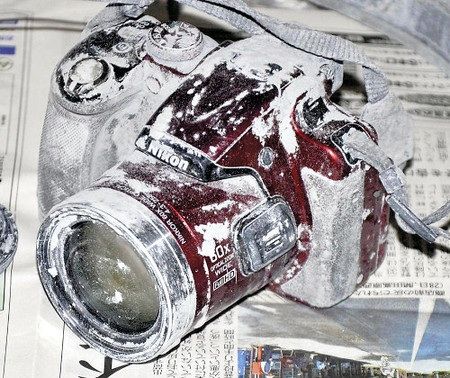 Tags: Disasters
Category: LIFESTYLE
Other categories: COOL PRODUCTS, CULTURE, GO SEE, NEW TECH
Written by: William on September 27, 2014 at 5:45 pm | In
LIFESTYLE
|
No Comments
Mt Ontake, a volcanic mountain between Nagano and Gifu prefectures, erupted at 11:53 a.m on September 27th, resulting in a 4km ash cloud.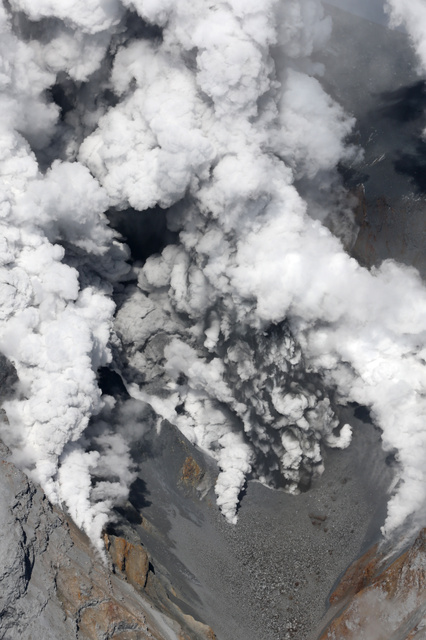 [Image source: Asahi]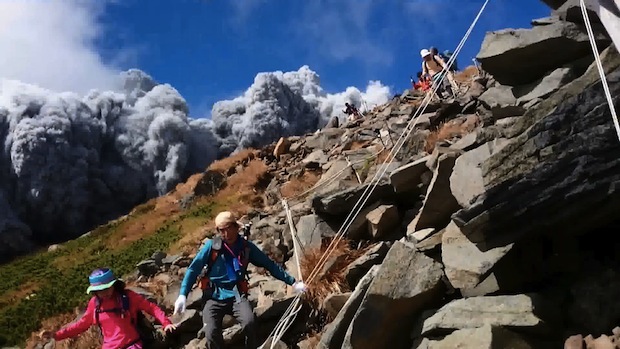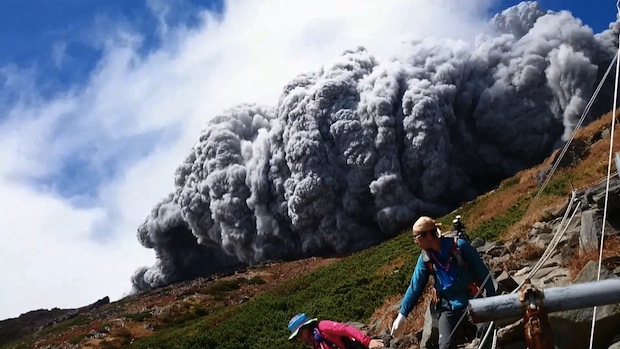 The eruption took hikers on the mountain by surprise (an alarm was sounded 10 minutes before the eruption) and sent them running for cover from the ash, as this video shows.
We have been updating this post as more information is released.
It is now thought over 50 people have been killed in the eruption, mostly because of falling rocks. Many others have been reported badly injured and hundreds more evacuated. The mountain is over 3,000 meters tall and aircraft are being diverted from the plumes of ash in the skies above the volcano. The side of the mountain is coated in a vast coat of ash, making it resemble a lunar landscape.
Mt Ontake, Japan's second largest volcano, also previously erupted in the late 1970's.
Watch the sky change after the eruption at around noon in this time lapse video.
You can see more images and videos of today's eruption on Gigazine.

Tags: Disasters
Category: LIFESTYLE
Other categories: COOL PRODUCTS, CULTURE, GO SEE, NEW TECH
Written by: William on October 17, 2013 at 8:12 am | In
LIFESTYLE
|
No Comments
It was the largest typhoon to hit Tokyo in ten years and, as expected, yesterday morning brought havoc to the city.
The once-in-a-decade storm, Typhoon Wipha, was even worse in the Izu peninsular, where dozens are missing and nearly 20 dead.
While all eyes were initially on Fukushima and how the nuclear power plants would cope with the rainfall, the downpour and high winds caused chaos for transport in Tokyo, and hundreds of flights and bullet trains were cancelled.
In Tokyo, one woman died after falling into a river.
To get a sense of what it was like trying to go to work as normal on a typhoon-hit Wednesday, take a look at the watery images that Japan's internet users have been sharing.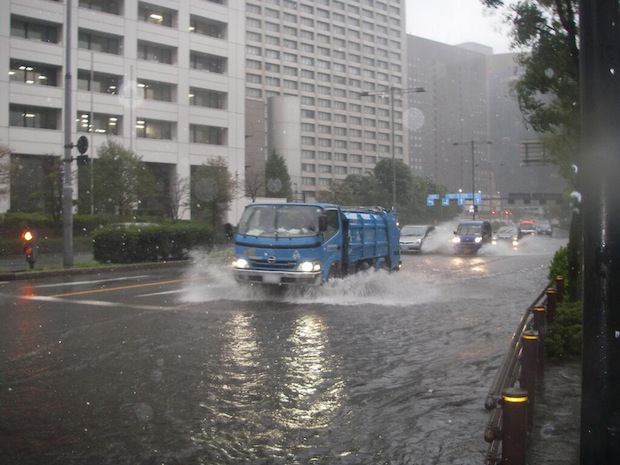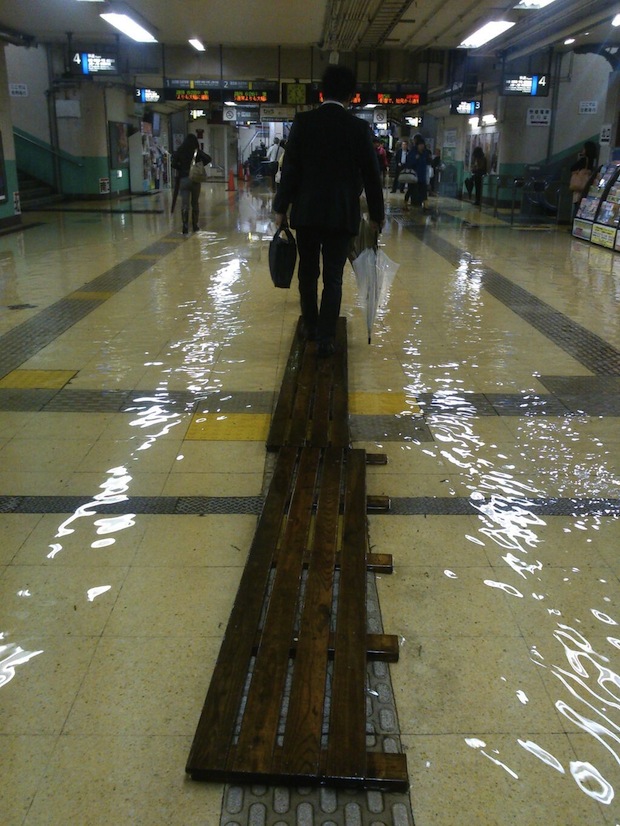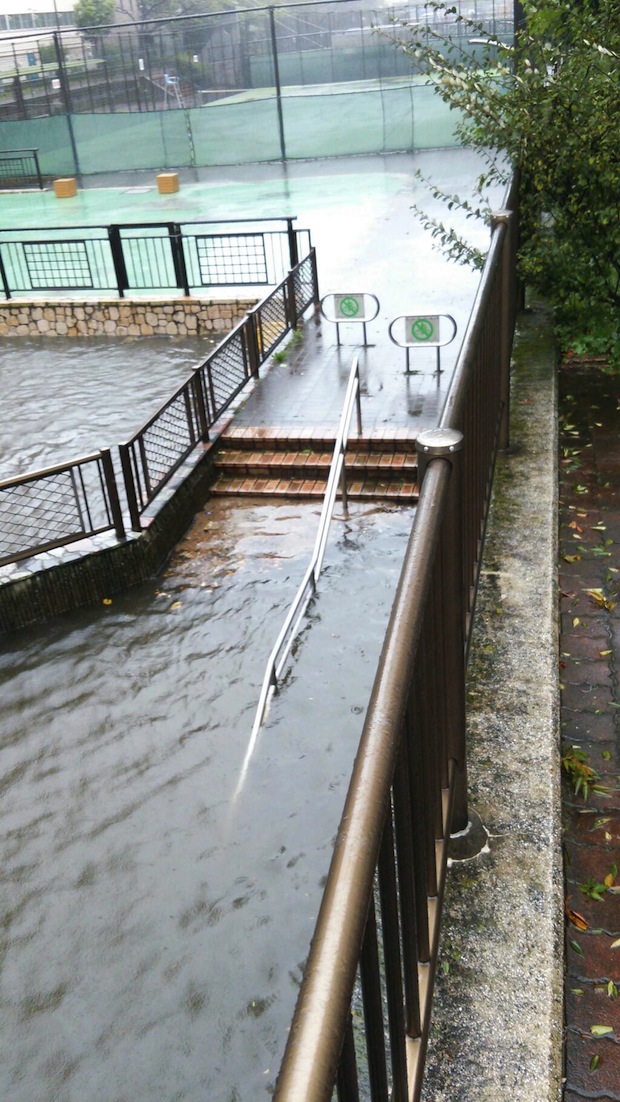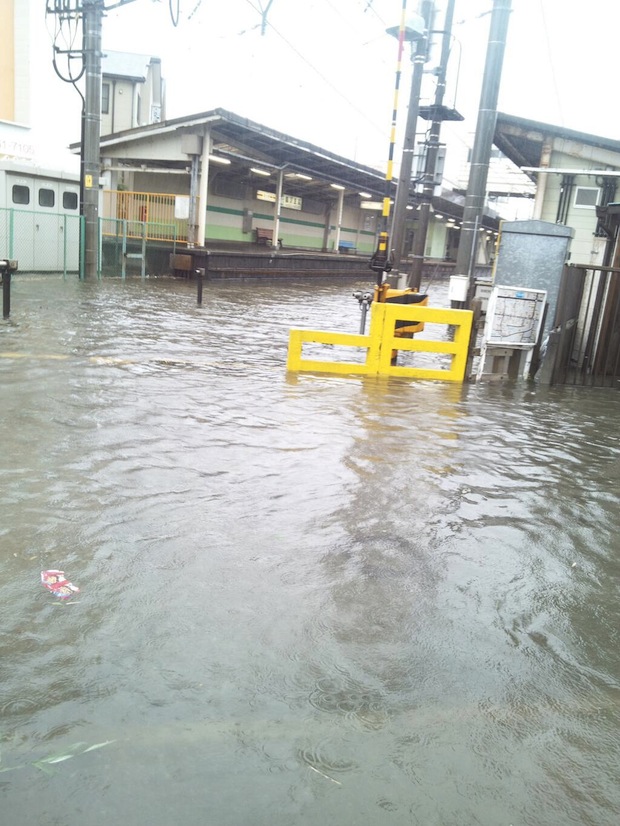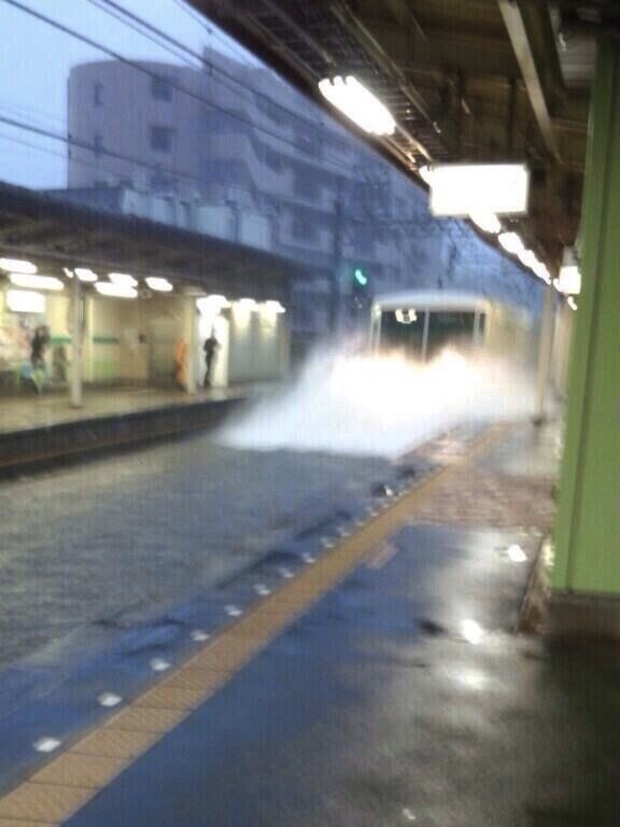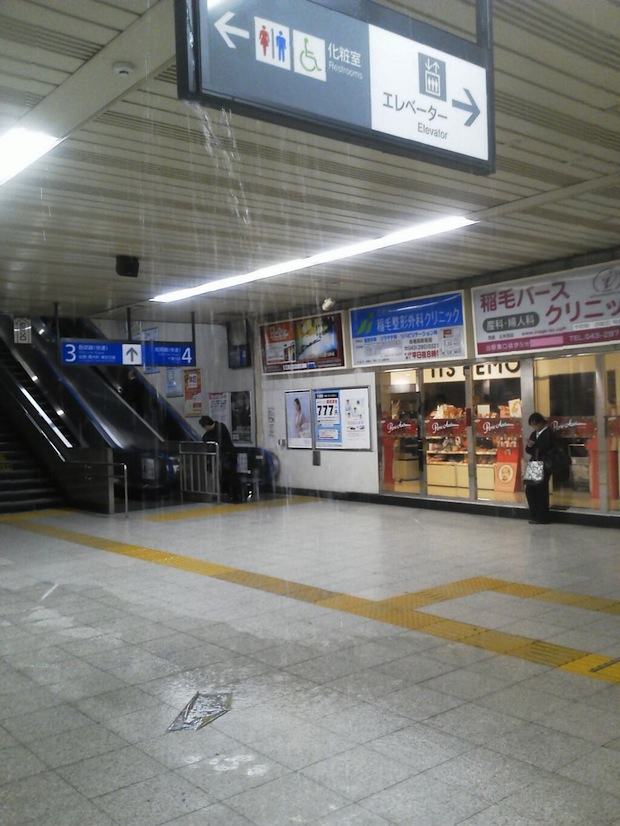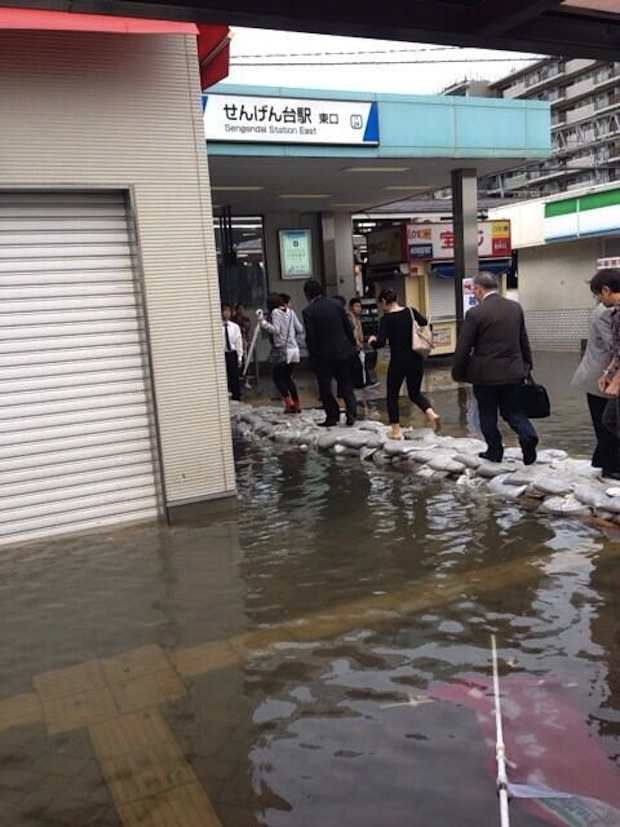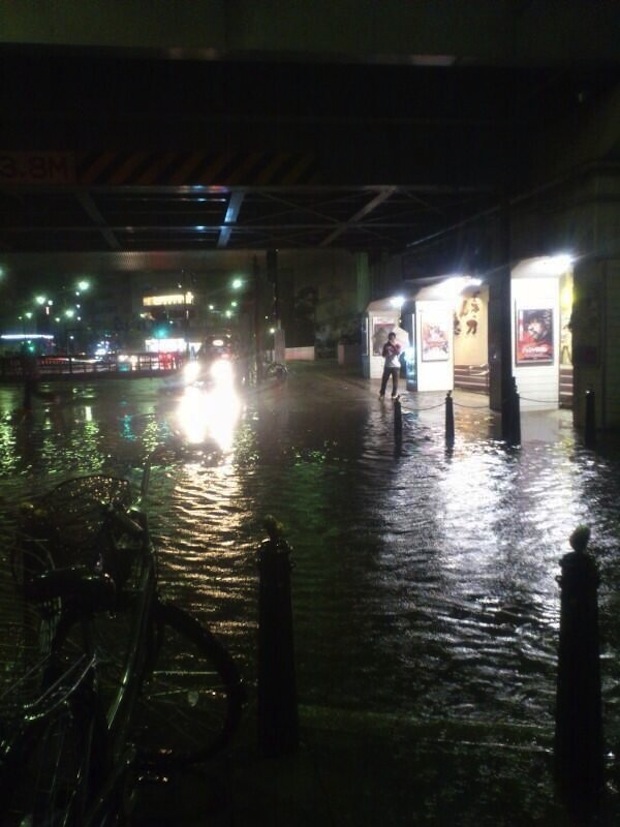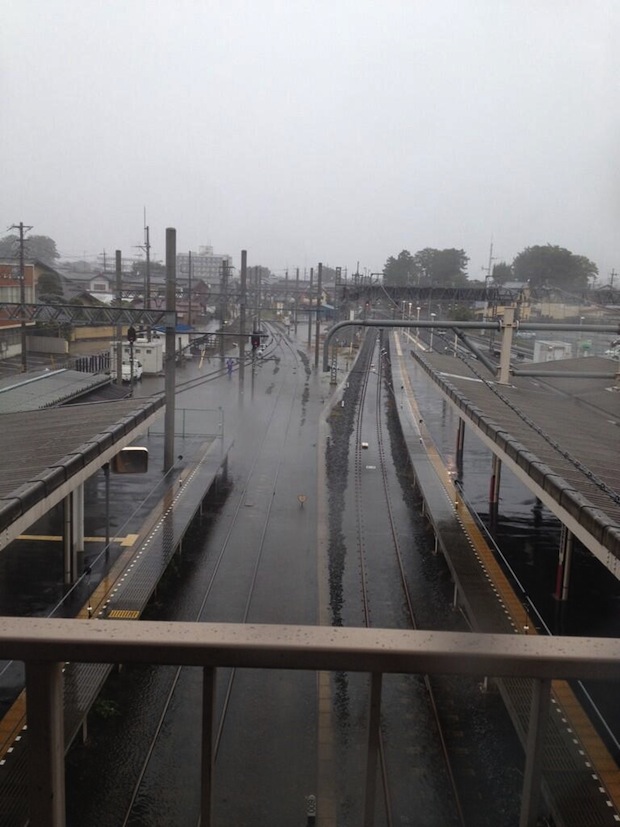 [Source: Matome Naver]

Tags: Disasters, Transportation
Category: LIFESTYLE
Other categories: COOL PRODUCTS, CULTURE, GO SEE, NEW TECH
Written by: William on September 16, 2013 at 10:13 am | In
CULTURE
|
No Comments
Japan has got its knickers in a twist over a French newspaper's satirical cartoon that shows two emaciated wrestlers facing up for a bout in the 2020 Tokyo Olympic Games with the Fukushima reactors ominously in the background. A commentator is saying, "Thanks to Fukushima, sumo has become an Olympic sport."
Le Canard Enchaine poked fun at the announcement that Tokyo would be hosting the 2020 Olympic Games. The sumo wrestlers have extra arms and legs.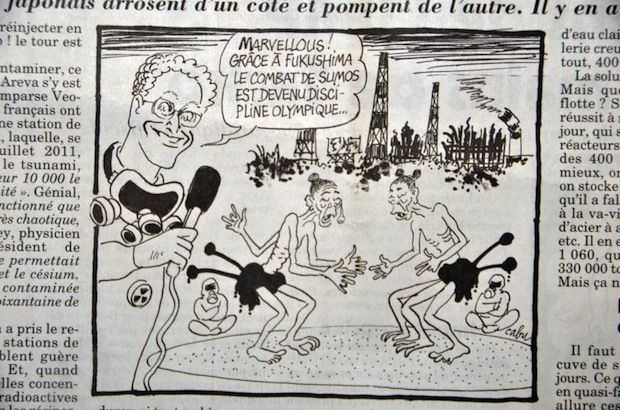 The Japanese government is said to be very upset over the "regrettable" satire and plans to make a formal complaint via the Japanese embassy in Paris.
"This kind of cartoon hurts the feelings of those who suffered in the disaster and gives an incorrect impression of the problem of contaminated water at the Fukushima No. 1 power plant," said Chief Cabinet Secretary Yoshihide Suga in Tokyo.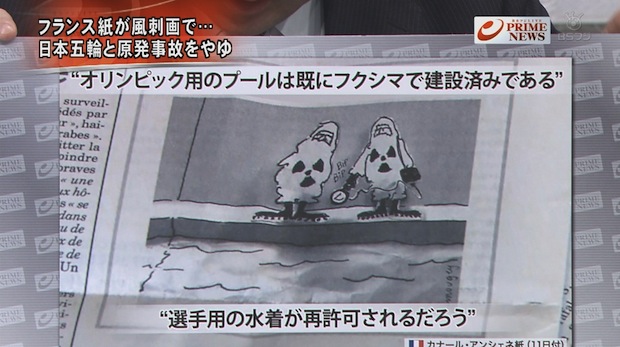 During the final Olympic bid's presentation on September 7th Prime Minister Abe claimed that the Fukushima leak in the sea was "under control". The wording of his claim has since been contradicted even by TEPCO and it seems obvious to all that the leader's bullish statements were disingenuous to say the least.
We would argue that, more than a French cartoon, Abe's over-confidence — or bald-faced lie — is more upsetting to those who suffered in the disaster, not to mention the hypocrisy of the PM now claiming to take responsibility for the region's problems only when it was crunch time for the Olympic bid.
France was one of the most vocal countries at the height of the Fukushima crisis and was accused by some of alarmism when it told its citizens to flee Japan. Though in the end Tokyo was never in danger, its strong reaction to the disaster seems in hindsight not to be so disproportionate given that, approaching three years after, we are still seeing massive radiation leaking out from the crippled plant.
One issue here is that satirical cartoons are not common in Japan so people are not used to such caricature in the media. Le Canard Enchaine is not anti-Japan but it is here exposing the farce of the authorities, and their failure to truly deal with the problems.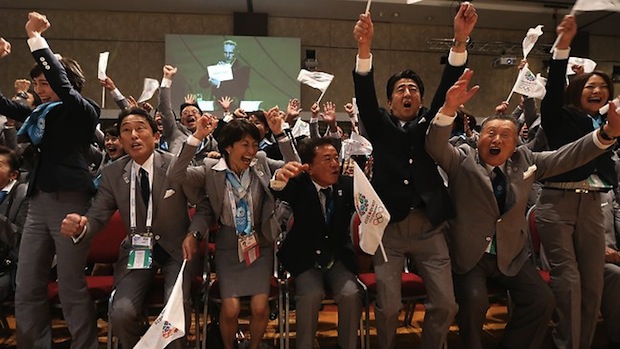 The Japanese government is overly sensitive to foreign jokes and pokes from overseas media. There was a similarly ridiculous and pompous response when British comedy quiz show QI used the example of double A-bomb survivor Tsutomu Yamaguchi ("the unluckiest man in the world") in one brief section of an episode in early 2011. Although it was perhaps insensitive and dangerous to bring up the tricky subject of nuclear war in what is essentially a light-hearted show — but what is the job of comedy if not to be daring and break taboos? — the actual butt of the quips made by the show's panelists was British rail service. It was a case of a joke lost in translation.
France's media has been particularly bold in criticizing the Olympic decision. A program on TV channel France 2 showed a doctored photo of Eiji Kawashima, the goalkeeper of the Japanese national football squad, with four arms. The joke was that a "Fukushima effect" had allowed him to be such a good goalkeeper in Japan's shock defeat of France.
With tens of thousands still living in temporary housing in Tohoku, there is a bitter irony in Tokyo spending millions on developing its bay area for an Olympic Village and other facilities for its citizens to revel in the festive euphoria of the Games.
Here are some examples of temporary housing.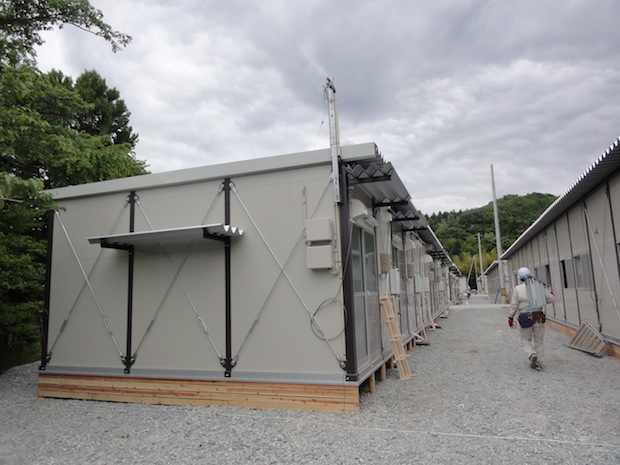 Here is what the Olympic Village will look like.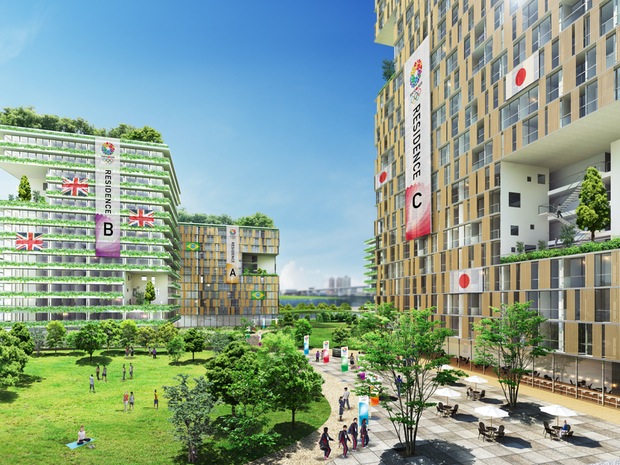 Which would you rather live in?

Tags: Disasters, Fukushima, Olympics, Sport
Category: CULTURE
Other categories: COOL PRODUCTS, GO SEE, LIFESTYLE, NEW TECH
Written by: Japan Trends on May 31, 2013 at 3:32 am | In
COOL PRODUCTS
|
No Comments
After the Tohoku disaster, we have all become a bit more conscious of the "gear" needed in an emergency. Bottled water. Warm clothes. Geiger counter. Hardhat.
In Japan, schools and companies typically have a supply of helmets to protect people's heads during earthquakes. Most of these are standard hardhats, usually in a bright color and pretty ubiquitous in design.
But why be boring, even when you are keeping your head safe from falling objects?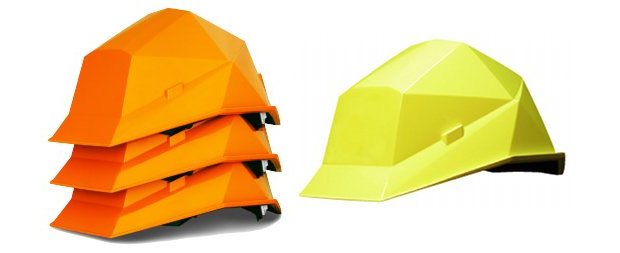 That's where something like the Kakumet by yellow inc. comes in.
It's a geometrically themed designer helmet, with these funky contours that not only look a bit different (a touch of the Stormtrooper?), they also make it easier to stack more helmets — particularly useful in space-strapped Japan.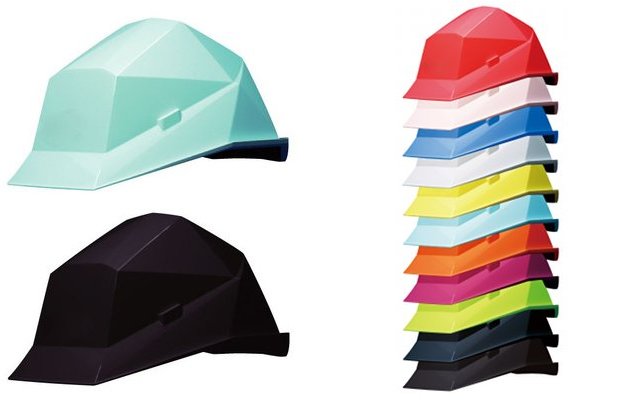 We love the shape and the numerous colors, not to mention the opportunities it offers for customizing.
The makers sell plain Kakumet hardhats but can also add corporate logos for extra effect. Many external designers have been stepping in and creating new versions of the Kakumet for certain clients.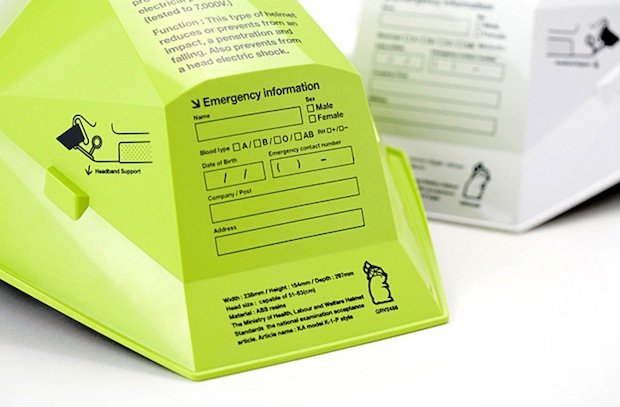 There is a great one by Groovisions with quasi instructions and an "emergency information" form on the helmet, plus a fun "calm down" version for Gearholic.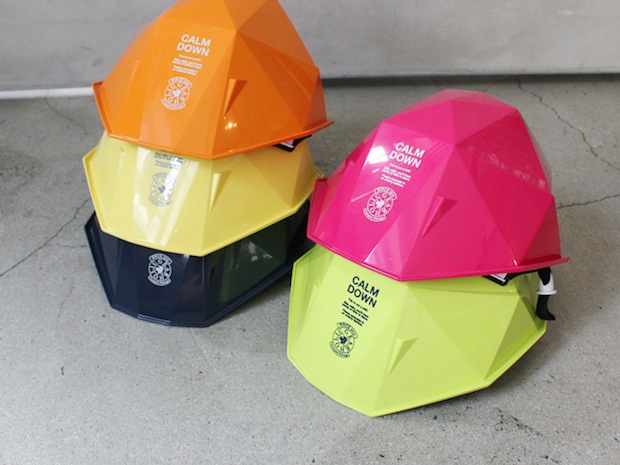 Japan has long had a flair for how to turn ordinary hardhats into something really special. Consider the helmets that all the various radical activist groups wore during the political upheavals of the Sixties and Seventies. Each had its own insignia and markings to indicate which group or "sect" the wearer belonged to. Take a gander at all the multitudes of design below.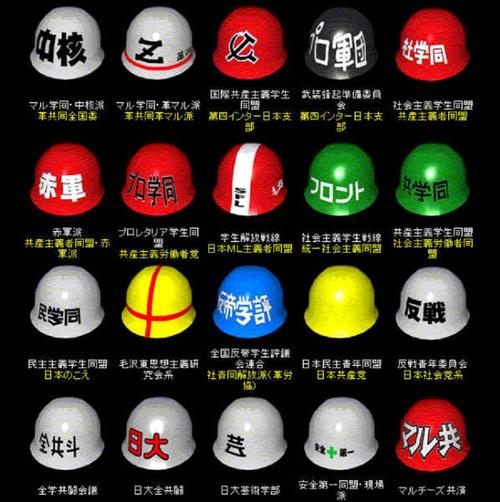 Tags: Disasters
Category: COOL PRODUCTS
Other categories: CULTURE, GO SEE, LIFESTYLE, NEW TECH
Written by: William on May 22, 2013 at 2:48 pm | In
COOL PRODUCTS
|
No Comments
Following the Tohoku disaster in March 2011, we've all thought much more about the kind of tools and clothes that we need when society as we know it breaks down. From flashlights to emergency supplies, water, geiger counters and warm clothing, you need a surprising amount of "basics" in order to survive the aftermath of a major disaster.
Fortunately, you are not alone and even Japan's fashion designers are thinking of ways to help you out.
Final Home is a fashion brand run by Kosuke Tsumura, survival wear with a difference.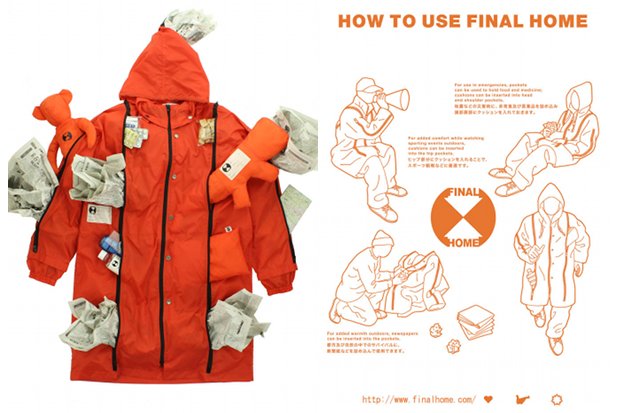 It proposes to provide ultra practical (and stylish) clothing fashion — to the extent that your coat can become your shelter after your regular home has been destroyed (by flood, typhoon, earthquake, tsunami, nuclear meltdown et al).
The signature product is a funky nylon coat with numerous pockets. These can be filled with stuff depending on the occasion. For example, if you are sitting at a sports game, slip in a cushion to make your seat more comfortable. Or if you roughing it in the wild, scrunch up sheets of newspaper and insert them in the pockets to add warmth (and fuel for fire).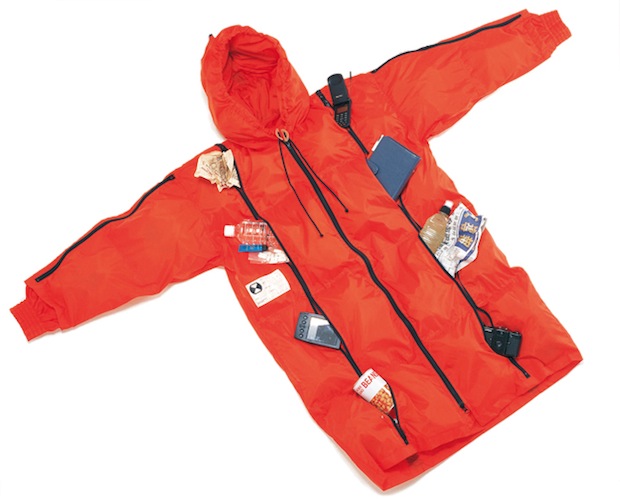 Tsumura has also made clothes out of air cushions, with some pretty spectacular results.
Final Home actually started in 1994 but recently has been gaining a lot of attention, perhaps not coincidentally after the Tohoku catastrophe. Tsumura's brand has been asked to contribute to the current exhibition at the Mori Art Museum, "All You Need is Love", as well as an exhibit at the 21st Century Museum of Contemporary Art, Kanazawa until the end of June.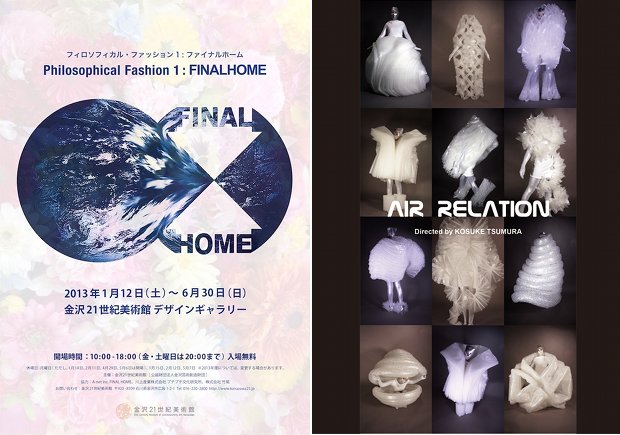 His designs was also spotted at Roppongi Art Night 2013 and he recently presented his work at the Nico Nico Gakkai Beta Symposium.

Tags: Disasters, Fashion
Category: COOL PRODUCTS
Other categories: CULTURE, GO SEE, LIFESTYLE, NEW TECH
Written by: Maite on March 29, 2013 at 8:36 am | In
CULTURE
,
LIFESTYLE
|
No Comments
During the Great East Japan Earthquake on March 11th, 2011 many of the victims or people affected were children. So the "Pokémon with you" project was started to support the disaster-struck region and give children there the feeling that Pokémon will always be with them.

Pokémon makes them smile again, helping them to face tomorrow and making their dreams come true.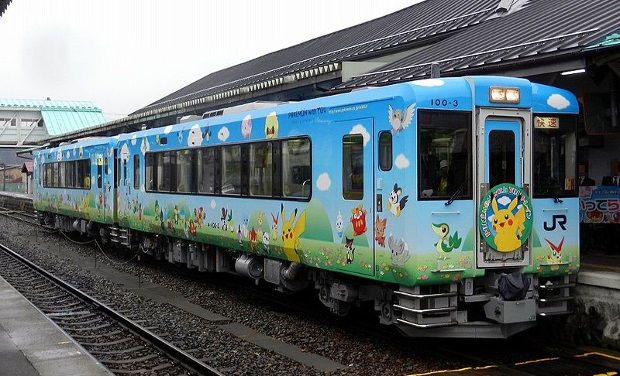 One of the "Pokémon with you" projects is the Japan Railway East Pokémon train, a sightseeing train.
For the first time the train isn't simply just decorated with Pokémon on the outside, but the whole interior also now takes the passengers into the world of Pokémon. This includes a playroom that looks like a forest, and also so-called "communication seats" to enjoy the scenery outside together with the family or friends while having a nice chat.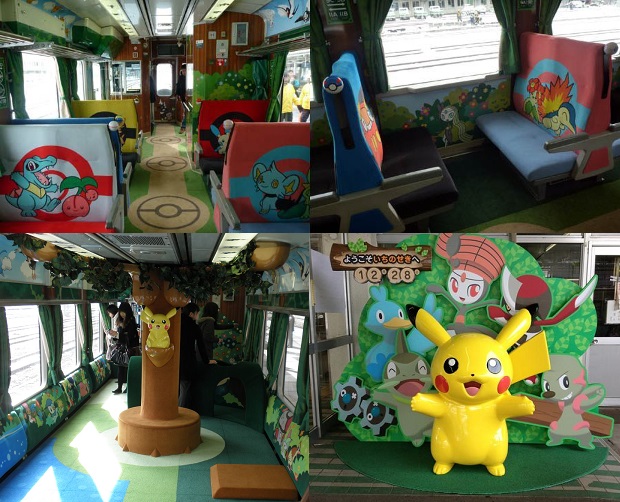 Since December 2012 the train has been running between Ichinoseki station and Kesenmema station with several stops to collect stamps and take pictures at the photo spots with Pikachu and co. Of course, you can also buy merchandise charity to support the children in the Tohoku region.
Tags: Anime, Disasters, Transportation
Category: CULTURE, LIFESTYLE
Other categories: COOL PRODUCTS, GO SEE, NEW TECH
Next Page »