Written by: Maite on March 29, 2013 at 8:36 am | In
CULTURE
,
LIFESTYLE
|
No Comments
During the Great East Japan Earthquake on March 11th, 2011 many of the victims or people affected were children. So the "Pokémon with you" project was started to support the disaster-struck region and give children there the feeling that Pokémon will always be with them.

Pokémon makes them smile again, helping them to face tomorrow and making their dreams come true.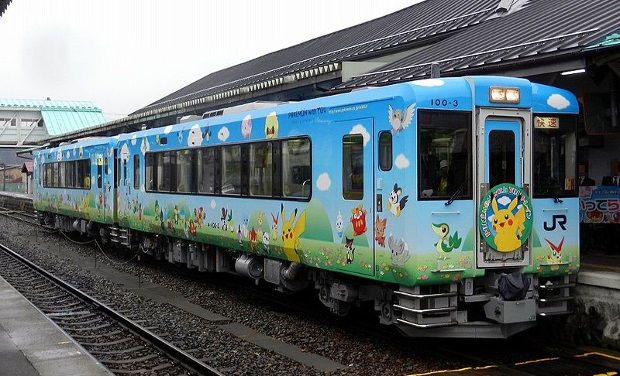 One of the "Pokémon with you" projects is the Japan Railway East Pokémon train, a sightseeing train.
For the first time the train isn't simply just decorated with Pokémon on the outside, but the whole interior also now takes the passengers into the world of Pokémon. This includes a playroom that looks like a forest, and also so-called "communication seats" to enjoy the scenery outside together with the family or friends while having a nice chat.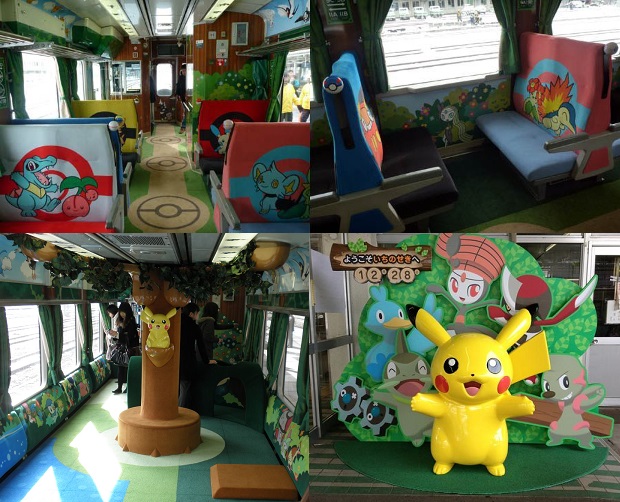 Since December 2012 the train has been running between Ichinoseki station and Kesenmema station with several stops to collect stamps and take pictures at the photo spots with Pikachu and co. Of course, you can also buy merchandise charity to support the children in the Tohoku region.
Tags: Anime, Disasters, Transportation
Category: CULTURE, LIFESTYLE
Other categories: PRODUCT INNOVATION
Written by: William on September 24, 2012 at 2:44 pm | In
LIFESTYLE
|
No Comments
For those times when need your own space after a major emergency, you don't need luxury to get the job done.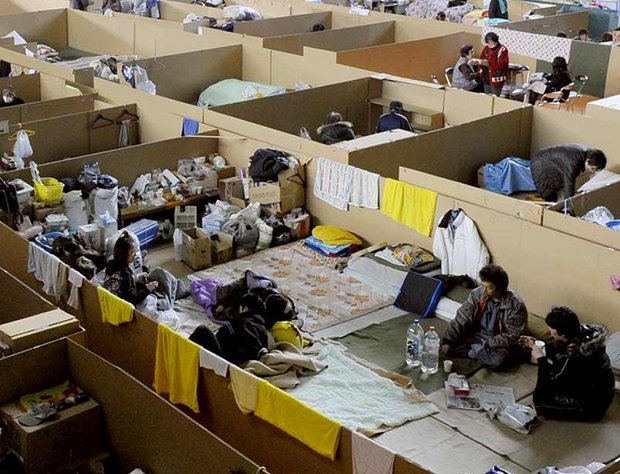 World Space agrees and that's why they have come up with the Sleep Box, a new cardboard "house" with a door and two small windows, in which a refugee can "reside" until they get new permanent dwellings.
Resembling a kind of dog kennel meets oversized cockroach trap, the Sleep Box is made from reinforced cardboard that is light, easy to assemble (and de-assemble) in around 15 minutes, and also heat resistant and sound-proof.
In the winter apparently just your body heat is enough to keep it warm; no heaters required (just as well, with the flammable materials) — so it's kind of like a static sleeping bag (not a coffin, I know you were thinking it).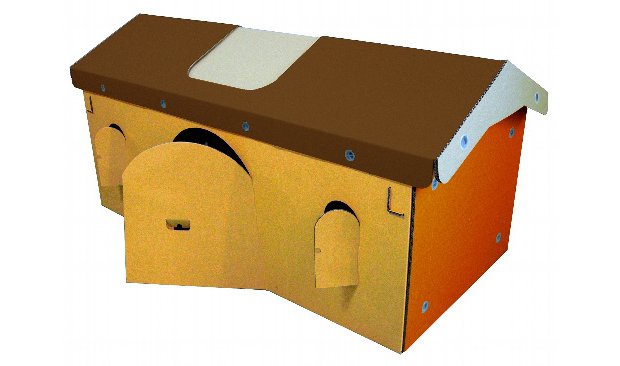 One house measures 208 x 90 x 96cm, designed to fit just one adult when lying down. Lighting can be added inside as an optional extra.
Privacy is a serious issue for refugees. Evacuation centers place basic needs first and things like privacy low on the list. After the Tohoku quake, many architects and designers have created prototypes for simple shelters that can provide some relief in terms of privacy and integrity to evacuees.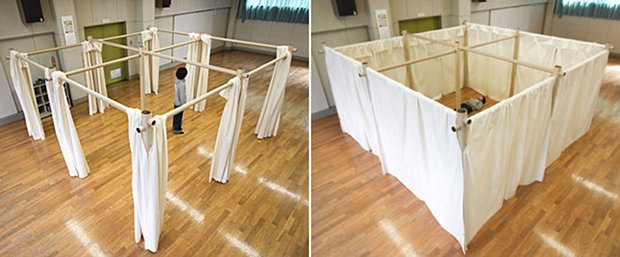 Shigeru Ban made some nice-looking partitions kits out of paper. One bizarrer idea was the Noah, a kind of sphere shape that looked more like a deep sea diving vessel.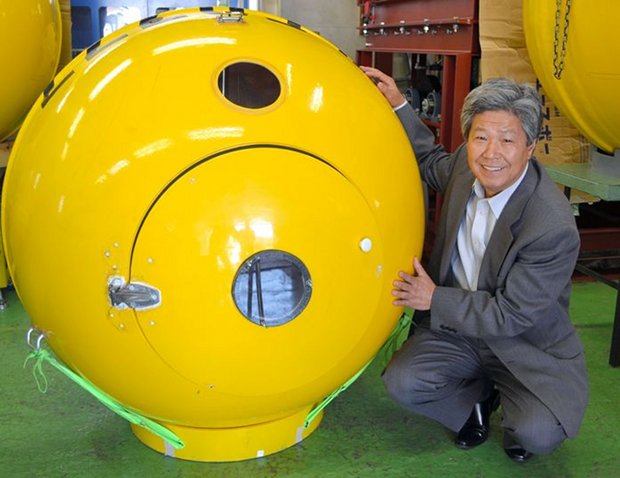 These kinds of innovations could literally save lives. Apparently 50% of the deaths at evacuation centers after the Tohoku disaster have been due to fatigue. Comfortable surroundings undoubtedly contributes to this.
The Sleep Box could be stored at home and is very much in the Compact Japan mode, the land of the capsule hotel, one room apartments and so on. Heck, with the local apartments being what they are, sometimes it can feel like you are already living in one to start with. Certainly the shacks that enterprising homeless guys build in parks are already a bit similar. To some British readers, the Sleep Box might recall a kind of low-fi Anderson Shelter, the bomb shelters families used to give themselves protection during the Blitz.
World Space are ambitious, expecting to ship 100,000 products in their first year. The cost is perhaps surprisingly high, though, at 14,500 JYP (nearly $200).
Tags: Disasters
Category: LIFESTYLE
Other categories: CULTURE, PRODUCT INNOVATION
Written by: William on September 22, 2012 at 10:26 am | In
PRODUCT INNOVATION
|
No Comments
Okay, so the news has been rather grim in Tokyo of late. Earthquakes. Tidal waves. Nuclear meltdown. Radiation clouds. Etc etc.
But trust the Japanese to come up with some novel and often brilliant ways to cope with an emergency situation.
Pets
So you are the proud owner of a precious (and expensive) poodle and the idea of a post-apocalyptic world without pooch is just too much. No sweat. There are some innovations to ensure that your pet survives!

Certainly top of the unusual chart comes the Pet Emergency Evacuation Jacket, though we don't think it actually looks much stranger than some of the other odd dog fashion accessories we saw around Tokyo.
For the more stylish owner, there is Pet Emergency Earthquake Bag Kit or Pet Shoulder Bag to transport your feline or canine loved one while looking good (both you and the animal, that is).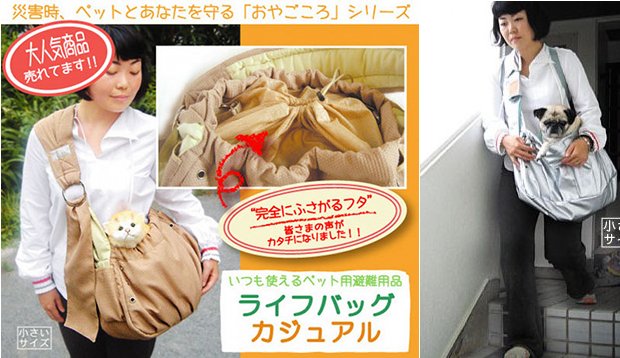 Head Protection
An eco shopping bag and helmet in one: No other nation could have thought of something so simple but ingenious.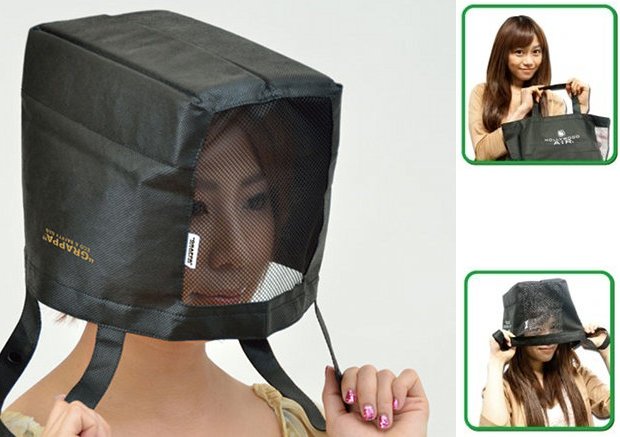 The 2011 Tohoku disaster inspired a small company called Storia to create this headgear-cum-shopping bag, the Grappa. The bottom of the bag is made of helmet-style hardened plastic so that it can double effectively as an earthquake hood.
Power
Electricity has been foremost in local people's minds over the past eighteen months, particularly how fragile our supply of it can prove to be.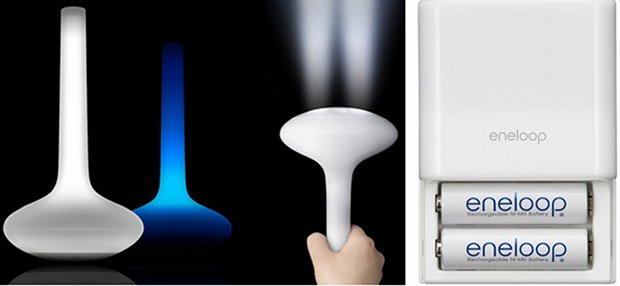 A few years ago Sanyo first released their Eneloop batteries series, probably the best energy-efficient household batteries available today. Since then there have been lamps, neck warmers, hand and feet heaters, power boosters and more.
Light
We like the BunBun Eco Light, especially its nifty size and pop color design.
A similar principle powers the Hand Crank Disaster Flashlight, though being a radio as well, you may find this a life-saver in terms of communication come a major catastrophe.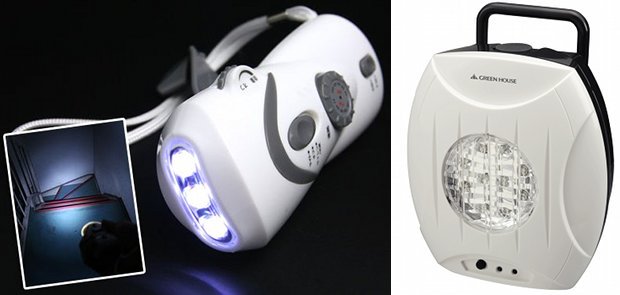 And if you have no batteries but plenty of salinity, then the clever Salt Water LED Lantern by Green House is for you.
It's a bit older now but the innocuous-seeming NoPoPoPo is also flashlight powered only by H20.
Radiation
For obvious reasons, there has also been a recent spat of new handheld radiation measuring devices and geiger meters for the average consumer, including the Peramos, which is for children, or the Air Counter, while looks like Muji designed down.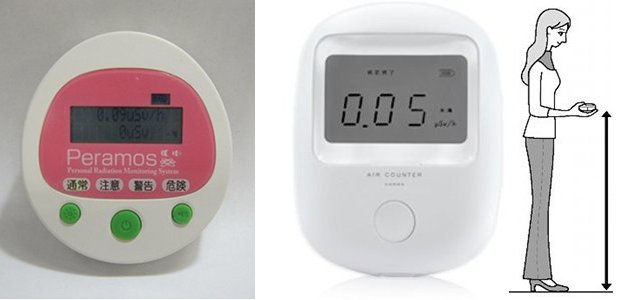 They have minimalist designs and pared down functionality in order to provide purely a straightforward am-I-in-danger level of information.
No one is pretending they should be used to decided government policy but as a basic household device that can give some peace of mind, every Tokyoite may end up buying one in the end just in case…
Tags: Disasters
Category: PRODUCT INNOVATION
Other categories: CULTURE, LIFESTYLE