All aboard the Pikachu train this summer!
If you loved the Pokémon concept cars by Toyota, how about a train next?
In 2012, the Pokémon With You project launched a Pokémon train in northeast Japan as part of a charity initiative to support children affected by the 2011 tsunami. Now it is back, once again operating in the region heavily damaged by the disaster.
The train runs sporadically throughout July, August and September up and down the coastal Ofunato Line between Ichinoseki Station in Iwate and Kesennuma Station in Miyagi. This is the stretch of Tohoku that was badly afflicted by the tidal wave in March 2011, though JR East has been slowly re-opening the rail lines in an effort to stimulate the region again.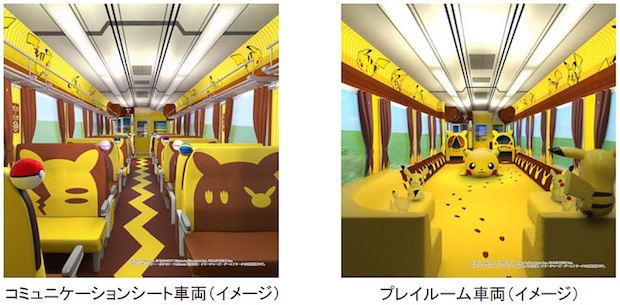 The train design this year will change to a full-on Pikachu theme, featuring an all-yellow exterior and family-friendly Pikachu seats and a special playroom inside.
The operating timetable is available online. Tickets must be reserved in advance. As the online information is all in Japanese, overseas visitors are recommended to use the ticket counters at a major JR East station.
After almost 4 and a half years, the Pokémon With You train has been used by some 40,000 passengers. With its relaunch this year courtesy of the beloved character Pikachu, expect that number to grow even more.