Mt Ontake, a volcanic mountain between Nagano and Gifu prefectures, erupted at 11:53 a.m on September 27th, resulting in a 4km ash cloud.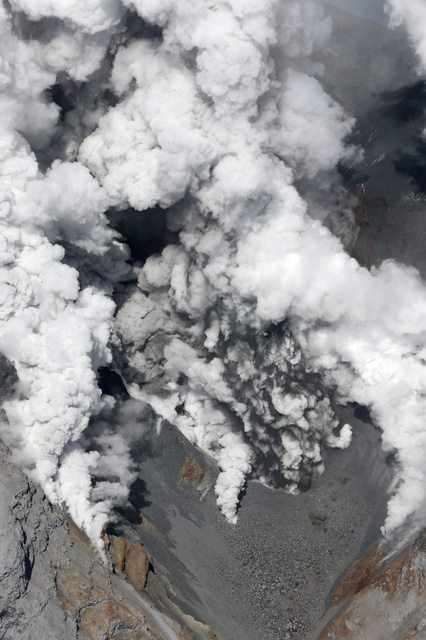 [Image source: Asahi]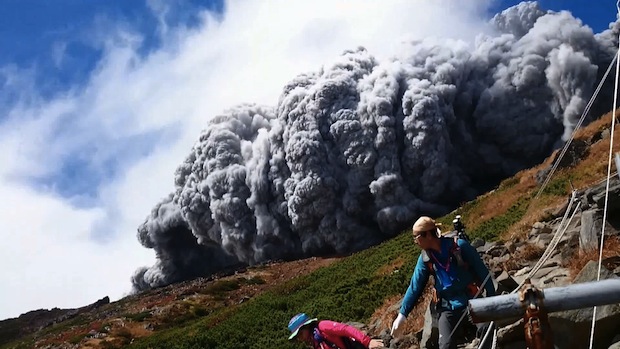 The eruption took hikers on the mountain by surprise (an alarm was sounded 10 minutes before the eruption) and sent them running for cover from the ash, as this video shows.
We have been updating this post as more information is released.
It is now thought over 50 people have been killed in the eruption, mostly because of falling rocks. Many others have been reported badly injured and hundreds more evacuated. The mountain is over 3,000 meters tall and aircraft are being diverted from the plumes of ash in the skies above the volcano. The side of the mountain is coated in a vast coat of ash, making it resemble a lunar landscape.
Mt Ontake, Japan's second largest volcano, also previously erupted in the late 1970's.
Watch the sky change after the eruption at around noon in this time lapse video.
You can see more images and videos of today's eruption on Gigazine.