It is almost time for the anniversary of Japan's greatest postwar natural disaster, the Tohoku earthquake and tsunami that struck northeast Japan on March 11th, 2011. The tsunami caused unprecedented levels of damage, killed nearly 16,000 people and displaced more than 300,000. Many are still unable to return to their communities, so some areas have recovered.
To mark six years since that catastrophe, Yahoo has produced a remarkably powerful billboard on the Sony Building in Ginza, showing what the height of the tsunami wave was and indicating to people in Tokyo how much damage it would have caused had it hit the city instead of the more rural region of Tohoku.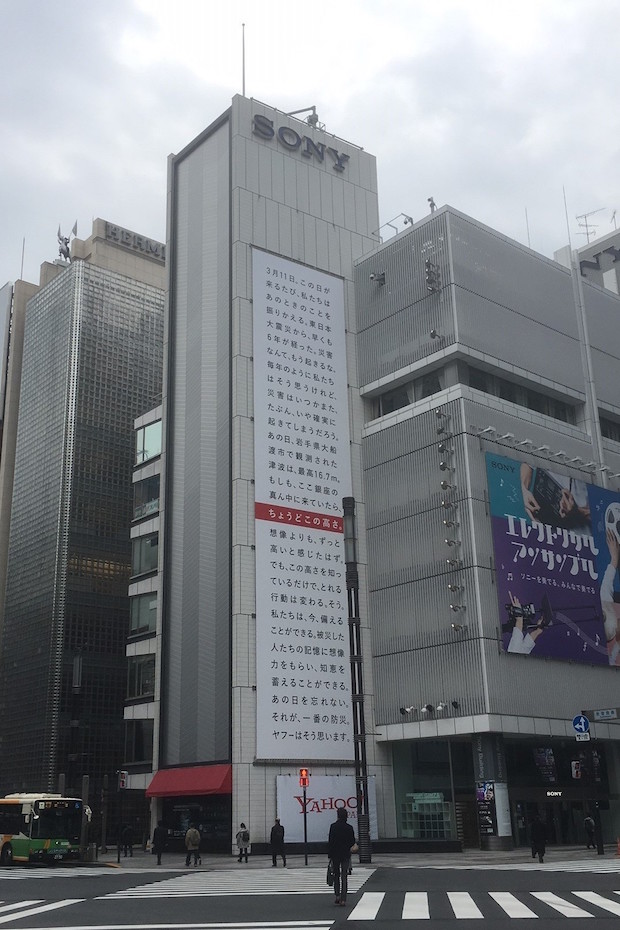 No images are used, just text. It is only in Japanese but Nippon.com has made a translation.
March 11. Each time this day
comes around, we recall what
happened then. Six years have
passed since the Great East Japan
Earthquake. No more disasters.
We think this each year, but
someday disaster might — no,
will — strike again. On that day,
the tsunami in Ofunato, Iwate,
reached 16.7 meters in height.
If this wave came here, to Ginza,
it would be exactly this tall.
This is probably much higher than
you had imagined. But now that
you know how high it is, the actions
you can take are different. Yes.
Now we can prepare ourselves.
Our imaginations are expanded
by the memories of the disaster
victims, and we gain fresh wisdom.
Not forgetting that day is the
best disaster preparation of all.
This is what Yahoo believes.
The line for "it would be exactly this tall" is printed in red, which truly brings home the magnitude of the tsunami.
Here is the Japanese text.

The Yahoo poster will remain on display at the Sony Building until March 12th.
The Sony Building itself will close at the end of March and be demolished.
Image via Huffington Post