Written by: Maite on April 24, 2013 at 2:35 pm | In
PRODUCT INNOVATION
|
No Comments
The popular anime franchise Evangelion is well know for creating all kind of Evangelion-themed products. To promote the DVD and Blu-Ray release of the latest movie Evangelion: 3.0 You Can (Not) Redo on April 24th, another collaboration campaign started one month ago.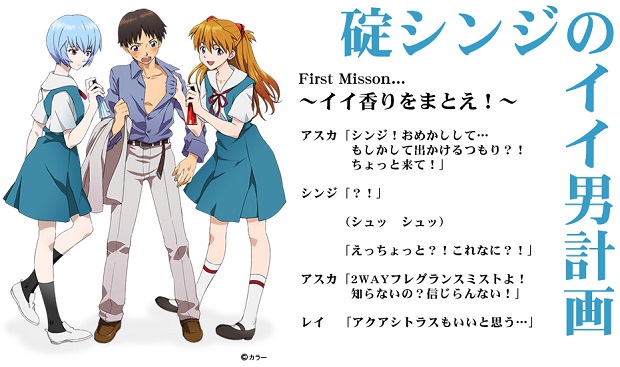 On March 25th the cosmetics brand Creer Beaute released a new line of three special scented sprays which are based on three main characters Ayanami Rei, Ikari Shinji and Asuka Langley. The EVANGELION 2WAY fragrance mist for men is said to make them irresistible to the ladies.
The perfume comes in a stylish 110ml bottle for ¥1,280. Even if you are not a fan of Evangelion this amazing product is worth a try.
Each scent has three elements, a "top", "middle" and "last".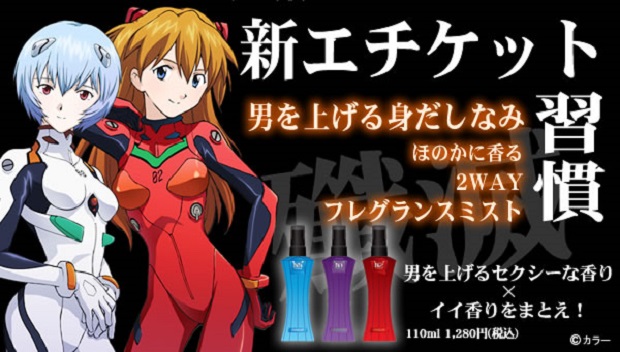 TYPE-R (fragrance of the aqua citrus) is the fragrance reflecting the image of Ayanami Rei, erasing her her sadness and painfulness by this refreshing perfume
The top: grapefruit, raspberry, coconut
A middle: jasmine, a ylang-ylang, rose and oceanaut
The last: musk, vanilla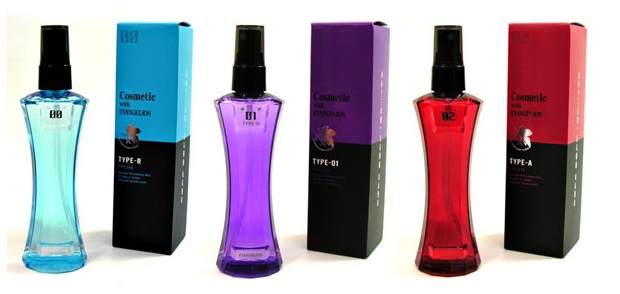 TYPE-01 (fragrance of the fresh musk) is a spicy fragrance inspired by Ikari Shinji
The top: bergamot, lemon, green
A middle: nutmeg, spice of the paper, lilac
The last: woody, umber, musk
TYPE-A (fragrance of the red citrus) is the fragrance of Asuka Langley. Just like her character the perfume fuses passion and sweetness
The top: orange, lychee, apple
A middle: rose, jasmine, cyclamen
The last: musk, umber
Tags: Anime, Cosmetics
Category: PRODUCT INNOVATION
Other categories: CULTURE, LIFESTYLE
Written by: William on November 1, 2012 at 9:46 am | In
LIFESTYLE
|
No Comments
We've seen it around for a while overseas but we just read an interesting report about how so-called eyelash art is apparently starting to pick up more adopters among Japanese women in their twenties and thirties.
The British brand Paperself is now being imported and sold in Japan. Inspired by Chinese paper-cutting techniques, the paper eyelash designs include animals, flowers and other motifs.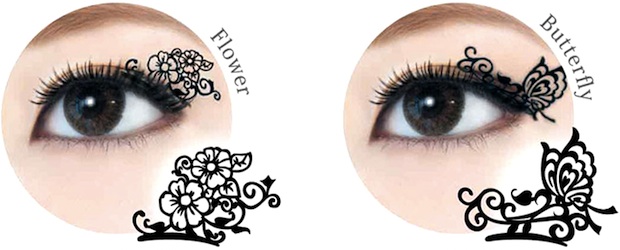 For a country as obsessed with make-up and with paper (origami et al), this should not come as a surprise.
With the spread of "gyaru" fashion to mainstream Japanese women from around the year 2000 these kinds of elaborate and striking cosmetic decorations have started to gain in popularity. Regular OL fashion has been veering towards the casual for years now, alongside the spread of items to enhance your "eye power".

The Nikkei Marketing Journal introduces some examples of women who are now trying matsuge aato ("eyelash art") for wedding parties and special occasions, like Halloween. Japan, with its culture of cosplay and imitation, means there is a ripe market here for this kind of cosmetic product. Plus Japanese people frequently seem concerned about how "small" their eyes look and go to lengths to give emphasis and "oomph" to the impact their eye make-up can create.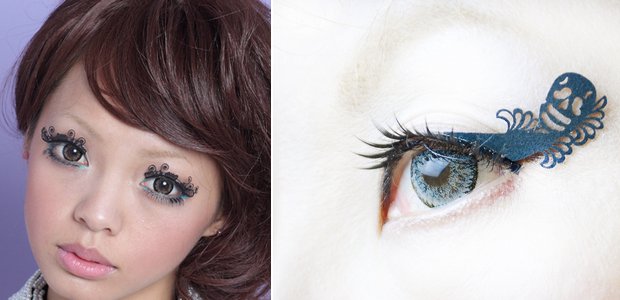 The eyelash market reportedly went from 22 billion yen (nearly $300 million) in 2006 to 50 billion yen (over $600 million) three years later.. Some local printing companies have started to offer new paper make-up products, such as paper eyelashes and paper eyeliners. One such manufacturer launched the PaperMake1 online store recently with some 26 examples of paper eyelashes.
Most are indeed delicately made from paper but other companies are offering cheaper products made from low-cost polyester.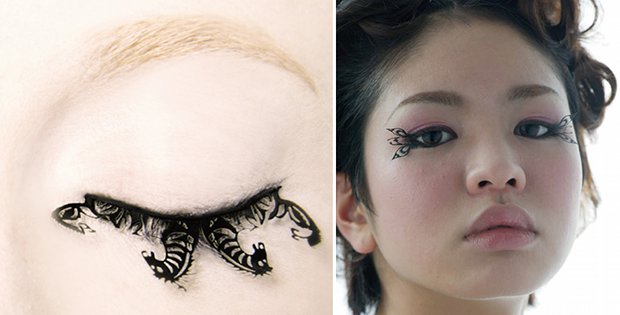 Tags: Cosmetics, Fashion, Women
Category: LIFESTYLE
Other categories: CULTURE, PRODUCT INNOVATION