Think you like Alice in Wonderland?
Not as much as some people in Japan, it seems.
If you think you are up to the challenge, the first Alice in Wonderland Test (Fushigi no kuni no arisu kentei) will be held in Tokyo, Nagoya and Osaka on January 27th.
According to the official website, applications are now full for the exam which features 80 questions about the famed children's book. The pass rate is over 60% for this first rank (White Rabbit Level).
Everyone who sits the multiple choice test, which costs ¥6,500, gets a Alice in Wonderland candle and glass set, and other novelty merchandise, as well as discounts on other themed items.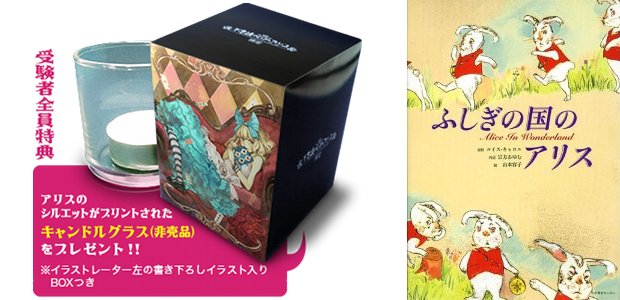 The Japanese are well known for their obsessions with tests and qualifications. There seems to be a licence and examination for any subject or interest.
Other unusual formal tests ("kentei") for which you can get a certification include Sakaiminato Youkai Kentei (based on Shigeru Mizuki's mangas), the Diet Kentei, Cheese Kentei, Takarazuka Kentei (testing your knowledge of the cult all-women musical theatre troupe), Japanese Beer Kentei, and the Hanshin Tigers Kentei (for fans of the Osaka region baseball team).
Lewis Carroll's classic tale of the girl who enters a fantasy world remains very popular in Japan, including several themed restaurants in Tokyo and Osaka.