Two and a half years ago, when the world was young and words like "Covid", "pandemic" or "vaccination passport" weren't part of everyone's vocabulary, we published a post about a trend that had started, well, trending in some of Tokyo's major stations. The post was aptly titled "Digital nomads to work from mini booths at major train stations in Tokyo" and it was quite successful because this was a "weird Japan" thing that wasn't exactly "weird": as everyone who has passed outside a Starbucks knows, more and more people want and often need a place to work digitally for an hour or two.
Like in many other countries, the Covid pandemic accelerated Japan's digital transformation efforts, part of which are those work booths at stations. Diligent sha-in (company employees) from Okinawa to Hokkaido found themselves obliged to stay away from their beloved kaisha (company) and work from, gulp, home, something inconceivable until then. And together came the need for some equipment that made that transition possible – items like the ones that follow below all from Japan Trend Shop and ready to be delivered to your doorstep anywhere in the world.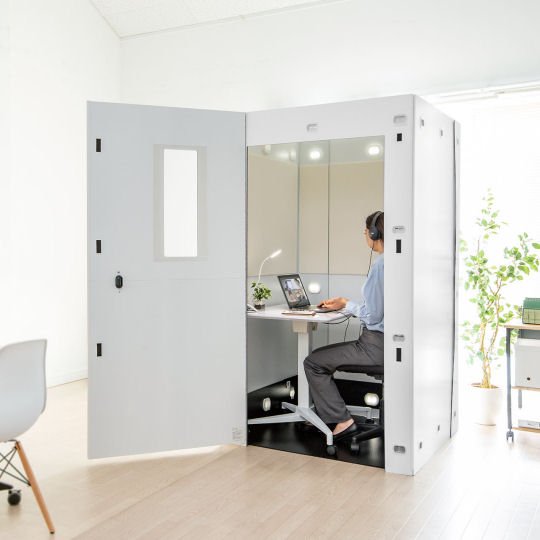 1)Where to work: Booths
Not the station booths, though: these are the home equivalent, made from soundproof materials and big enough to fit a desk and a chair allowing you to work, Zoom, or even watch an episode or two from your favorite TV show without inconveniencing (or being inconvenienced by) your family. Their shapes vary from the Think Lab Home Personal Work Cubicle, which is like a regular office cubicle and just limits your field of vision, allowing you to work unimpeded, to the Sanwa Home Work Booth in the picture above which offers full privacy. They are all easy to set up and some can even be folded and stored when you are not using them.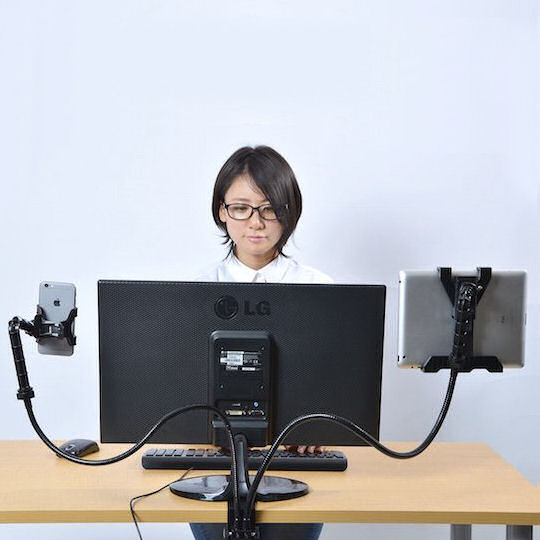 2) How to work: Devices
So you have secured your personal space in a corner of your living room. The question now is how to accommodate all your devices. Offices used to be simple: one employee, one workstation. But not anymore, because there are times that you need to use your PC, tablet, and cellphone all simultaneously. For those times, something like Thanko's Smartphone and Tablet Dual Holder is the third – and fourth – hand you are missing, arranging your handheld devices anywhere around your PC – or your bed, if you'd rather read something before you go to sleep.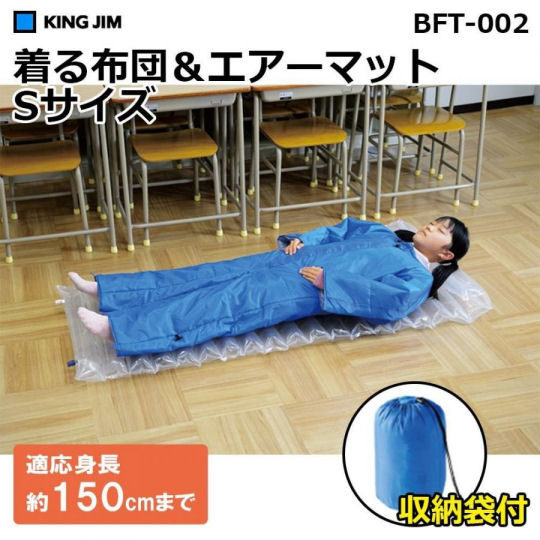 3) Where to sleep: The Wearable Futon
It's kind of sad that a device like the King Jim Wearable Futon Air Mat Set would be included in a post like this, but the truth is that there are employees in Japan who need from time to time to sleep at the office. A sleeping bag shaped as a body with arms and legs, allowing you to move around, combined with an air-bed mat that you can inflate using the included air pump, create a warm and comfortable micro-environment for resting between work sessions. And it can prove useful at home too if you don't want to go upstairs and do all the pajamas and bed routine just for a one-hour power nap.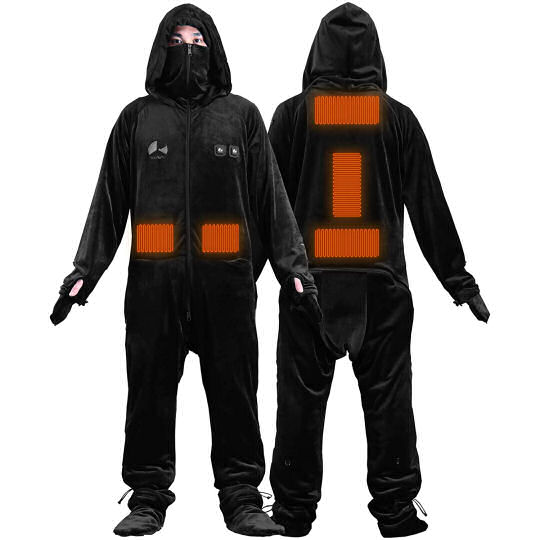 4) What to wear: Jumpsuits
Granted, it was made for gamers, hence the name: the Damegi Heated Indoor Pajama Jumpsuit for Gamers. But the truth is that this full-body suit works fine for everyone who needs to stay up long hours in front of a computer, especially on a cold night when you have to communicate with someone living 10 time zones away. Featuring five heating pads and various strings and bands that allow you to customize it to your body, this USB-powered jumpsuit is good for anywhere — from desk to couch to bed (eventually)!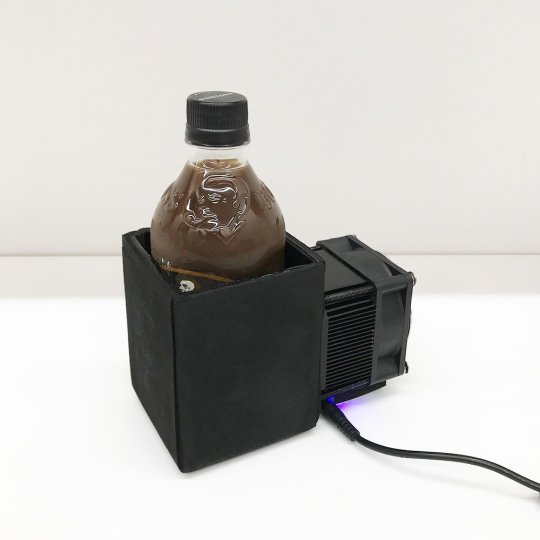 5) What to drink: The Cooler
Whether you work at home or at the office, a cold beverage is always necessary and the Thanko Super Cold Box for Drinks is the best way to have it, no matter if it comes in a can, bottle, or even carton like milk or juice. It's electric, small (330 x 330 x 490 mm/12.9 x 12.9 x 19.2"), fits most types and sizes of containers, and keeps your drink's temperature steady in the range of 0.1-18°C (32-64°F). Oh, and it's also good for snacks like chocolate that need to be kept cool!
Learning to work from home is something that takes time and effort — and not everyone will or even want to do it. If organized well, it can significantly increase your quality time with your family or yourself, and the items in this post are steps toward that direction. Try them and create your own version of what a workspace should be!