The history of their creator himself is not a rags-to-riches story but there is certainly something dramatic in the tale of the first instant ramen, the Nissin Chikin Ramen. A product of the creative mind of Momofuku Ando, a Chinese-born naturalized Japanese who wanted to help the people of Japan recover from the devastation of WWII, the 1958 Chikin Ramen (yes, "chikin" means "chicken") became an instant hit and, incredibly so, are still among the favorite brands of dehydrated noodles. Interestingly, the thing that really made the concept skyrocket came again from Momofuku Ando and it was the Cup Noodle, a variation of instant ramen that comes in a plastic cup which can be used as a pot for preparing and as a bowl for eating them.
That happened exactly 50 years ago, on September 1971, and the idea found so many imitators and became so popular in Japan and all over the world that it's no exaggeration to say that the small white cup with the red lettering has become as much a symbol of the post WWII "Japanese Miracle" as the Sony Walkman or the Shinkansen bullet trains. And this is why Nissin, Momofuku Ando's company, has licensed several products to celebrate its half-century mark: products that you can find at Japan Trend Shop and have them delivered to your doorstep anywhere in the world!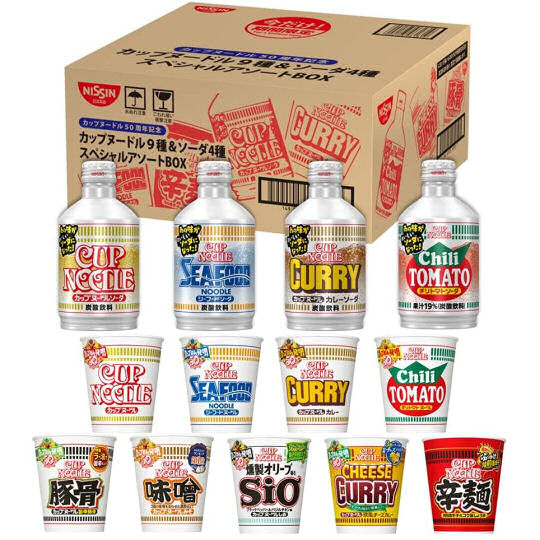 1) The thing itself – solid and liquid: Nissin 50th Anniversary Cup Noodle Soda Pack
Are you one of the few lovers of things Japan that haven't tried Cup Noodles? This pack allows you to get your first taste of the nine more popular flavors of the instant ramen (the Plain that started it all, and then Seafood, Curry, Chili Tomato, Tonkotsu, Miso, Cheese Curry, Shio, and the spicy Karamen) in their regular form as well as in the form of four special sodas: ginger ale, cream soda, cola soda, and tomato soda made to resemble the flavor of Plain, Seafood, Curry and Chili Tomato cup noodles. All in one super-pack!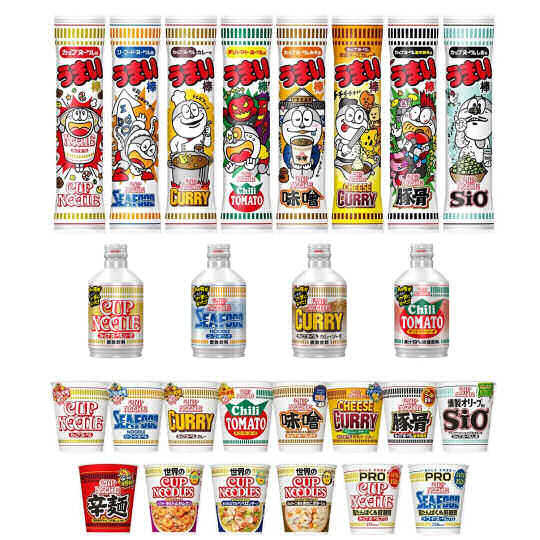 2) The thing itself – solid, liquid, and more solid: Nissin 50th Anniversary Cup Noodle Umaibo Snacks Set
If you liked the Nissin 50th Anniversary Cup Noodle Soda Pack and want to take it one notch higher, this set is for you! The ultra-super-pack contains everything the previous one did (one cup each of Plain, Seafood, Curry, Chili Tomato, Tonkotsu, Miso, Cheese Curry, Shio, and Karamen noodles), plus three Noodles of the World flavors (Thai Tom Yum, Italian Peperoncino, and French Mushroom Potage), plus two Cup Noodles Pro that are Plain and Seafood Cup Noodles but with 15% more protein and 22% less calories. As for the "snacks" part, it comes in the form of eight limited-edition Umaibo puffed corn bars, again with Plain, Seafood, Curry, Chili Tomato, Tonkotsu, Miso, Cheese Curry, and Shio flavors.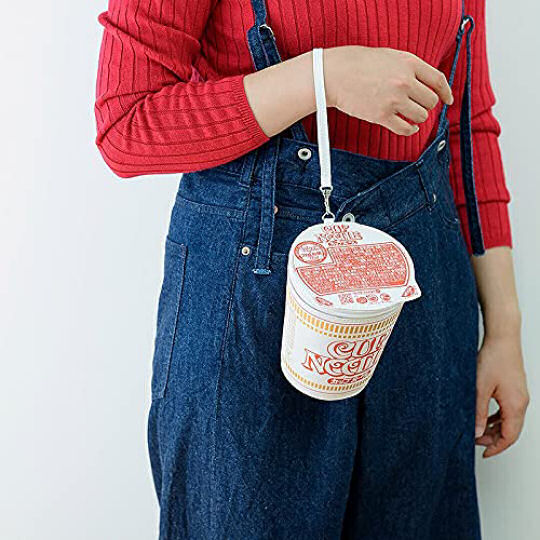 3-4) Looking like the thing: the Cup Noodle 50th Anniversary Pouches
The Cup Noodles' cups are so, ahem, instantly recognized in Japan that their likeness has been used in all kinds of interesting items in the past. But these two pouches come from Nissin itself and pay tribute to the two most iconic cups, the red Plainand the blue Seafood. Measuring 14.5 x 12.5 x 9 cm (5.7 x 4.9 x 3.5″) and featuring a wrist-strap, a fork-shaped zipper pull tab, a lining with a noodles and toppings theme, and a cat-shaped lid (this is part of a recent makeover of the actual Cup Noodle lids), these pouches are as practical as they are trendy and make for a great street-fashion accessory!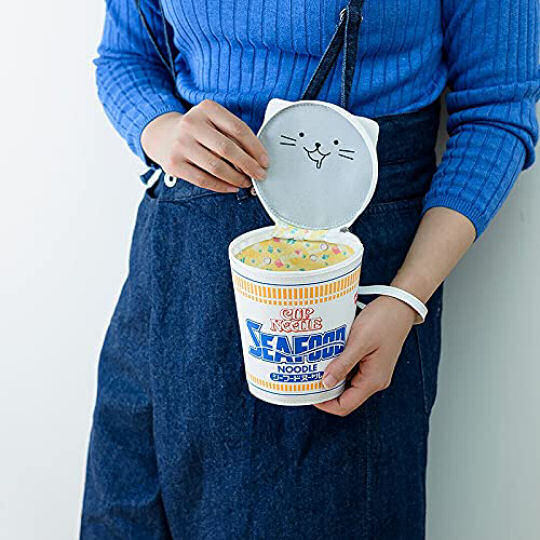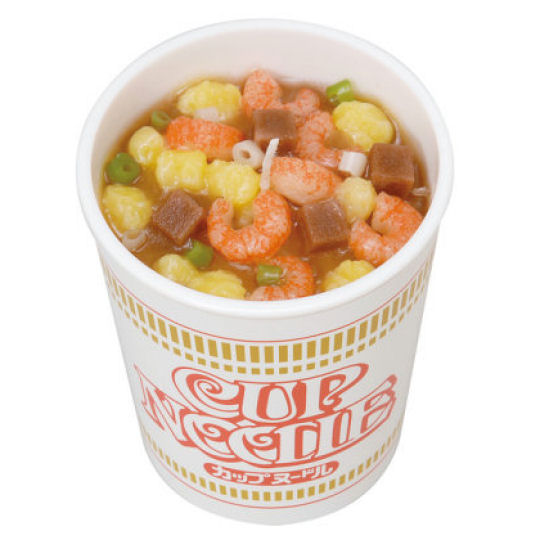 5) Burning like the thing: the Nissin Cup Noodle Candle
We are talking about Japan, so there needs to be a touch of the weird and it comes in the form of a candle that is a replica of a Plain Cup Noodles cup, complete with all the contents – noodles, toppings, and more. You can actually light it and it burns like any kerosene-free paraffin candle. The difference is that it won't smell like the real Cup Noodles. As we have written elsewhere on this site, in Japan these novelty candles are mostly used as offerings on butsudan, the home altars that, besides praying, are used for revering the departed of the family. This shouldn't bother any hardcore Cup Noodle fan, though: if you love your instant ramen, you will love this candle too!
Happy birthday, Cup Noodles! Here's to the next 50!