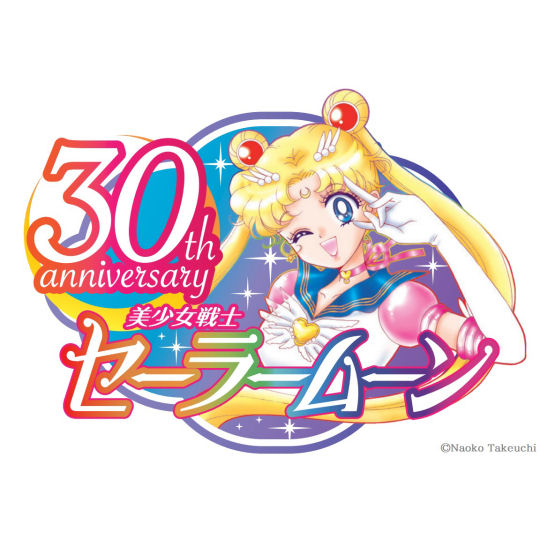 For any Japanese over 40, the realization that this year marks the 30th anniversary of Pretty Guardian Sailor Moon, the manga/anime industry's most iconic teenage girl-oriented title/franchise, may be greeted with surprise. But it's true: it was on December 28, 1991, when Nakayoshi, one of the most successful shojo manga magazines (targeting teenaged females readers), published the first chapter of the story of Usagi Tsukino, her talking black cat friend Luna, and the magical brooch that enables her to transform into Sailor Moon, a soldier fighting to save Earth from the forces of evil. So even though technically 2022 is the 31st year Sailor Moon has been around, its creators are celebrating it as the 30th.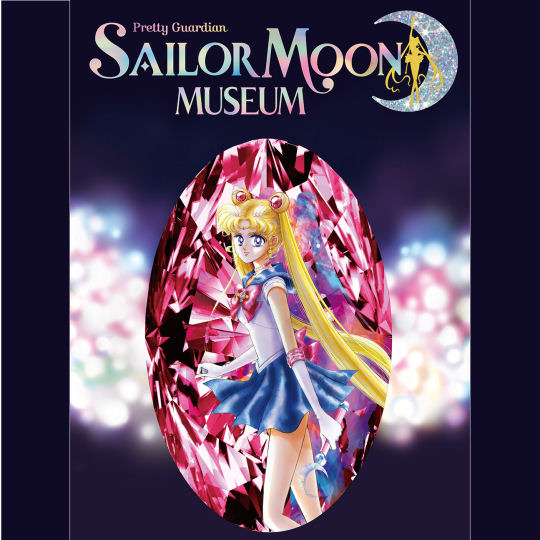 And they really do celebrate it! Starting with a special logo (see top) on it's homepage, the official website has a whole section announcing the opening of a new, limited-time-only museum in Tokyo's Roppongi area and collaborations with about a dozen companies including Sanrio (of Hello Kitty fame), cosmetics and accessories' designer Anna Sui, luxury fashion house Samantha Thavasa, candy-maker Akagi for a lineup of Sailor Moon products in their Milkcrea brand, casual wear giant Uniqlo, and even Universal Studios Japan. Of course, Japan Trend Shop has its own share of unique Sailor Moon products, a small selection of which you can find below, ready to be delivered to your door wherever you are!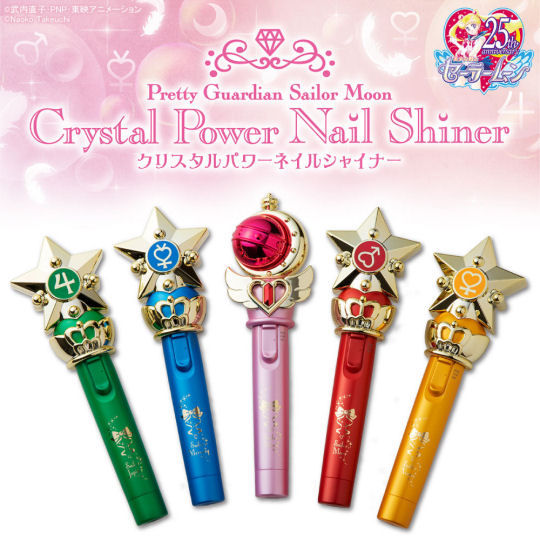 1. Sailor Moon Crystal Power Nail Shiner
The wands (or sticks or rods, depending on the season and the situation) aren't just the Sailor Guardians' weapons: they are their symbols and the items immediately associated with them. So with any of the five Sailor Moon Crystal Power Nail Shiners, you get both a light (62 g/2.1 oz) and easy-to-carry, fully functional, battery-powered electric nail care toolkit with four attachments (two types of nail files, a cuticle pusher, and a polisher) and a symbol of your love for Sailor Moon — or Sailor Mercury, Sailor Mars, Sailor Venus, or Sailor Jupiter.
2. Sailor Moon Sailor Soldier Dog Outfits
Cats play an important role in Pretty Guardian Sailor Moon but what about dogs? Shouldn't they play their part in the fight against the Dark Kingdom, the Black Moon Clan, or the Death Busters? Yours can – with the Sailor Moon Sailor Soldier Dog Outfits! They come in three models (Sailor Moon, Sailor Mercury, or Sailor Mars) and in three sizes each. They are obviously for small dogs but let's face it: even if your Doberman would be more effective against the forces of evil, he probably wouldn't be very happy dressed in a Sailor Moon outfit!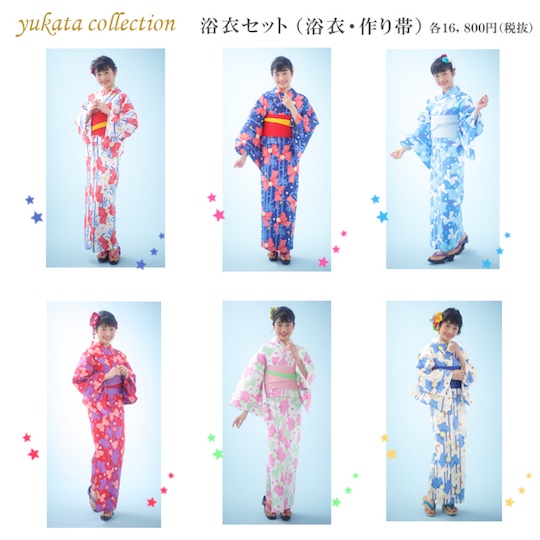 3. Pretty Guardian Sailor Moon Yukata Set
They might be Earth's last line of defense against the powers of darkness but the Sailor Guardians are also Japanese and there are times when they just want to relax in a light cotton kimono, while still keeping something from their identity. The kimono in the Pretty Guardian Sailor Moon Yukata Set are perfect for that and you can pick your own from any of the six designs: Sailor Mercury (pale blue with white bows), Sailor Jupiter (white with pink and green bows), Sailor Mars (red with pink and purple bows), Sailor Venus (white with blue bows), or plain blue or white with red bows. They are suitable for heights between 155 and 170 cm (5.1–5.6 feet), and come with obi sashes with pre-tied knots.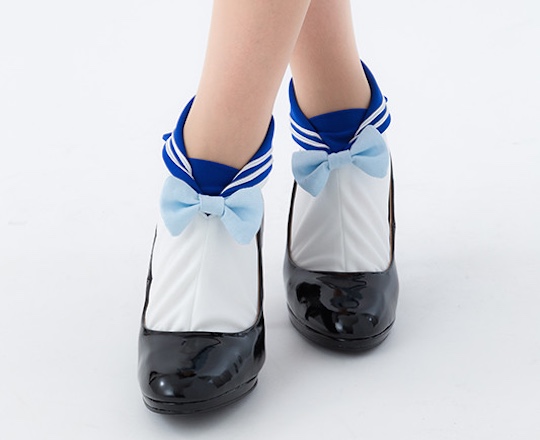 Are kimono too Japanese for you, but you still want to show the world that you are a Sailor Moon fan and preferably in a more discreet way? Then you should definitely consider the Sailor Moon Socks, brought to you by sock fashion maker Erimaki Sox. They are available in sizes 23 to 25 (US Women's 6 to 8, EU women's 37 to 39) and you can get them in the colors of Sailor Moon, Sailor Jupiter, Sailor Venus, Sailor Mercury, or Sailor Mars. Oh, and if you want to make them even more discreet, their bows are removable!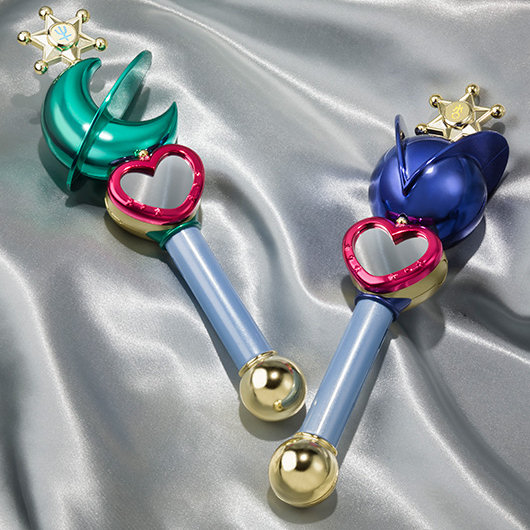 5. Sailor Moon Uranus and Sailor Neptune Lip Rods
All the previous items have some utilitarian aspects so we left until last something that is just fun: the Sailor Moon Uranus and Sailor Neptune Lip Rods are toy replicas of the rods that Sailor Uranus and Sailor Neptune use to transform into Sailor Guardians, made by Bandai, one of Japan's premier toy makers. They are in 1/1 scale (i.e., the size of the real Lip Rods in the series) and are battery-powered for a spectacular light show. Great as toys but also as centerpieces for any Sailor Moon merchandise collection – especially crossed together on the stand that is included in the set.
Sailor Moon might have become 30 years old but it really doesn't show its age: it remains as fresh today as it was when Naoko Takeuchi created it, despite the fact that its audience today is mostly made of the children of its initial audience. No matter which generation you are, if you are a fan, you'll love any (and probably all) of the items above, and the others available at Japan Trend Shop, so get them and wish Usagi and her friends a happy birthday!