One of the things that amazes me in Japan is people's weird relationship to shoes. This is a strange thing to say but I believe I've been here enough to have earned the right to not stand in awe each time I see the Shibuya scramble crossing from above. I mean, the Japanese are kicking off their shoes the moment they enter a house (theirs or others') and very often in offices, restaurants, or temples as well and up to the mid-1850s, their idea of "shoes" was what in most areas of the world is called "sandals" or, even worse, "flip-flops." So how can it be there are so unbelievably many shoe stores, with so immeasurably many designs in so endlessly many variations all over Tokyo?
I'm not a fashion historian, so won't attempt an explanation; besides, I'm a utilitarian dresser, so I honestly don't understand either the demand or the supply side. There are often times, though, that the end products are really amazing, even for someone like me who wouldn't buy the particular shoes: the creativity and craftsmanship that goes into some of these designs are literally breathtaking and evidence to that is the fact that even multinational giants like Adidas or Nike are willing to support the visions of Japanese creators. This is the case with the three models I've included here: the Nike SB Dunk High Gundam Banshee and Unicorn duo, the Nike ISPA Drifter Split Indigo, and the Adidas-Atmos Superstar Dog Hachiko sneakers.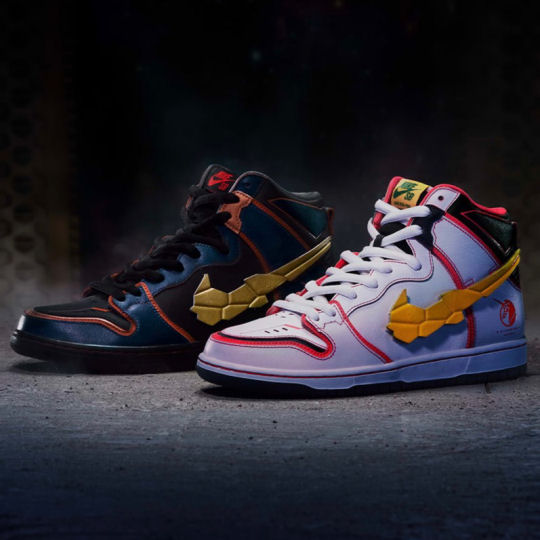 First, the Nike SB Dunk High Gundam Banshee/Unicorn: paying tribute to one of Japan's anime culture's most popular franchises, the giant robots/mecha Gundam, and especially its sub-thread Mobile Suit Gundam Unicorn, these two models bear the colors of the RX-0 Unicorn Gundam (white with black, red and yellow accents) and the RX-0 Unicorn Gundam 02 Banshee (black with red and gold accents). In true Gundam fashion, the Nike swoosh logo can be velcro-ed in and out and interchanged with a version that looks like the horns on the head of the two mecha. If that isn't enough customization, they both come with stickers you can use any way you like and with four different colors of laces for each model.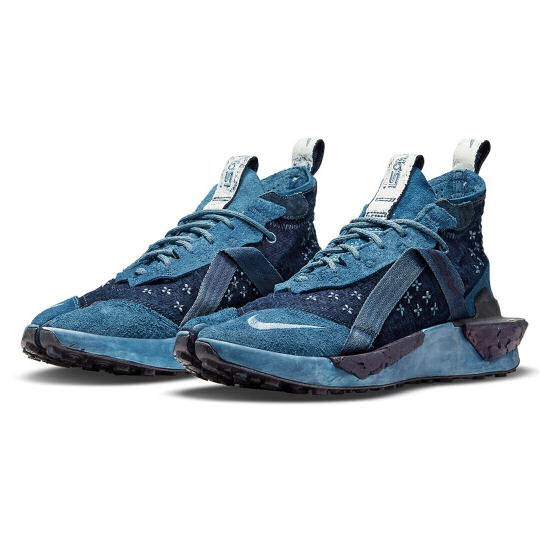 If the SB Dunk High Gundam are the future, the ISPA Drifter Split Indigo, are the deep past. It's part of the company's ISPA (Improvise, Scavenge, Protect and Adapt) design concept, which prompts designers to innovate – no holds barred. In the case of the Drifter Split Indigo, the idea was to use earth-friendly materials like hemp and suede for the main body, cork for the outsoles, and two elements from Japan's cloth-making tradition: split toes that point to the tabi socks worn with kimono and an aizome (indigo) color dye done by hand in the Buaisu factory in Shikoku island's Tokushima Prefecture — aizome has been part of Tokushima's culture for about 800 years. Can you say "artisanal"?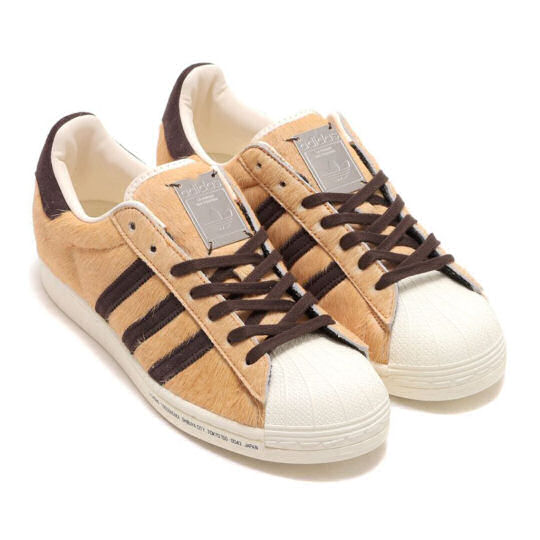 And then there's Superstar Dog Hachiko. Here, the "superstar" part goes as much to the Adidas model that has been around since 1970 and the dog Hachiko whose statue has become the symbol of Shibuya. The history of Hachiko who kept waiting for his master, Professor Hidesaburo Ueno, at Shibuya station every day for nine years after Ueno's death has become legendary (also the subject of two films, one in Japan and one in the US), so Adidas collaborated with Harajuku-founded streetwear company Atmos for a pair of unique sneakers with a red fawn furry body resembling that of an Akita Inu (Hachiko's breed), the address of the statue printed on their outer edge, silver-colored plates with the Adidas logo on their tongues, and a cute image of Hachiko with the phrase "You make Shibuya" printed on their insole.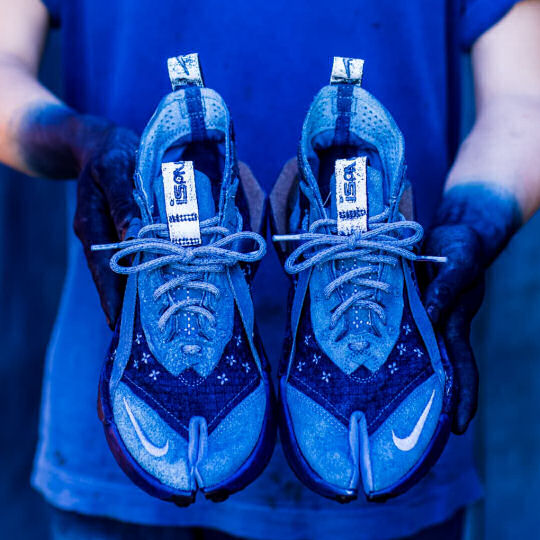 I said it before and I'll say it again: I think it's fascinating that someone would come up with such concepts. I've probably seen about a thousand of Gundam-related items but nothing like the SP Dunk High Gundam and the same goes for things with Hachiko on them: there are hundreds all over Tokyo (and especially Shibuya), but using Akita-colored fur? And as for the ISPA Drifter Split Indigo, even if you don't share my borderline fetish for indigo — based as much on rock and roll jeans as on classical Japanese martial arts practice clothes — the work the craftspeople at Buaisu have done with these shoes is amazing. Which again, begs the question: how can people who spent two-thirds of their lives barefoot can come up with such ideas that bridge functionality and culture, old and new in such unique ways?