Omotenashi, or hospitality, is the buzzword of the moment. It all started with Tokyo's presentation to bag the Olympics in 2020 and now it's everywhere.
The latest example is this Bijin Uketsuke, an iPad app that gives you a lovely lady to welcome you to your own personal virtual receptionist.

Ideal for cash-strapped businesses without the funds to hire a bilingual hottie to man the desk, the Bijin Uketsuke ("beautiful receptionist") is a virtual answer to omotenashi. You can place simply a tablet at your front door and then visitors will be greeted by a smiling female receptionist, and they can use the screen to ring the person they are here to see… all while being guided by the charming uniformed woman.
You get a choice of seven ladies in blue.
Sexist? Yes. (We know that sexism is alive and well even in the heart of contemporary Tokyo.) Neat? Yes.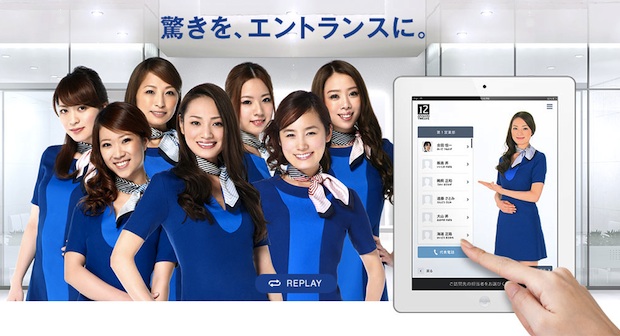 Bijin Uketsuke is available in English and Japanese from iTunes for ¥700 ($7).