Only a few weeks into her post as US Ambassador to Japan, Caroline Kennedy has already waded into one of the most tricky of diplomatic areas.
As such rows often do these days, it erupted over a tweet sent by Kennedy objecting to drive hunting for dolphins.
"Deeply concerned by inhumaneness [sic] of drive hunt dolphin killing. USG opposes drive hunt fisheries," she tweeted.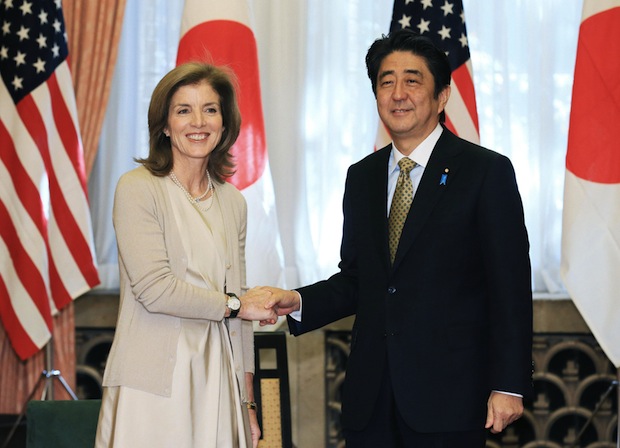 Drive hunting is where dolphins are herded together by fishing boats. They are cornered and unable to escape. For the fishermen, it is thus efficient in how many animals can be captured in one hunt — sometimes hundreds — but it has met international condemnation. It is most famously practiced in an annual hunt in Taiji, Wakayama Prefecture, which was featured in the Academy Award-winning documentary The Cove, and is often protested by foreign activists.
Kennedy's comments come as Sea Shepherd, the militant eco protest group, has claimed that Taiji's recent dolphin haul is "the biggest in four years".
The Japanese government has responded neutrally but nonetheless on the defensive.
"Dolphin fishing is a form of traditional fishing in our country," said Japan's chief cabinet secretary, Yoshihide Suga. "We will explain Japan's position to the American side."
Officially, the practice does not affected an endangered species. However, images of bloodied water in coves has prompted international outrage and a large protest movement, much like Japan's "scientific research" whaling. In these cases, emotions win out over the legalese and somehow we doubt the government will make much progress in "explaining" their position to Ms. Kennedy.