For as long as I can remember, comic books have been tightly wrapped in plastic covers, refusing to reveal their content to any passersby in a bookstore. It hasn't been too long since convenience stores also started binding their comic magazines with plastic strings, presumably to prevent us from browsing contents. After all, a brand-new magazine can easily be turned into a worn-out collection of pictures (while still worth a read) in a matter of hours with countless fingerprints on its covers.
In short, publishers can no longer offer manga for free. But an IT giant, DeNA, was generous enough to provide us with an alternative to ripping plastic strings of comic magazines secretly just to sneak a peek at the latest episode of our favorite manga series.
Mangabox is a free app that offers a great number of comic book series on a weekly basis, available both in Japanese and English. As of January 7th, a month after its release, Mangabox has achieved 2 million downloads. While being a "weekly" magazine, its content is updated more regularly, with three to five episodes added each day.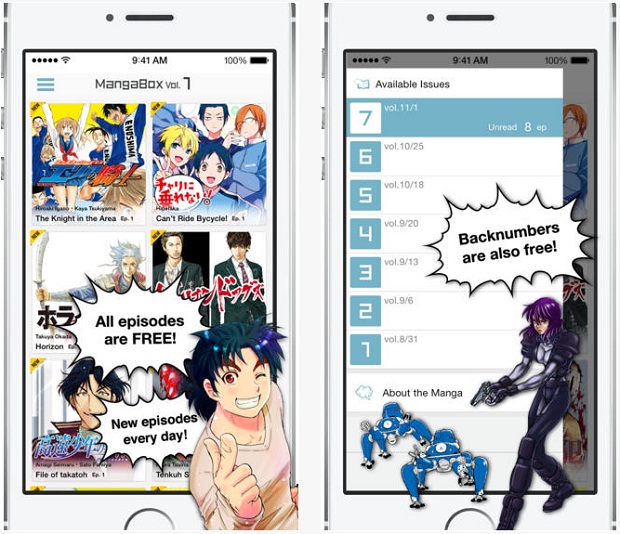 Working in collaboration with giant publishers such as Kodansha and Shogakukan, Mangabox has attracted a wider range of comic-book fans who might get interested to read spin-offs from Kindaichi Case Files or Attack on Titan, both of which have proven mega-hits in recent years.
There is no doubt that their TV commercial has been a big boost to the success of what could possibly be Japan's first business model for digitized comic magazines, as the publishers plan to monetize its content on physical and/or digital shelves eventually.
In this commercial, two characters from the above manga series appear and promote the app in a rather twisted way. Apparently, they feel exploited because now they are being offered to the public for free; yet the real twist of the advertisement is the fact that neither of the characters contributes to the content – their spin-offs do.
As expected, there is a note that says the app is for mature readers only, more specifically those who are 17 years or older. The nature of content varies, yet the following can be seen frequently, as stated in the official description: fantasy violence, persistent and sadistic violence, hard language or dirty humor, realistic violence, obscenity and gambling. (It's amazing how they differentiate violence, as if each can stand as its own content category!)