It used to be that Gashapon capsule toys were ostensibly just for kids who wanted to collect and play with small toy items and character figures from their favorite anime, games and comic book series. Of course, there was always another group of geeky adult collectors, too, who had a little bit more freedom to use as much as money they wanted to spend on Gashapon, in pursuit of finding the rarest character. But now Gashapon are for everyone, even office workers.
Gashapon are sold in small plastic capsules that you buy from special "crank" vending machines, usually to be found in rows around certain kinds of stores, especially electronics stores. The world of Gashapon, as with many other toy products, has certainly evolved from having its sales rely in large part on already popular entities in the market to finding and promoting its own original toys.
Two series from Kitan Club, Dogeza Straps and Fuchiko on Cups have gained popularity among office workers for obvious reasons. While Dogeza Straps show the resilient spirit of salarymen posing in the ultimate physical position for begging called dogeza (pay close attention to his face too!), Fuchiko is dressed up in the typical office uniform worn by many female workers, especially those who work as receptionists and secretaries at giant corporations.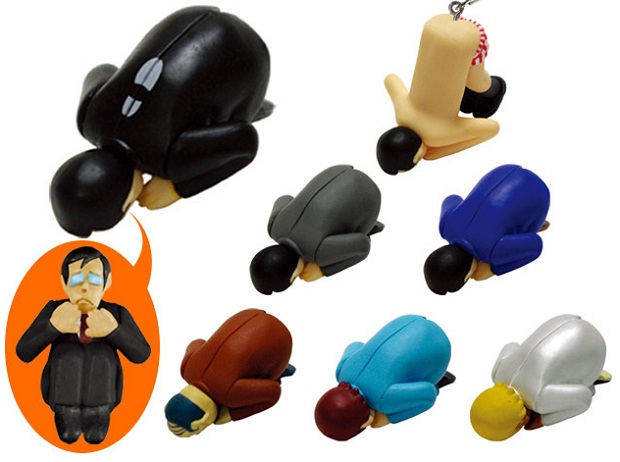 Kitan Club has released several different versions of Fuchiko, but this is their first series. There is a distinctly moe flavor to Fuchiko, wouldn't you say?


Bandai's smartpants might be the last thing you'd want for your phone, but it certainly doesn't hurt to have another one or two sets of underwear in the closet, right?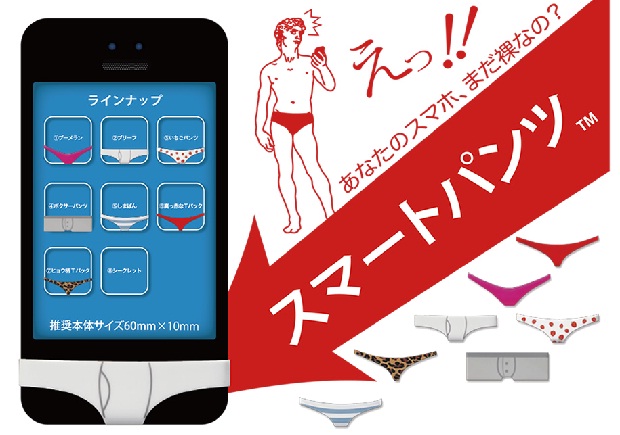 This past summer, they released a Mt. Fuji version, which nicely coincided with Japan's tallest peak being awarded UNESCO World Heritage Site status.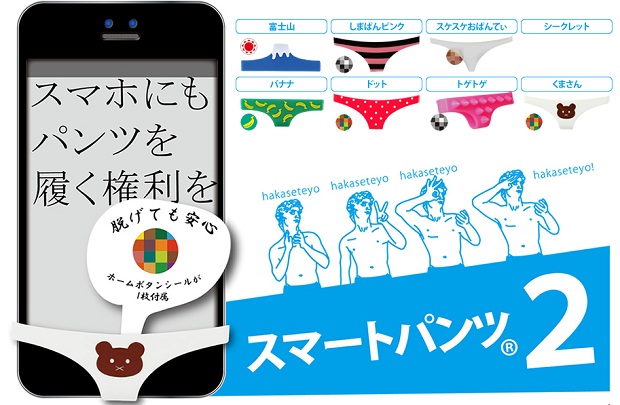 From Bandai, there is one more we just can't overlook. It's a key chain that lets you openly pick the nose in public. The series title might be too obvious but is well marketed: Hojirerun-desu – or "You can pick this nose."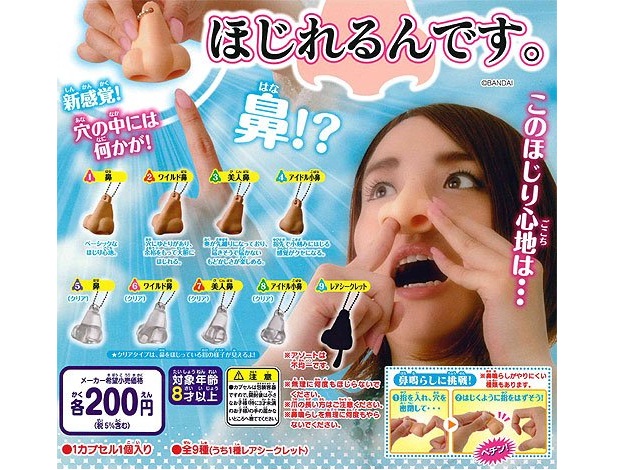 Takara Tomy, another toy giant, has recently established their own capsule toy brand called Panda no ana. They have released two series so far: Same-furai – or fried sharks and "ZooZooZoo."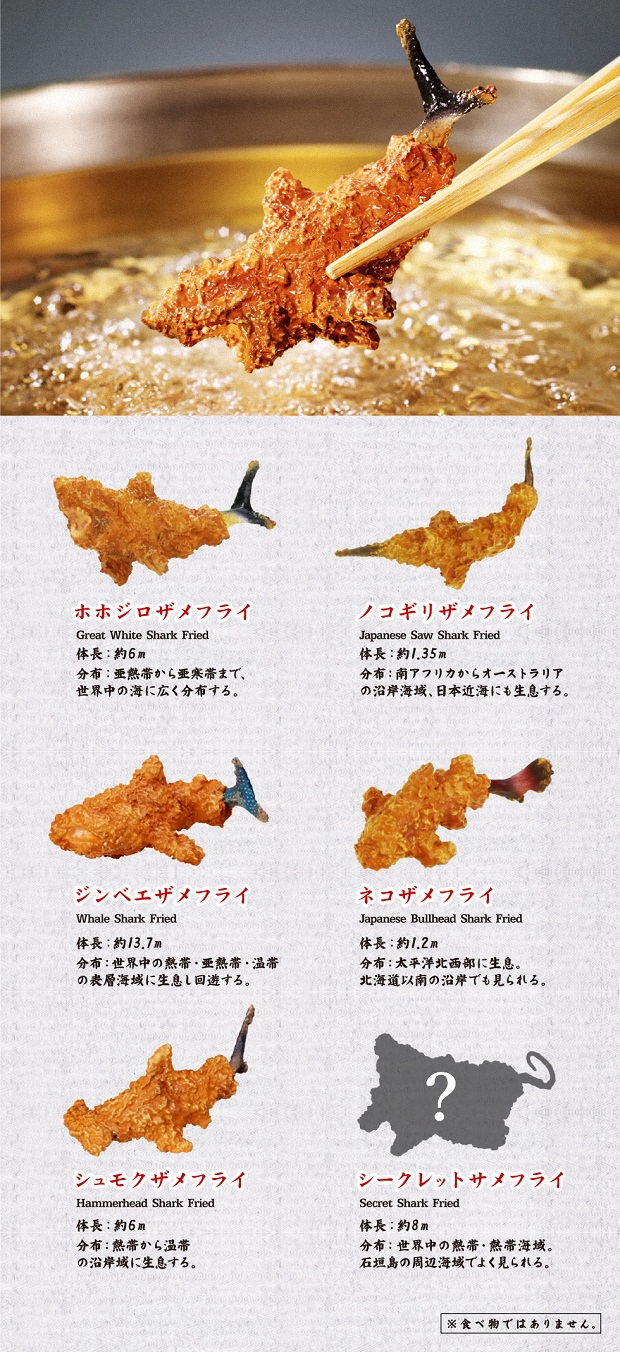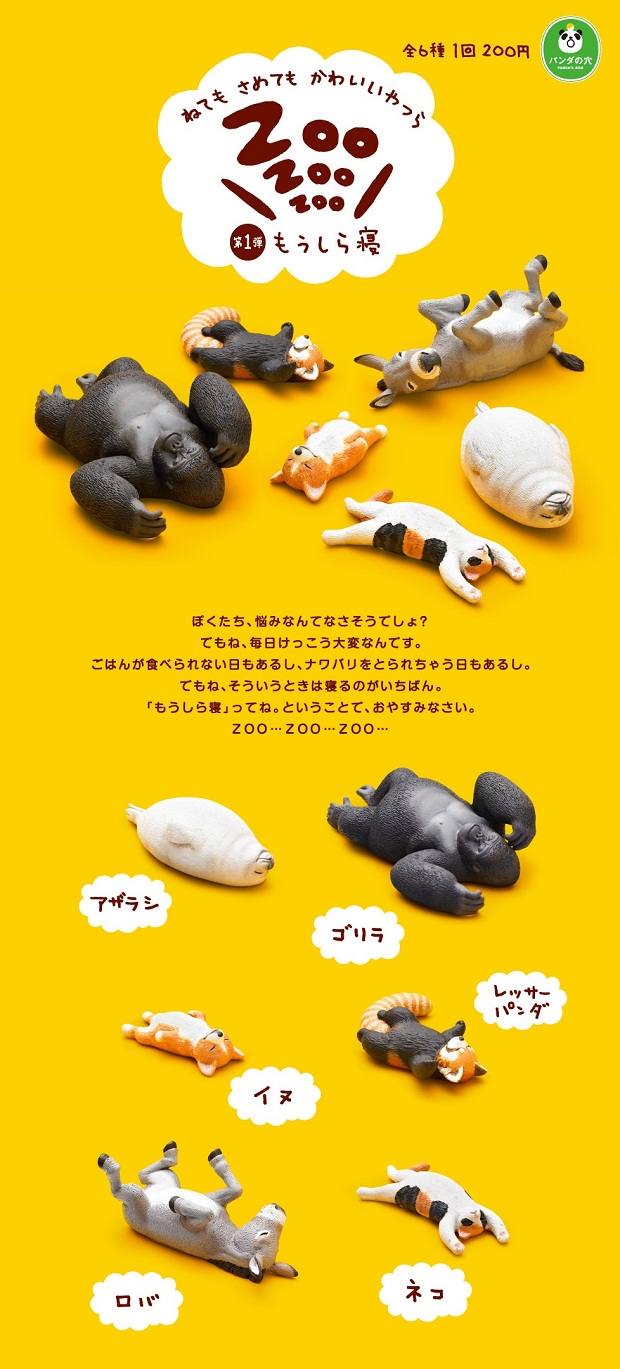 Just remember. The point of these capsule toys is not to ask about the point. It's not only the product that you purchase with 200 yen — but the thrill that comes from the act of turning the crank of the vending machine, knowing that inside the capsule might just be that extra special toy in the series you have spent months looking for… or just another copy of the same figure you already have in your bulging collection.