Non-partisan Taro Yamamoto (38) has ignited a firestorm by handing a letter directly to the Emperor of Japan while he was carrying out official duties at a garden party hosted by the Imperial Couple in Tokyo on October 31st.
Yamamoto was one of 2,140 celebrities and politicians invited to Akasaka Imperial Garden for the event. He exchanged words with the sovereign, who appeared to listen and receive the letter, before it was handed to a chamberlain, presumably for safekeeping. During the act, numerous people nearby could be seen to be surprised by what was happening and news cameras started to go berserk.
The 80-year-old, much-respected Emperor is supposed to be above politics, a constitutional monarch like the UK's Queen Elisabeth II, and so being directly petitioned like this is unheard of. Article 4 of the Constitution states "the Emperor shall perform only such acts in matters of state as are provided for in the Constitution, and he shall not have powers related to government."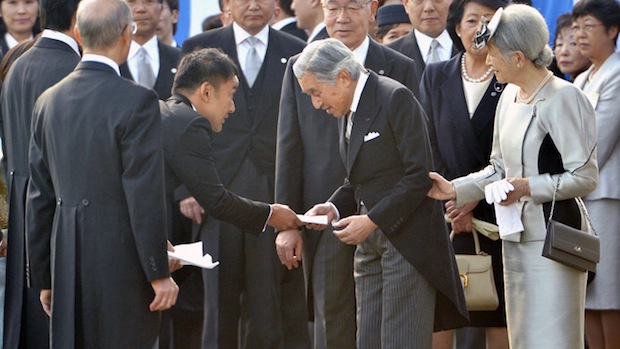 The exact content of the letter is not yet public but it is understood to be about the anxiety about Fukushima radiation and the continuing plight of the refugees.
"I wanted to directly tell the emperor of the current situation," Yamamoto later told reporters. "I wanted him to know about the children who have been contaminated by radiation. If this goes on, there will be serious health impacts."
Was this a stunt or a genuine attempt to tell the Emperor what his aides no doubt keep off his mind? After all, the Emperor previously made the unprecedented move of making a TV broadcast, albeit pre-recorded, after the 2011 Tohoku disaster, and of going personally with his consort to visit the refugee shelters. He has already showed himself very sympathetic to the plight of the victims of the disaster and Yamamoto's direct appeal is not as shocking as it might seem at first.
Yamamoto, a former actor who was forced into politics when his participation in the anti-nuclear power protests prevented him from getting work in the mainstream entertainment industry, is an unconventional and maverick figure in the dynastic, conservative world of Japanese statesmen.
After one attempt to get elected in 2012, he won a seat in the Upper House in July 2013 on a overtly anti-nuclear power platform.
Since then he has come up increasing fire from the so-called netto uyoku, right-leaning netizens, who seize on any chance to question his integrity. Recently, his divorce from his wife and his "love child" have been topics they have tried to use against him, though he has managed to steer through the shoals so far.
Might this be a step too far? Already he is facing intense criticism online and from peers, and even calls for his resignation.
Once comparison that has been drawn is with the turn-of-the-century statesman Shozo Tanaka, who made a direct petition (jikiso) to the Emperor Meiji. Tanaka was famous for his campaigning on environmental issues.