Like many things in Japan, Hina Matsuri (or Hinamatsuri), the Dolls' Festival or Dolls' Day (also known as Girls Day) celebrated on March 3, must be seen wearing Japanese cultural glasses. If not, it is just one more opportunity to slide into discussions about genders, roles, models, and their evolution (or lack thereof) in the 21st century. The thing is, the dolls Japanese families with girls use as decoration on Hina Matsuri come from way back: theories vary but the prevailing story is they were standardized in the early 1600s and the dolls themselves date from the period of the clothes they wear — i.e., late 800s to late 1100s.
The Hina Matsuri displays are magnificent. They can be the Shinnokazari one-tiered type (with just the main dolls, the emperor and empress couple, and some items like paper lamps, sake cup tray, and potted plants), a Dekazari two- or three-tiered stand (with eight more court lady dolls added), or the Dankazari type with from five to eight tiers for musicians, court ministers, helpers, and bodyguards joining in together with more accessories and decorative items. Usually displayed on a red felt dais, the dolls are supposed to bring good health to little girls and, again because this is Japan, hopes for a good marriage and family.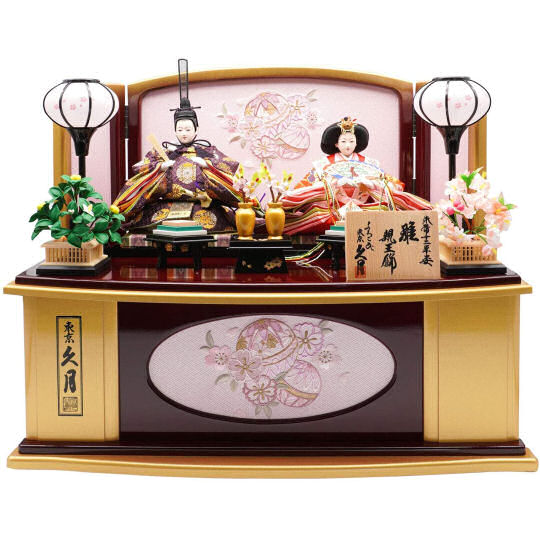 I want my Hina Matsuri dolls #1: The traditional
As of this writing, there are three Hina Matsuri sets in Japan Trend Shop. They are all Shinnokazari (one-tiered), because there's so much craftsmanship behind these dolls (everything is handmade) that prices beyond that jump almost immediately to the thousands of dollars; a Hina Matsuri set is something a family buys once and becomes a heirloom for generations! If you want something that is a classic and will remain one for decades, you can't go wrong with the Kyugetsu Dolls' Day Decoration Set. The company has been making them in Tokyo's Asakusabashi since 1835 and this set comprises a beautiful emperor and empress couple with all the standard accessories – paper lamps, tiny stands for flower vases, sake and rice cakes, mandarin and cherry trees, and a perfectly detailed embroidered panel. Also, the dais set is also a box, so your dolls will be safely stored until next year!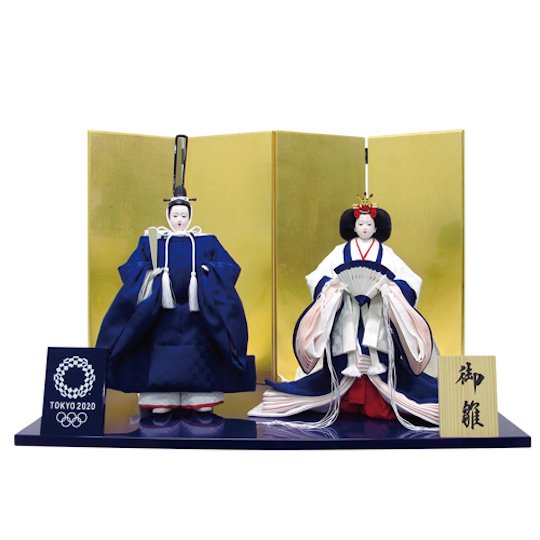 I want my Hina Matsuri dolls #2: The modern
In the Tokyo 2020 Olympics Japanese Hina Dolls Set, the accessories are kept to a minimum — basically there's only a gold panel or folding screen that works as a backdrop — but the kimono of the emperor and empress are in the blue color of the Tokyo 2020 Olympic Games and decorated with the Olympics' logo. The logo is also displayed on a tablet which, together with another tablet saying "O-Hina" (which is a respectable way to say "doll"), are the only extras accompanying the two standing figures, and remind you that they are part of the official Tokyo 2020 Olympics Games lineup merchandise. Even if you are look past the amazing craftsmanship involved, the uniqueness of the Tokyo Olympics (i.e., their one-year postponement due to the Covid-19 pandemic) also makes this set a real rarity from the get-go.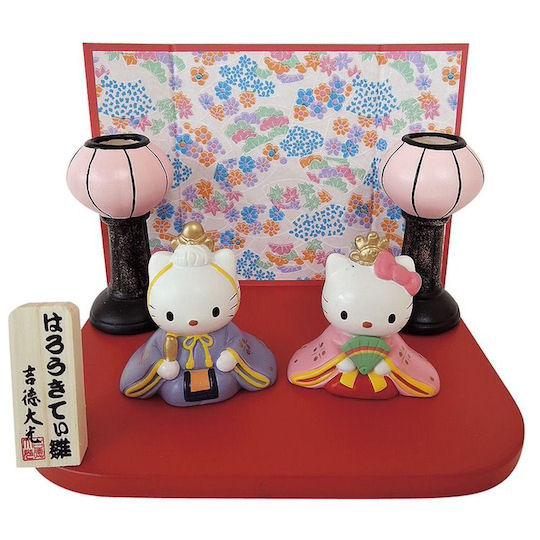 I want my Hina Matsuri dolls #3: The kawaii
It wouldn't be Japan if there wasn't something cute thrown in and the Hello Kitty Hinamatsuri Girl's Day Dolls is it. Don't let the material (polyresin), the small size (the whole setup is 18 x 12 x 13 cm, or 7 x 4.7 x 5.1″, and the dolls are 6 cm, 2.3″, tall) or the very fact that the emperor and empress are Hello Kitty and Dear Daniel fool you: the maker, Yoshitoku, has been making Hina Matsuri dolls, also in Tokyo's Asakusabashi since 1711, so they know their dolls. If you want a pair of Hina Matsuri dolls but also have a thing for Japan's pop culture, this set is for you. Plus, its compact size makes it very convenient (something a Tokyo doll-maker would definitely keep in mind, considering the size of a Tokyo apartment!).
Of course, Hina Matsuri dolls (Hina ningyo) are a whole universe and which, as often happens in Japan, can very easily veer off in some very weird directions – like this display created by the Isu Saboten Zoo in Shizuoka that, because the zoo also has a great collection of cacti, is also made of the prickly plants…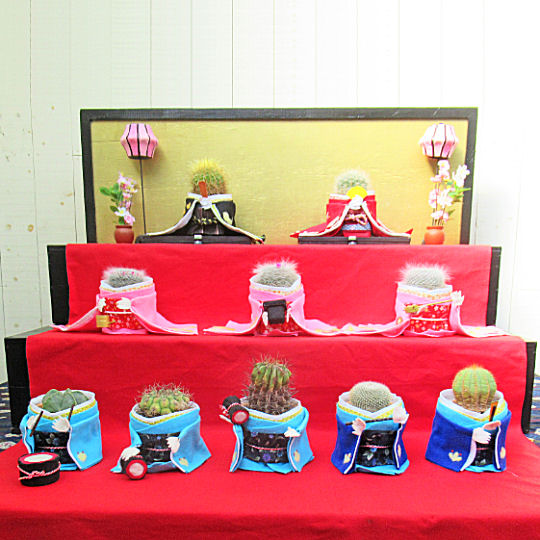 Then there's the Gothic Lolita emperor and empress set by Gifu doll-maker Goto…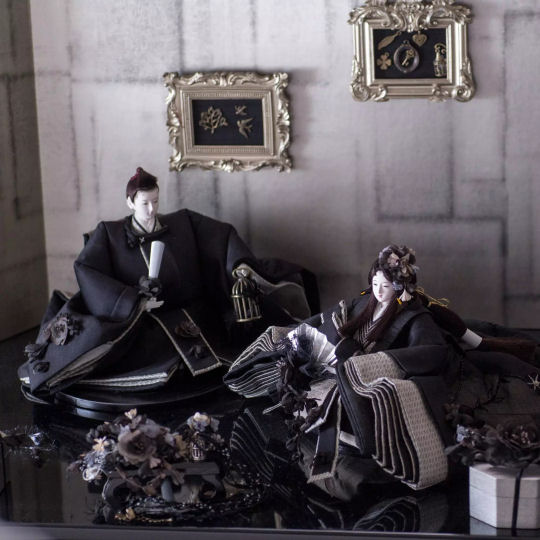 …And Disney's set with Mickey and Minnie as emperor and empress, and April, May, and June Duck as court ladies.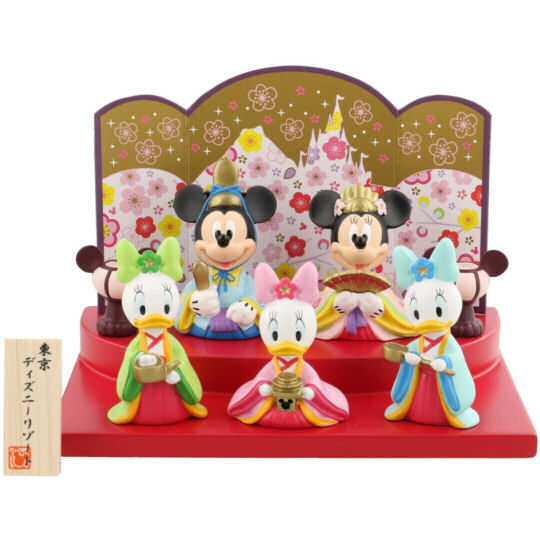 The most memorable, though, is the "last year" current events" dolls by Kyugetsu (see above). Every year, the company makes a set using the faces of people who made an impression during the previous year. This set isn't for sale and is just for display at the company's headquarters in Tokyo. This year, the set is a double one: the top emperor and empress couple are Joe Biden and Kamala Harris against a backdrop of the White House, while the bottom pair are Tokyo governor Yuriko Koike and Osaka governor Hirofumi Yoshimura with a backdrop of their respective governments' slogans for fighting Covid-19. Each couple is holding a mask – a black one for the Americans and a pink one for the Japanese.