It's been exactly three months since we presented a roundup of merchandise based on the manga and anime series Demon Slayer: Kimetsu no Yaiba and in the meantime, the franchise became even bigger and even more successful. With a second season of the TV anime series on its way sometime in 2021 and the (first?) film Demon Slayer: Kimetsu no Yaiba the Movie: Mugen Train hitting milestones like being the best three-day opening weekend ever in Japanese theaters and the top-grossing film worldwide for that weekend (despite anti Covid-19 measures!), Demon Slayer: Kimetsu no Yaiba products are appearing on a daily basis. So here's a few of them for your fandom pleasure!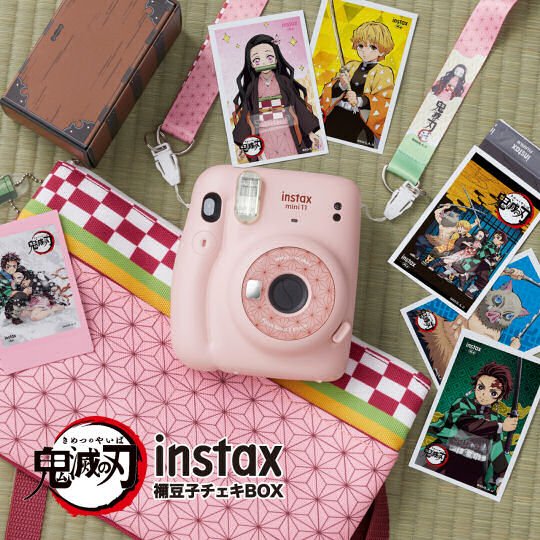 1. Demon Slayer: Kimetsu no Yaiba Nezuko and Tanjiro Instax Cheki Cameras
Not one but two products, though they're really two versions of the Fujifilm Instax Mini 11 Cheki camera, just with Nezuko and Tanjiro Kamado themes. The size is the same (107.6 x 121.2 x 67.3 mm / 4.2 x 4.7 x 2.6″) the photographic abilities too (f = 60 mm 1:12.7 lens, 0.3 m / 1 ft infinity focus/shooting range, 1/60 speed, 62 x 46 mm / 2.4 x 1.8″ screen, etc.), and so is the method of instantly developing and printing the pictures using Fujifilm's Instax Mini Film. Do you want to go with Tanjiro's black and green check or Nezuko's pink asanoha (hemp leaves) pattern for the camera, its carrying bag, and its strap? Oh, and they both come with a set of cards featuring the two siblings, and their two lovable companions, Inosuke Hashibira and Zenitsu Agatsuma.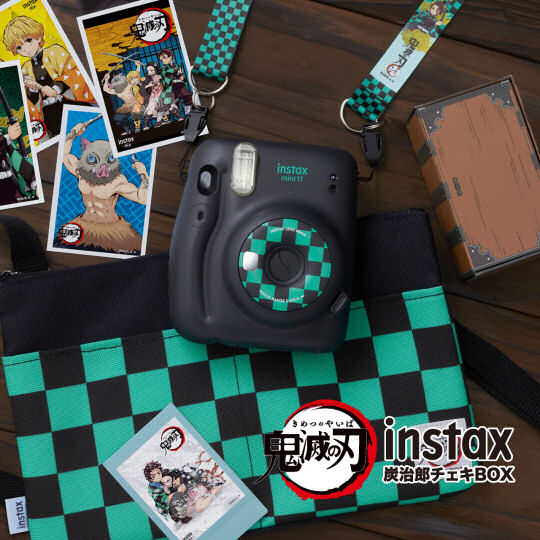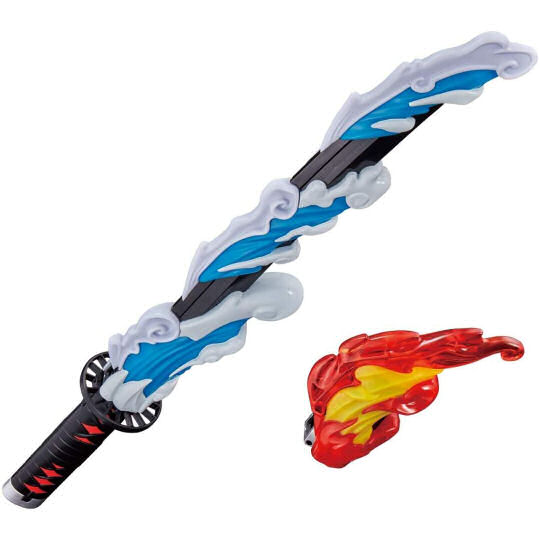 2. Demon Slayer: Kimetsu no Yaiba Deluxe Nichirinto Blade
Demon Slayer: Kimetsu no Yaiba is at heart a chanbara (i.e., spectacular, cinematic swordfight series) – to the extent it has sparked new interest to Japanese swordsmanship and fencing schools. The fights between the members of the Demon Slayer Corps are done using swords and each character has his or her own semi-magical blade, each involving properties of natural elements like water, fire, wind, and stone. The Deluxe Nichirinto Blade is a toy sword that imitates two of the most spectacular breathing and sword styles of the series — the Hinokami Kagura (Dance of the Fire God) and Mizu no Kokyu (Water Breathing) — and comes with two alternative blades, one for each style. Depending on the blade attached, you can press the switch on its handle and with every movement, you can hear it play battle calls from the anime. A great aid if you want to re-enact action scenes from Demon Slayer: Kimetsu no Yaiba!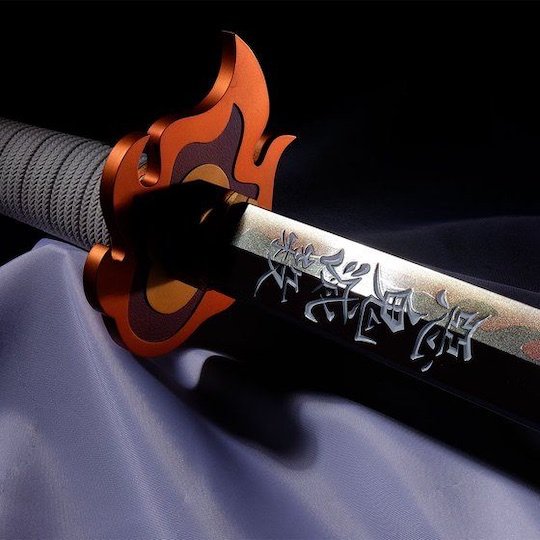 3. Proplica Kyojuro Rengoku Replica Demon Slayer Sword
If you are more serious about swords, the Kyojuro Rengoku Replica takes things to the next level. What we have here is the sword of arguably the most "kakkoii" (attractive/good-looking/stylish/cool/you name it) among the Hashira, the elite team of Dragon Slayers — Kyojuro Rengoku, aka Flame Hashira — and everything in this sword screams "Fire!" As a matter of fact, it doesn't scream but plays 60 different sounds, including sound effects and lines by Kyojuro over the film's theme. At 95 cm (3'11") and made of ABS and die-cast metal, this is a true-to-life sized replica that can become a decorative centerpiece in every Demon Slayer: Kimetsu no Yaiba fan's space – and comes with a display stand exactly for that reason!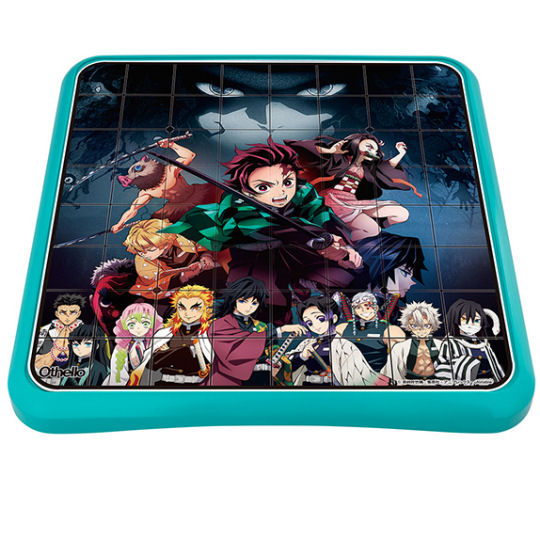 4. Demon Slayer: Kimetsu no Yaiba Othello
Japan hasn't enforced hard lockdowns but this doesn't mean that people aren't trying to limit their outings while Covid-19 is still out there. If you too are looking of things to do at home while in the company of Demon Slayer: Kimetsu no Yaiba, this version of Othello (the variation of the board game Reversi that was invented in Japan in 1971) is the perfect answer! The pieces are the four protagonists (Tanjiro and Nezuko Kamado, Inosuke Hashibira, and Zenitsu Agatsuma) and the nine Hashira swordsmen from the Dragon Slayer Corps, and four more with the Japanese kanji characters for "Demon" and "Slayer." These last ones you can put in the center whenever you start a new game. And the board itself features an amazing image from the manga to keep you inspired to fight to the end!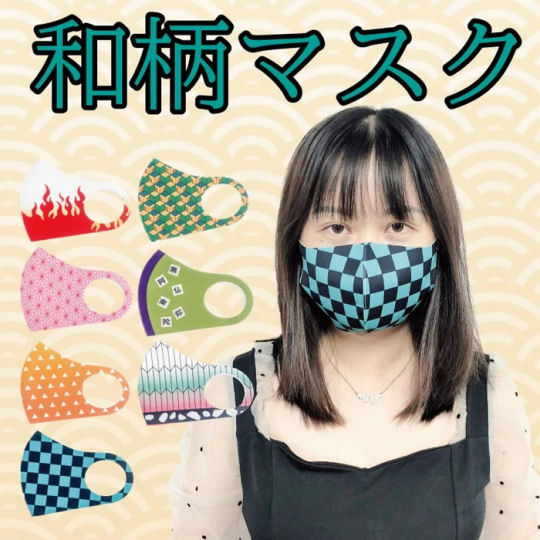 5. Demon Slayer Retro Japanese Pattern Face Mask
Covid-19 or not, you still need to get out sometimes and unless you're a hardcore anti-masker (which the Japanese famously aren't!) and you love your Demon Slayer: Kimetsu no Yaiba, this mask is what you need! Choose your favorite pattern from the Tanjiro, Nezuko, Zenitsu, Kyojuro, Shinobu, Gyomei, or Giyu versions, and off you go. They are all made of polyester and polyurethane, are very breathable, and can be washed and worn many times over!
As always, all the above can be ordered through Japan Trend Shop and delivered to your doorstep anywhere in the world. Keep your Demon Slayer: Kimetsu no Yaiba fandom alive and check again soon: we're always on the lookout for new and exciting stuff, and Demon Slayer: Kimetsu no Yaiba never disappoints!