Just when you think you are getting sick of all the retro iPhone cases out there on the market — cases that look like old cassettes and so on — along comes something new which adds a bit of style, and a clever idea, to the mix.
We stumbled upon the iBell recently at a product fair and thought it looked pretty ace, mostly because of the large twin alarm clock bells that add a real sheen to what is essentially a simple iPhone cradle.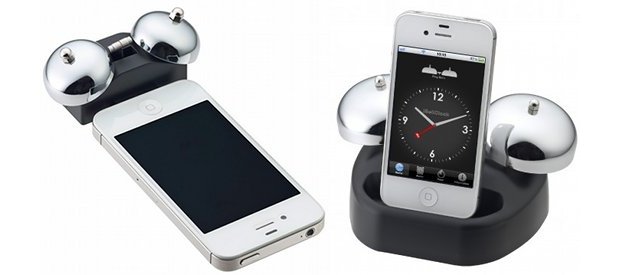 It not available quite yet (it can be reserved on pre-order) and some details are not released — e.g. the app you can use with your alarm on the phone — but we predict this will be popular not just with Tokyo hipsters but also people who still hanker for the analogue days of yore.
There's a mini version too with just the bells, plus a reasonable range of colors.

Some people might think this kind of product is more trouble than it's worth (why not just get the sounds of the bells rather than physical ones on your cradle?) but then they should take a look at this albatross.
Marudai has come up with this 1-Inch Armor Plating Case for iPhone 4 / 4S, said to be the world's strongest cover.

It's apparently even bulletproof so if you are thinking of taking your handset into a war zone any time soon, this will be the cover for you! Just don't drop it on your foot.