Monteroza, a major nationwide Japanese izakaya chain operator, is currently offering a discount for customers with name connections to the five pilot characters from the anime series Neon Genesis Evangelion.
The Ayanami Wari campaign is named after Rei Ayanami, the popular heroine of the franchise (wari means "discount").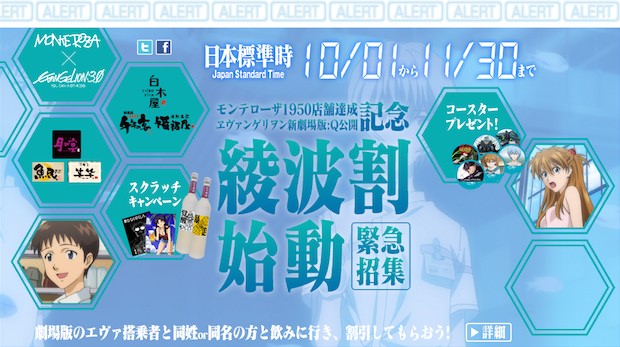 There are some variations in the possible discount you can get but if you share a surname or first name with, say Rei Ayanami or Shinji Ikari or Kaworu Nagisa, your group may be able to claim as much as 77% off your meal if everyone has a Evangelion moniker of some form.
There are also limited edition Evangelion shochu drinks available in the 1,950 Monteroza restaurants, including Shirogiya.
The campaign is apparently a celebration of the chain reaching just short of 2,000 branches, though the reason for the Evangelion tie-up is a bit of a mystery. Do they get a lot of Evangelion fans and otaku customers? Or perhaps they hope that they will get enough re-tweets to generate the level of publicity to make it worth the budget? Well, I guess we're contributing to that now. Still, it's hard to imagine this kind of stunt being done in other countries.
The onomastic discount campaign runs from October 1st to November 30th.