I ❤️ cock.
Not the kind of thing you would normally expect to see on the costume of a kids' TV show host, right?
But this is Japan and weird stuff happens sometimes, especially on TV.
Sasuga Minami is apparently a well-known choreographer and appears on this Television Kanagawa (a local TV broadcaster for the prefecture directly west of Tokyo) show called Miburi TV (Gesture TV).
Here's how the makers sell their show (official English description):
"Move in Gestures – MIBURI TV" This is an interesting dance program hosted by Sasuga Minami, one of the most famous choreographers in Japan.

Joining this program may inspire parent-child interaction while at the same time challenging your brain and your body, giving you more memory power and physical stamina.

Let's bring up future adults together through dancing.
Okay, but what does "I ❤️ cock" and "Love Fuck Yeah" and "Pussy" have to do with any of this?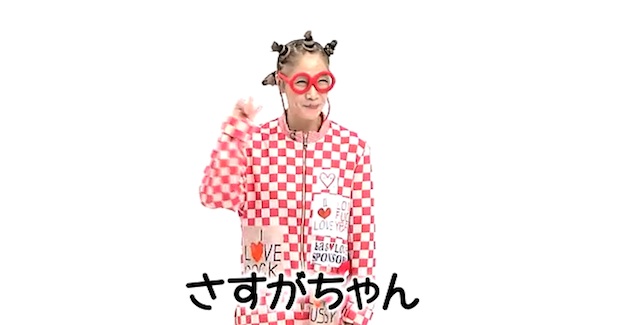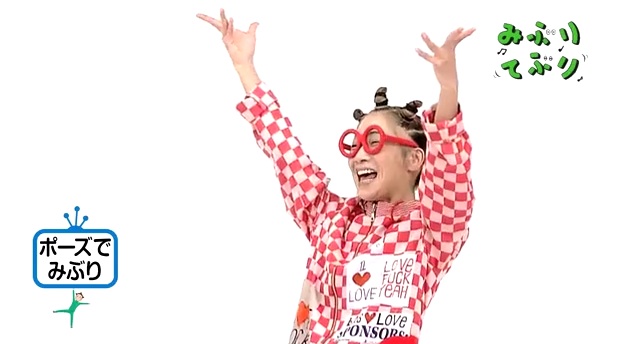 We're not joking.
Watch Minami's red-and-white costume and you'll see what we mean. You can spot her easily enough. She's the one wearing the crazy red glasses.
*Update*: The broadcaster has not surprisingly taken down the video.
To be fair, she also has "I ❤️ Love" and the more ambiguous "bas ❤️ love sponsors". But even so, just what were the producers thinking letting her wear this while dancing with kids?!
This is not a one-off. There are lots of these!
We're not sure if this was a protest, a career suicide note, or just really edgy TV, but our jaws were literally on the floor.