There are so many fantastic free events happening in Tokyo in November and December that it was tough choosing just five for this bimonthly events wrap. But we had to (because the editor said so). After much discount coffee-fueled deliberation, here is our pick of pure cheapo awesomeness to take you through to the new year.
1. Tokyo Chrysanthemum Exhibition: November 1st-23rd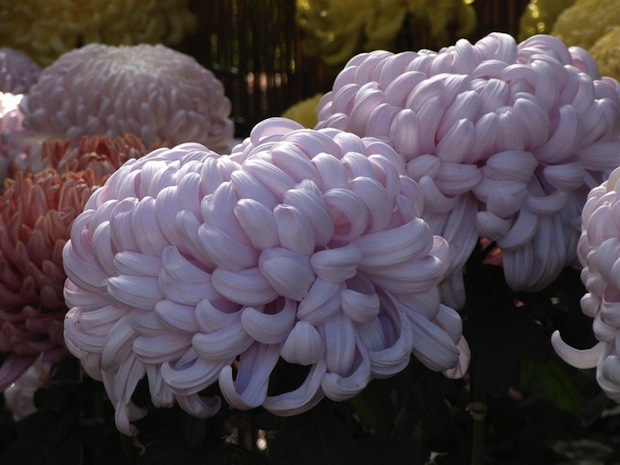 Photo by sigusr0 used under CC
Now in its 100th year, the Tokyo Metropolitan Tourism Chrysanthemum Exhibition is regarded as Japan's prime event when it comes to kiku, as the delicate flowers are known in Japanese. Chrysanthemums are held in high regard in the country — the bloom is featured on Japan's Imperial Seal and pops up on Japanese passports and in other places (including the controversial Yasukuni Shrine).
At the show you can expect top-notch blooms, and a dizzying variety of them too. There will be 2,000 displays featuring cut chrysanthemums, bonsai versions, ultra fancy bonsai versions, decoration versions, and more. You can also snag some seedlings and learn how to grow them properly (classy folk would say "cultivate" them).
More info here.
2. Asakusa Tori-no-ichi Fair: November 10th and 22nd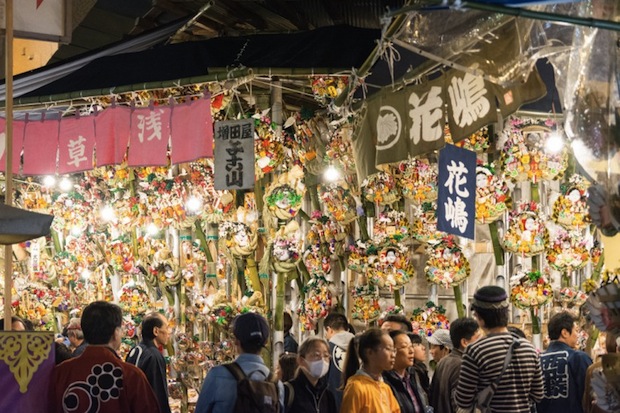 Photo by Yoshikazu Takada used under CC
The Tori-no-ichi Fair is a fun traditional festival that is held at shrines and temples countrywide on Rooster ("tori") days (following the Chinese calendar) every year. The Asakusa version has been going strong since the Edo period, when it was all about celebrating the new year. These days it's focused on wishing for good luck and prosperity in business.
You have two chances to go this year (some years have three Rooster days in November, but those ones have a bit of an unlucky association with fires), so pick one, get yourself one of the glitzily decorated bamboo rakes, and soak up the experience. You can sample some tasty festival fare too.
Part 1 info here.
Part 2 info here.
3. Golden Ginkgo Trees: Mid-November – Mid-December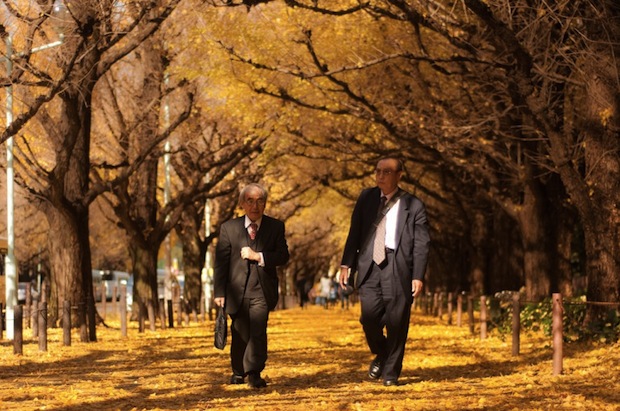 Photo by Haris Bahrudin
While some people associate them with rather unpleasant smells (yeah, just wait and see), ginkgo trees (ichou in Japanese) are undeniably beautiful and demand to be walked under in late autumn. Turning gorgeous yellows and gold, gingko leaves line paths in parks and even some of the city's streets (some strategic planting there), making for incredible photo opportunities.
The Hachioji Ginkgo Festival is one way to enjoy the autumn colors. The Jingugaien Itcho Festival in the outer gardens of Meiji Shrine is another. Of course, you can always just roll down to your local park — these trees can be found virtually anywhere. Look out for grilled ginkgo nuts (ginnan) on the menus of Japanese pubs too — they're a tasty and potent supposed superfood.
4. Odaiba Rainbow Fireworks: December 6th-27th
Most of Tokyo's fireworks shows take place in the sweltering heat of summer, but Odaiba insists on being different — and we aren't complaining. You can wrap up nice and warm and enjoy small-scale displays every Saturday evening in December. The fireworks will be going up between Odaiba and Rainbow Bridge — making for some colorful scenery.
The shows start at 7pm and last for about ten minutes. Around 1,800 shots will be fired in each one. It's not a huge deal, but it's sufficient to sate any Japanese fireworks show cravings you might be having.
More info and tips for the best viewing spot here.
5. Winter Comiket: December 28th-30th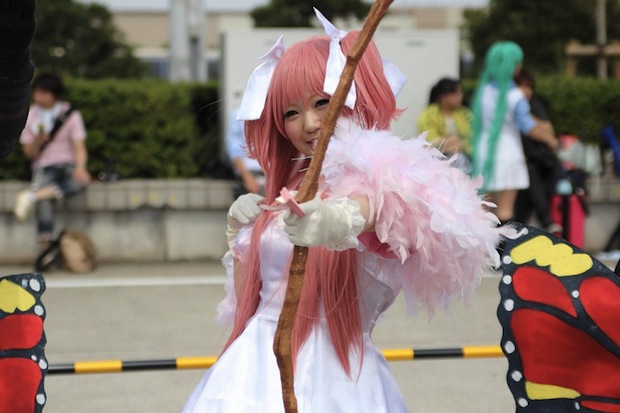 Photo by Hikaru Kazushime
Comiket, the short form of "Comic Market", is a festival of all things comic-related, drawing crowds of close to 600 000. It's held twice a year in Tokyo — once in summer and again in the cooler season. Tens of thousands of manga artists flog their self-published dojinsha (independent) works at the event, with a huge variety of genres and styles on offer.
Entrance is free unless you want to dress up — cosplaying will set you back ¥800 (and much more on materials). You can expect a fair few wacky outfits in addition to incredibly detailed (as well as incredibly revealing) representations of characters from games, manga and anime.
More info here.
Bonus Event #1: Winter Illuminations
If you're a fan of shiny pretty things, you're in luck. On winter evenings, Tokyo lights up with spectacular illumination displays all over the city. Noteworthy spots to suss out include Tokyo Midtown, the Marunouchi side of Tokyo Station, Shiodome and Tokyo Dome City. The colorful illumination at Rikugien Gardens is also worth seeing.
Bonus Event #2: Boroichi Market
Need to buy some cheap Christmas presents? You can't go wrong at this gigantic flea market in Setagaya.