This hasn't taken off yet like we hoped it might — if YouTube video numbers are anything to go by at time of writing — but we wanted to share this video we spotted of an "Avatar Man" roaming the streets of Omotesando at night, amusing and possibly frightening innocent Japanese shoppers.
Here's the trailer:
And the full video:
The production values are pretty slick, and the hair and make-up in particular are more impressive than anything wandering out of 109 by a million miles.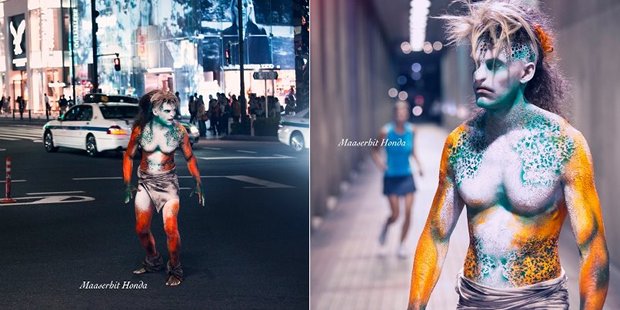 It is from a series called I AM MODEL, created by Maaserhit Honda.
According to the makers, the series was…
born in August 2011 through the creative ideas of photographer/cinematographer/art director Maaserhit Honda and British fashion model Dean Newcombe. The part documentary, part mocumentary story conveys the experiences of a 'lost' model in Tokyo, a metaphor for the unorientated feeling of many of the models in the industry.

Through this model's exploits, we gain a comical taste of the show business industry.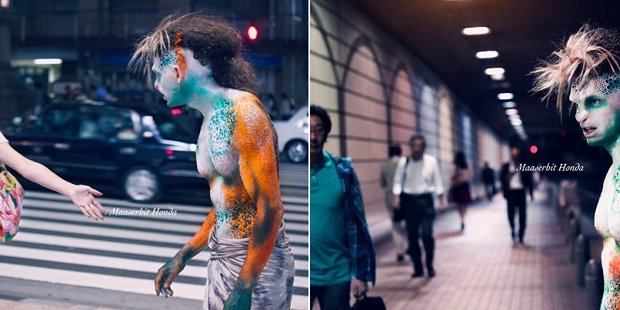 Kind of like evolution in reverse, the series charts the lost model's progress from wanderig around Shibuya to regressing to some new primitive state.
"Avatar Man, set free in Tokyo and wandering the unfamiliar streets. Fearful and misplaced, he suddenly encounters a beautiful, foreign-looking doll, and finally warms up to the world around him. Feeling relaxed and in high spirits, he dances his way through the crowds and becomes the life of the party. Is he hungry for a burger?"
Insipid Japanese celebrities, move aside! This "man" needs his own TV commercial right away!
Maaserhit Honda tells us that the next installment, intriguingly titled "Mr. English Teacher" will be out next month. You can stay updated via the I AM MODEL Facebook page.