We have long ago run out of those "standard" Japanese gifts that we can get away with sending out relatives back home. You know the ones, right? Green tea. Chopsticks. Sake cups. And so on. What happens when you run out of ideas?
Well, if you look around, though, there are loads of cool gadgets, designer accessories, toys and household items that will make great and unexpected gifts.
The follow is just a very small sampling of the range of lifestyle and tech products available from the JapanTrendShop.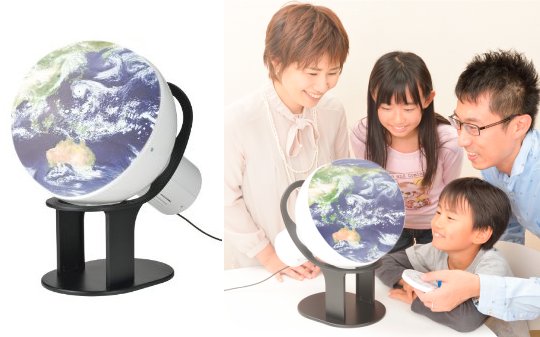 Learning can be fun and awe-inspiring, as Gakken is well aware. That's why they created this remarkable Worldeye, a dome screen that offers you a realistic visual experience of the world. Discover science and geography like you never knew you could with this projection globe, featuring high quality images of world altitudes, seismic faults, forestation, bird migration, wind patterns and more.
Deoest Odor Eliminating Deodorant Underwear
Be smelly no more with these Deoest Odor Eliminating Deodorant Underwear, which has been designed to kill some 95% of gas and sweat and other foul odors. It might look like an ordinary pair of boxers but the Deoest Odor Eliminating Deodorant Underwear by Inodore has nano-level ceramic and metallic ions that fight and break down stinky particles. A life-saver!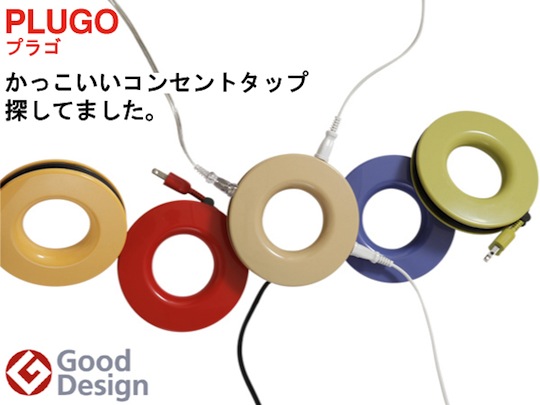 This has been around for a few years now but it still looks great, and super practical too! Product designer Masayuki Kurakata knows how important it is to consider even something so banal as an extension lead, and that's why he came up with the Plugo by Monos, a donut-shaped three-plug receptacle and extension lead.
Mocoro Robotic Fur Ball Vacuum Cleaner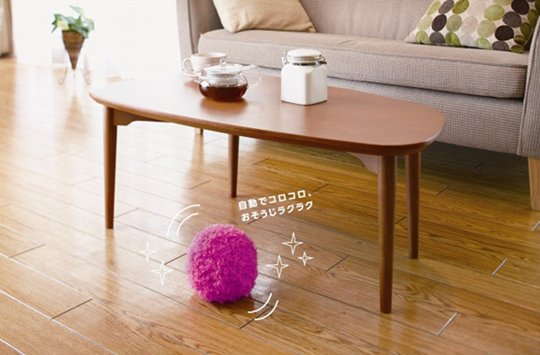 This "microfiber hop ball" is one of the funnest in the recent trend for robotic vacuum cleaners in Japan. The Mocoro might sound like a bizarre but sophisticated piece of technology — a colorful "fur" ball that rolls automatically around home cleaning — but actually its beauty lies in its simplicity. All you need to do is clean the furry cover and then let the ball do the rest!
Nanoblock 2014 Nengajo Horse New Year Card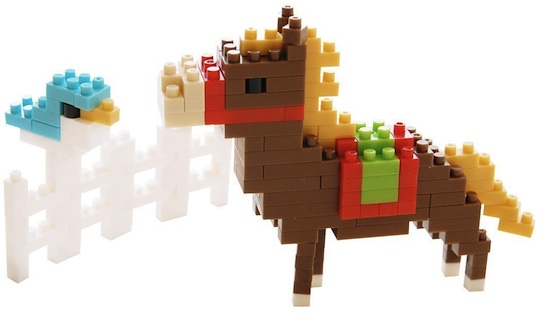 Not for Christmas per se, but you can celebrate New Year in a unique way with this. The Japanese send each other New Year postcards rather than Xmas cars. These are called nengajo and can be rather generic, though a lot of people write or even paint their own. Now you can be really unusual with this Nanoblock 2014 Nengajo Horse New Year Card, that uses the popular micro blocks to build a horse and bird model. (2014 is the Year of the Horse in Japan.)
Hybrid Hard iPhone5 Protective Film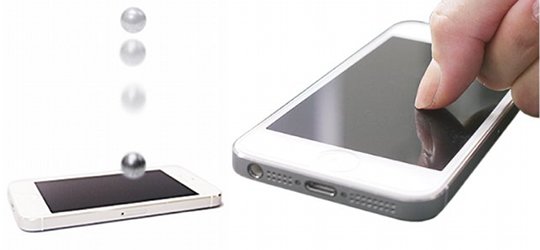 This is for the gadget-lovers out there. This Hybrid Hard iPhone5 Protective Film is getting great reviews locally. Smashed screen? Scratched display? These will be problems no longer with this Hybrid Hard iPhone5 Protective Film. The Hybrid Hard is easy to apply and keep clean, and is made from Acier, a UV cure type hard coating solvent, combined with a transparent SHORAYAL film. Highly resistant to abrasion and shocks, it also protects against pesky fingerprints.
USB Cup Warmer, Cooler Holder by Thanko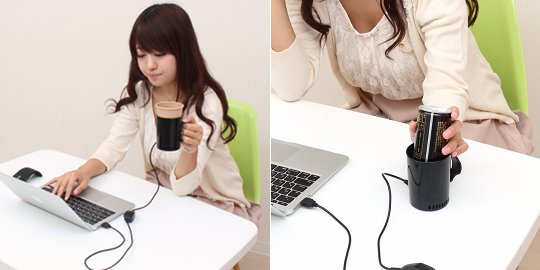 Another gadget, this time from Thanko, who know a thing or two about unusual gizmos. Keep yourself powered up for work whether it's winter (or summer) with the USB Cup Warmer, Cooler Holder. Just connect your computer or other device's USB port to the cup holder and it will maintain a cool or hot temperature perfect for continuing to enjoy your drink no matter how long that presentation takes you to finish. After all, when it's winter and you're keeping yourself warm with a hot cup of tea, the last thing you want is it to cool down. And likewise, in the summer, you want a drink that stays chilled.
For lovers (young and old) of kawaii and Japan's favorite cat character, this Pop Up Pirate Hello Kitty is based on the 1975 Pop-up Pirate toy where you have to place swords in the barrel until the pirate jumps up. This time the buccaneer is super cute, as Kitty-chan always is!
Heck, if this isn't enough for you, check out all the other Hello Kitty items there are!