Pairy was announced in June, a special iPhone and Android app just for a couple to communicate between themselves.
Pairy is not a pioneer in a global sense but it might provide solutions to local digital dilemmas.
This year also saw the release of the similarly named Pair, a social networking app just for couples in America. Plus we have recently seen Between in Korea and Lovebyte in Singapore.
But privacy is more important to Japanese web users than Americans and Europeans (sometimes a Google search for a Japanese person will literally bring up nothing). This isn't just for saccharine and schmaltzy couples: Pairy will mean that you can chat on Facebook and tweet just between yourselves (like the app Path), which is very important for Japanese.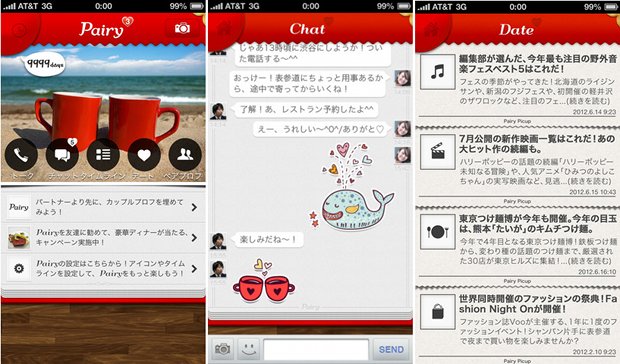 Forgetful men will like that you can have the app notify you about your anniversary and for the sleazier amongst you, you can even chronicle those "milestones" you have reached with your partner (first kiss etc) in a "couple timeline".
The developers have taken out any potentially negative or problem-causing issues too, such as giveaways like your present location (after all, knowing where your lover is might create all sorts of relationship issues!). There is also a (tongue-in-cheek?) warning at the bottom of their website advising that this is not a service for "monitoring or restricting" your boyfriend or girlfriend. People prone to jealous paranoia will likely find it frustrating.
The focus is on chatting, writing a mutual blog, sharing links and getting information about dates and places to go (restaurants etc) tailored to the particular couple.
There is also a digital "stamps" feature where you can add cute illustrations to express yourself like emoticons (this is surely how they make their money?). In this respect the user interface and interaction retains a very Japanese look.
Line has also seen success with this kind of "virtual sticker shop" feature. A free Japanese phone call and messaging app, it was launched after the 3.11 earthquake and tsunami and currently has some 60 million users worldwide.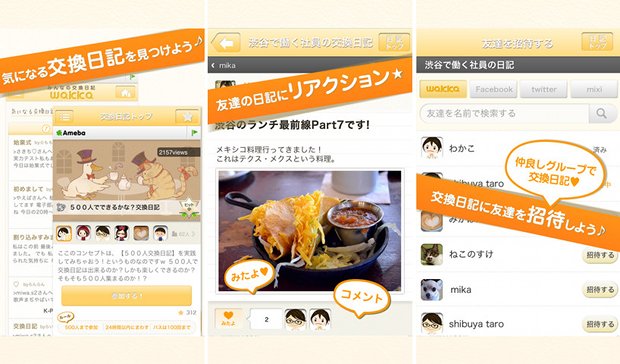 Japanese users took to Facebook very slowly because of the concerns over privacy so local developers have found ways to exploit the best things about the platform, while also respecting vernacular worries. According to research by the University of Tokyo's graduate school in the summer, some 56% of users across the generations are now using some kind of SNS, a 23% jump from 2010 levels. Though it hasn't been plain sailing for all platforms, that is not to say there isn't a strong craving for digital communication.
Another reason for Facebook's initially turgid growth was that Mixi had made such a success out of the "diary" SNS genre. This is still popular, it seems, as witnessed by the launch very recently of wakka (pictured above), a diary app from Cyber Agent for sharing your mini blog entries with your friends.