No matter your income or status, instant noodles are a staple of any household in Japan. When all else fails, reach for the dried ramen and pour in the hot water… Bon appétit.
But it's a cutthroat world out there amongst the shelves of instant noodles. There are dozens and dozens of choices of flavors and ingredients, so food brands really have to go the extra mile to stand out from the competition.
Industry leader Nissin knows this, as you might expect from the company that created the very first instant noodle product. That's why they have not only created such gimmicks as the interactive Cup Noodles Museum in Yokohama and even an instant noodle restaurant on a train station platform, but they also run campaigns like this one.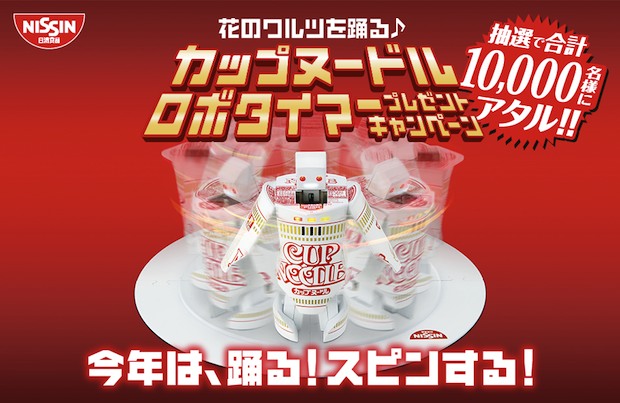 Now in its third incarnation, 10,000 customers have the chance to win a cute Cup Noodle Robot Timer.
This nifty little fella is one original way to time when your noodles are ready — though we also like the now classic color-changing Cupmen series. In the TV commercials the Robot Timer even dances to Tchaikovsky's Waltz of the Flowers, since, after all, eating the most generic of snacks should be an experience with a classy soundtrack.
The Robot Timer can move his legs, neck and arms, and also features eight LED lights to give him personality, as well as lighting up the "40th" (marking the anniversary of Nissin) on his uniform. He is programmed to move in forty different ways, changing automatically every thirty seconds. Oh, and he talks too.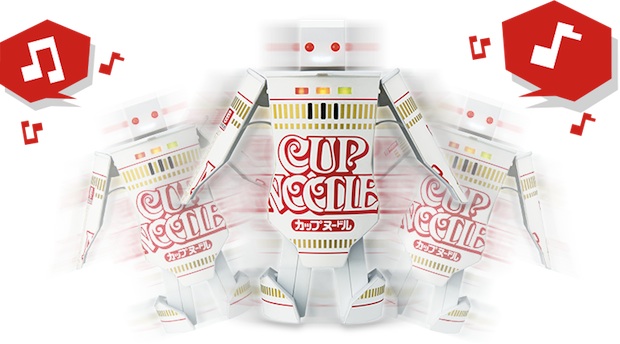 Unfortunately Nissin have very sensibly not uploaded the official TV commercial to YouTube so we cannot embed it here (go to their website to watch it), but we did find this video of an older model. No Tchaikovsky or dancing, though.
The robot was actually developed with Vstone, who also worked on the popular Robi and Robovie-X.