If someone asked me to name Japan's greatest invention, I might say it's the Cup Noodle. Although some people consider it to be more of junk food rather than a meal, I'm sure we all love it not only for its convenience but for its taste as well. In fact, Cup Noodles have greatly evolved from being an easy replacement for a full meal — to being a product available with a wide variety of taste which may or may not surpass ones served at actual ramen shops.
No matter how much I love Cup Noodles or instant noodles (which I do), though, I would think twice if someone asked me, "Hey, wanna go out to eat some Cup Noodles?"
In 2010, Nissin opened its Donbei instant noodles eatery, Donbareya, on the Yamanote Line platform of JR Shibuya Station.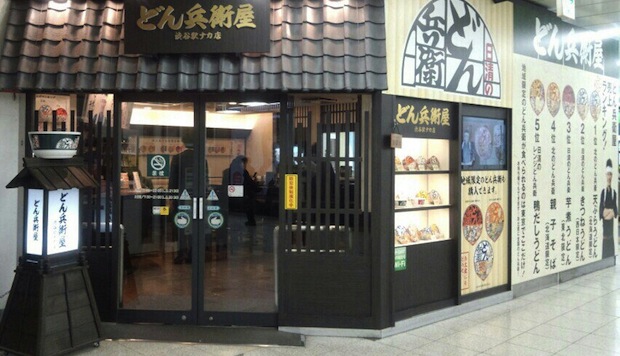 [Image source]
While it definitely looks like a restaurant, you should probably be aware that they serve Cup Noodles, exactly as you would eat them just about anywhere else. Then why would anyone bother to eat Cup Noodles in a restaurant? Perhaps the biggest reason is that they have a wide range of Donbei udon and soba noodles on the menu, including some local flavors not available elsewhere.
First you buy a ticket (priced at a bit more than regular shop prices) and hand it to the server at the counter. Depending on what you choose, they either give you an almost-ready cup of noodles with a sand glass and ask you to wait for three minutes — or if your choice requires microwave cooking, they'll probably ask if you could wait a bit longer.
I ordered one when I went there about half a year ago and was asked to wait at the table. The noodles were very tasty, but all the time I felt like I was overly spoiled, since I could definitely have done self-service and prepared everything myself. But for promotional purpose, serving Cup Noodles or any other product at one of the busiest stations in the world is certainly an effective way to get people's attention.
Actually there is another Nissin eatery on the other side of the platform called "Nissin Rao Fukuromenya, which serves packaged ramen in its cooked form.

From June 17th to June 23rd for one week only, Nissin's hiyashi-chuka (chilled noodles with toppings) will replace the regular ramen, both in the menu and the exterior of the place, presumably to promote the retail product for the upcoming summer season when the demand for such cool taste is expected to grow substantially.

We probably need to wait for a few more weeks before its actual arrival, but Nissin's hiyashi-chuka is definitely a good sign that summer is just around the corner!