Japan is the land of characters. Every town has a mascot, every brand its own cute figure.
But while there is no shortage of home-grown characters, Japanese consumers also love to lap up foreign creations too.
This can be seen in the popularity of "Peanuts", which had themed cafes in Shibuya and Ebisu recently, not to mention its own special watches in Japan.
The "Mr. Men" and "Little Miss" series of books by British writer Roger Hargreaves is not as famous as Charlie Brown and company, but that hasn't stopped Evian from using the iconic 2D characters for a series of new packaging labels to vamp up its 750ml bottled water product.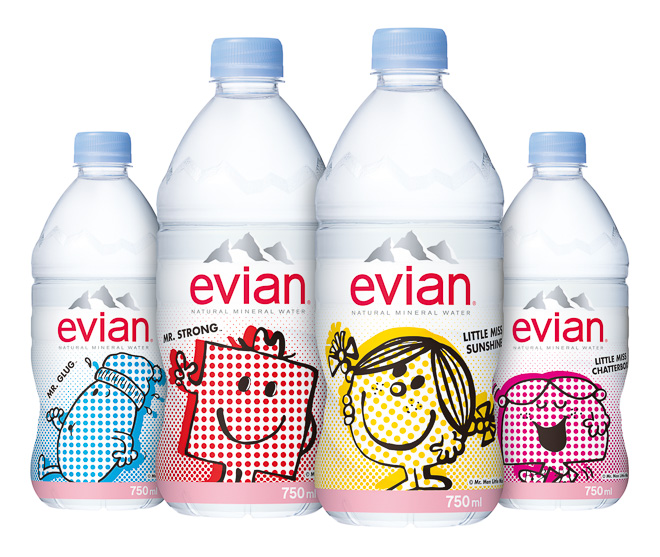 Bottled water in Japan is a competitive market, and a growing one. Total revenues were $7,600.2m in 2013, representing a compound annual growth rate (CAGR) of 12.1% between 2009 and 2013. In the wake of the Fukushima disaster, the advantages of bottled water came even more to the fore and local consumers starting buying it more.
Water is probably the one natural resource that Japan has reasonably plenty of and so there are lots of domestic companies like Suntory and Kirin dominating the market (Coca-Cola is not far behind). The share in the market for Danone Group's Evian is only so-so, meaning a stunt like this is a nice way to draw consumers' eyes to their section of the shelf in the convenience store. After all, the water corner is not usually the most colorful of places and the various brands' products can merge into one transparent watery image, with the potential consumer often left to scan the prices to discern the differences.


The "Mr. Men" and "Little Miss" rights are now licensed to Sanrio, the creators of Hello Kitty and My Melody. This new packaging tie-up is exclusive to the Japanese market, though it is part of a bigger global Evian-Mr. Men/Little Miss branding campaign launched last year.
The 750ml water with the new packaging designs are available from today (April 6th) across Japan. There are four types of labels, each based on a different Mr. Men or Little Miss character: Mr. Strong, Little Miss Sunshine, Little Miss Chatterbox, and Mr. Glug (a character made especially for Evian by Sanrio as part of the global Evian tie-up).


Eight types of special Evian-Mr Men/Little Miss LINE stamps will also be available free online from April 3rd to September 17th.