Koji Wakamatsu, one of the giants of Japanese cinema, has sadly and suddenly died after being struck by a taxi while crossing a street in Shinjuku. He was 76 and still very active.
Like many of his generation, he made his name by first toiling in the world of soft porn (pinki eiga) before moving on to direct and produce more mainstream features, though violence and eroticism always continued as latent or overt themes.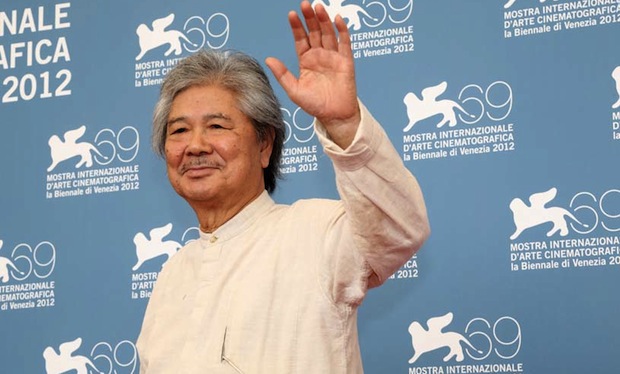 Known for his close connections and sympathy in his younger days with Japanese radicalism — including once making a semi-propaganda film in 1971 about Japanese Red Army terrorists — he came to terms with his past and made a major career comeback with United Red Army (2007), a remarkably, three-hour semi-documentary film about the Asama-sanso incident in 1972. He narrated the film himself and even used his own home as part of the set, which involved destroying the building.
He continued his reflections on the formulative era of his generation with 11:25 The Day He Chose His Own Fate, released this year and starring Arata as Yukio Mishima. It chronicled the life of the famous writer leading up to his notorious "coup" and ritual suicide.
Wakamatsu's challenging film about sadism, Caterpillar, about a paraplegic war veteran who still has insatiable sexual appetites in spite of his physical dismemberment, and with his wife who tries to serve him faithfully played by Shinobu Terajima, winning her international acclaim and accolades. Terajima also stars in Sennen no yuraku, Wakamatsu's last completed film, which is set for release in Japan next spring.