Prime Minister Shinzo Abe's LDP government has succeeded in passing the immensely controversial new state secrets bill, in spite of a human chain around the Diet today, a wave of protests over the past few weeks, and the opposition of most of the other parties in the parliament.
After being rushed through the Lower House, it was today approved in the Upper House Special Committee on National Security to become law.
Abe is in danger of becoming the Kishi of the new century. Nobusuke Kishi was the arrogant and impervious premier during the 1960 renewal of the Anpo security treaty with America, that was ratified in the face of massive protests across the country.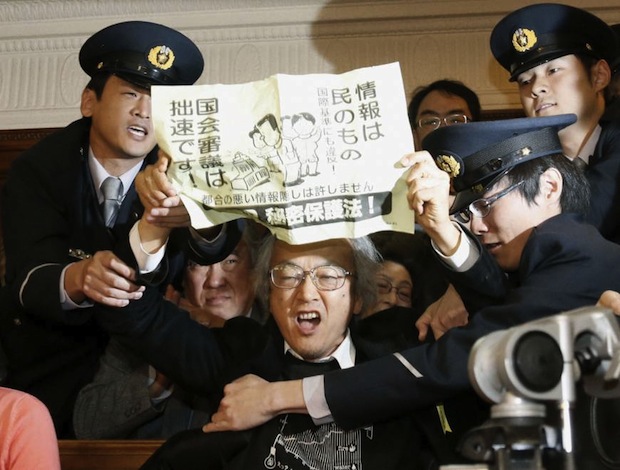 A nice summary of the bill was provided by Jake Adelstein in the Japan Times:
The first rule of the pending state secrets bill is that a secret is a secret. The second rule is that anyone who leaks a secret and/or a reporter who makes it public via a published report or broadcast can face up to 10 years in prison. The third rule is that there are no rules as to which government agencies can declare information to be a state secret and no checks on them to determine that they don't abuse the privilege; even defunct agencies can rule their information to be secret. The fourth rule is that anything pertaining to nuclear energy is a state secret, which means there will no longer be any problems with nuclear power in this country because we won't know anything about it. And what we don't know can't hurt us.

The right to know has now officially been superseded by the right of the government to make sure you don't know what they don't want you to know.
In a time of increasing territorial tensions with China, many see the new state secrets bill as another erosion of Japan's liberties as Abe seems to be turning the nation ever more to the right.
Japan already has a very low press freedom ranking compared to its economic status, and this looks set to plunge to the levels of China with the passing of this new bill.
Protestors worry the new bill could be used to prosecute people seeking public disclosure of sensitive information. The government disputes this and points to Article 21 in the Constitution that guarantees freedom of expression, including public demonstrations.
And yet the latter has the government has hardly sold its argument well to the public. Liberal Democratic Party Secretary-General Shigeru Ishiba likened protesting against the new act to an act of "terrorism"!
A survey by the left-leaning Asahi Shimbun showed 61% of ordinary voters are worried about the speed with which the bill has been pushed through the two parliaments, where the LDP holds a majority in both.
With the new state secrets bill about to become law, don't expect a Japanese Edward Snowden any time soon.