The singer and model Kyary Pamyu Pamyu last night (January 29th) performed a concert at Sojoji temple in Shiba Park in the brightly lit shadows of Tokyo Tower, where 1,500 invitees had gathered for a one-off four-hour event organized by au KDDI.
The mobile phone carrier turned the local area into a digital interactive quasi-theme park. Participants could experience manipulating taxis, water fountains, street lights — all via the "remote control" on their smartphone. In her concert — which also deployed special projection mapping — Kyary Pamyu Pamyu also showed off how you can control illuminations on Tokyo Tower with your phone.
Unfortunately there's no video of the event yet but to give you a taste, here's au KDDI TV commerical as part of the FULL CONTROL TOKYO campaign.
Now that would certainly liven up a trip to Shibuya.
All this hullabaloo is advertising their smartphone app Odoroki (Astonishing!), which apparently allows you and your handset to interact with things. In the words of the app's slogan, you can "full [sic] control your city". Well, who needs grammatically correct adverbs when you can do funky stuff with your touchscreen.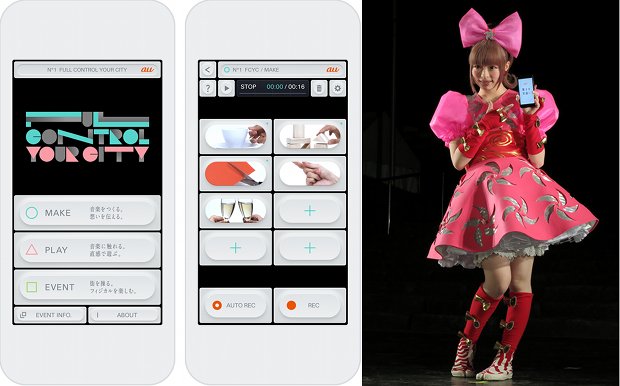 I feel like I should issue a disclaimer here on behalf of au KDDI. I'm pretty sure Odoroki does not mean you can start controlling screens at Scramble Crossing or send beams off light out of skyscrapers.
Footage from the Kyary Pamyu Pamyu event will be used in the next TV commercial.
*Update!*
The TV commercial is now online! This event did look pretty awesome.
[
Images source
]