While Japan has its own share of street food, street food culture just isn't as common in Japan as it is in Southeast Asia, where locals and tourists alike flock to weekend or night markets to chow down.
That's not to say that Japan has a shortage of comfort food. Osaka's Dotonbori is a great place to get your fill of Japanese comfort food; and areas like Hokkaido and Hiroshima have alleys dedicated to their regional specialties: miso ramen and okonomiyaki, respectively. But actually buying and eating food on the streets, and in a market-like setting? Aside from Fukuoka, which has areas dotted with street food stalls, hardly any other areas where you can regularly expect street food vendors come to mind – especially not for Tokyo!
Nevertheless, the humble yatai at festivals are, for many, the best opportunities to try some Japanese street food. In fact, one could say that the atmosphere at a Japanese festival can be likened to that of a food market.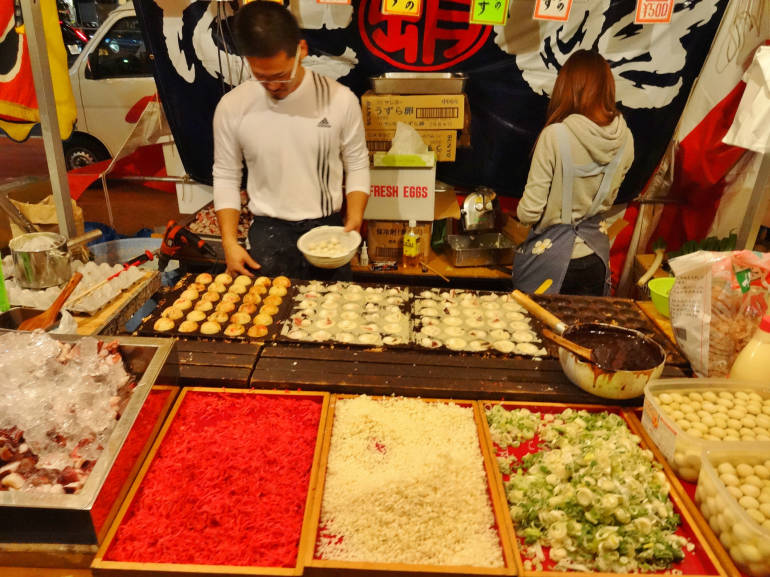 Takoyaki Stall | Photo by Dick Thomas Johnson used under CC
Translating to "stall," yatai isn't exclusively used to refer to stalls that just pop up at festivals. Fukuoka's yatai open nightly, and the few ramen or sweet potato carts as you may see are also known as yatai. They also don't just refer to food stalls, as many festivals also have stalls where visitors can play games and win prizes. In this article, though, I'll be focusing on yatai food at festivals. It'll be summer festival season soon, after all, so now's a good time to talk about yatai food.
When a festival is going on in Japan, you can bet that there'll be yatai, and after attending one festival after another, you can more or less get an idea of what food to expect. Whether it's festivals at temples and shrines, or school festivals, there are certain foods that just happen to be associated with yatai, and here are some of them. Yatai food usually costs no more than ¥1,000, with the average price being about ¥500.
Savory Delights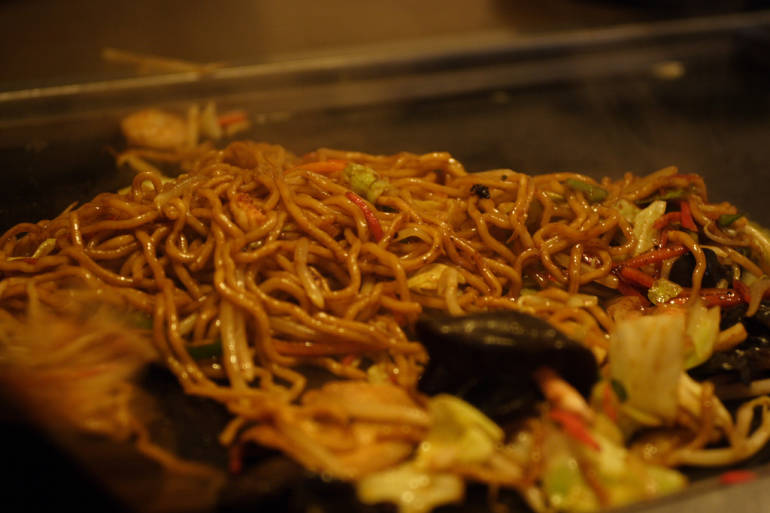 Yakisoba | Photo by katsuuu44 used under CC
Yakisoba
No festival is complete without good ol' yakisoba. This simple-to-prepare dish consists of fried noodles (which is what the word "yakisoba" literally translates to, anyway), strips of pork, and cabbage. It's then garnished with katsuobushi (bonito flakes), benishoga (pickled ginger), and/or aonori (powdered seaweed), and some also add mayonnaise to it.
Kushiyaki
Kushiyaki is a catch-all term for grilled, skewered meats, the most popular type being yakitori. Yakitori can be thought of as a another sub-category, since there are different kinds, including momo (thigh), tsukune (chicken ground into meatballs), and kawa (skin). Yakitori aside, it's also not surprising to see beef, pork, and fish (usually known as shioyaki, which means "salt-grilled"). You'll also occasionally see other kinds of grilled seafood, like squid and scallop.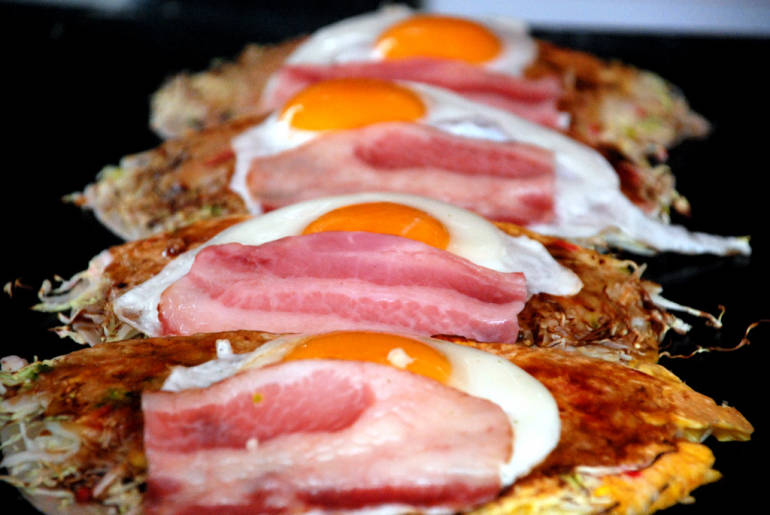 Okonomiyaki | Photo by Jean-François Chénier used under CC
Okonomiyaki
You can read more about okonomiyaki here, but put simply, it's a savory pancake. Aside from the non-negotiables (cabbage, okonomiyaki sauce, and, of course, the batter), anything goes for the rest of the ingredients. Okonomiyaki, after all, translates to "as you like it." Common okonomiyaki ingredients are pork and seafood.
Takoyaki
These are octopus balls, made of the same batter that's used to make okonomiyaki. The sauce is even similar. Interestingly enough, okonomiyaki, yakisoba, and takoyaki share some basic ingredients. (A friend of mine once made okonomiyaki, then mixed the leftover cabbage, katsuobushi, benishoga, and aonori with noodles to make yakisoba.)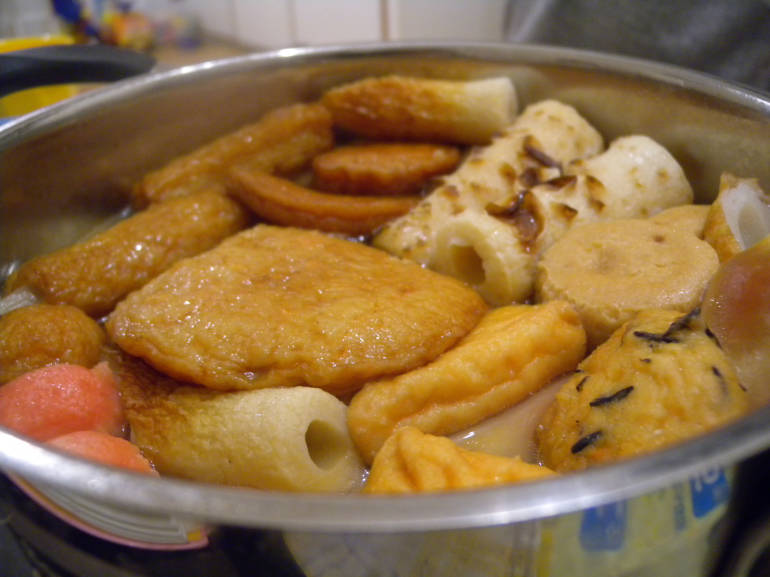 Oden | Photo by 5th Luna used under CC
Oden
Since oden is a dish consisting of various ingredients (mostly variants of tofu and fish cakes) immersed in a hearty broth made of dashi (soup stock) and soy sauce, it's popular in wintertime, but you can still find stalls selling oden even in warmer months. Oden can be an acquired taste for some foreigners, though, mostly because of how some think that it looks unappealing.
Jaga-bataa
"Jaga" means potato, and "bataa" is the Japanese way of saying butter. Put those together and what do they make? A baked potato with butter.
Kebabs
Brought over by Turkish migrants in Japan, kebabs are arguably one of the most popular international foods in Japan. In many urban areas (Tokyo, for instance), you're bound to encounter at least one kebab stand, stall, or cart. Kebab vendors have been known to participate in festivals, too!
Frankfurters and American dogs
Frankfurters are pretty self-explanatory, but as for American dogs, they're corn dogs. Don't call them corn dogs in Japan, as you'll most likely be met with confusion.
Sweet Treats
Choco banana and candied apples
While candied apples are not as ubiquitous, you'd be hard-pressed to find a festival without choco banana, which is, as the name implies, a banana coated in chocolate.
Wataame
It's Japanese for cotton candy, and is quite popular among children.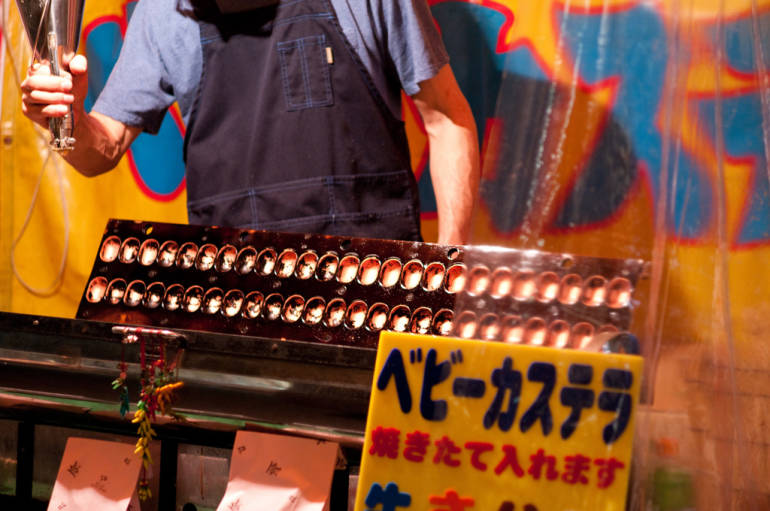 Baby castella stall | Photo by Shinichi Sugiyama used under CC
Baby castella
A specialty of Nagasaki Prefecture, castella is a sponge cake that was introduced by the Portuguese in the 16th century. Whereas castella is typically rectangular, baby castella come in small, round, bite-size pieces, and have fillings inside.
Age-aisu
That's pronounced "ah-geh," by the way. Age-aisu means fried ice cream. It's not a common sight at festivals, but for some reason, it's quite popular at school festivals. It's basically fried breading wrapped around ice cream, creating a contrast of hot and cold flavors.
Kakigorri | Photo by 世書 名付 used under CC
Kakigoori
This popular summer treat consists of fluffy shaved ice, colored syrup, and a sweetener. It comes in different flavors, but if you want to try something different, go for matcha, ramune (soda pop, which I'll get to later), or Blue Hawaii (which tastes like pineapple with milk)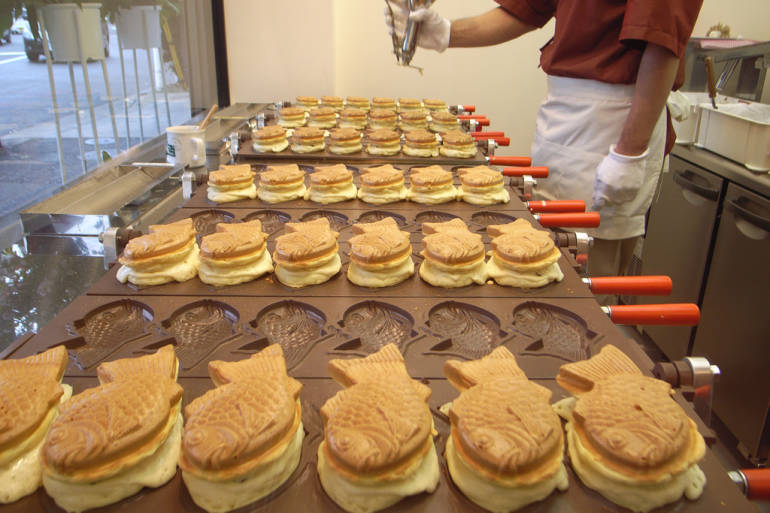 Taiyaki | Photo by Takanori Nakanowatari used under CC
Taiyaki
Taiyaki is a fish-shaped pastry (with a pancake-like texture) with red bean paste as filling, although some variants have custard, cream, matcha, or even savory ingredients as filling.
Beverages
Aside from these drinks, of course you can also find alcohol at festivals!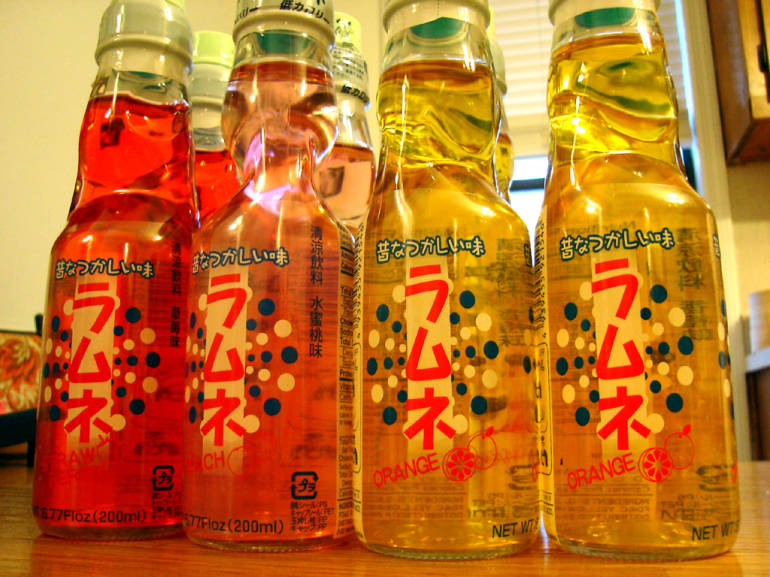 Ramune | Photo by matt used under CC
Ramune
This is a uniquely Japanese soda, mostly because of the design of its bottle, which has a marble seal. It's a fixture at summer festivals. Its original taste is lemon-lime, but it also comes in other flavors.
Tapioca
This refers to bubble tea, although it seems that the bubble tea craze never really took off in Japan the way it did elsewhere.
Bonus Points If You Spot a Yakiimo Cart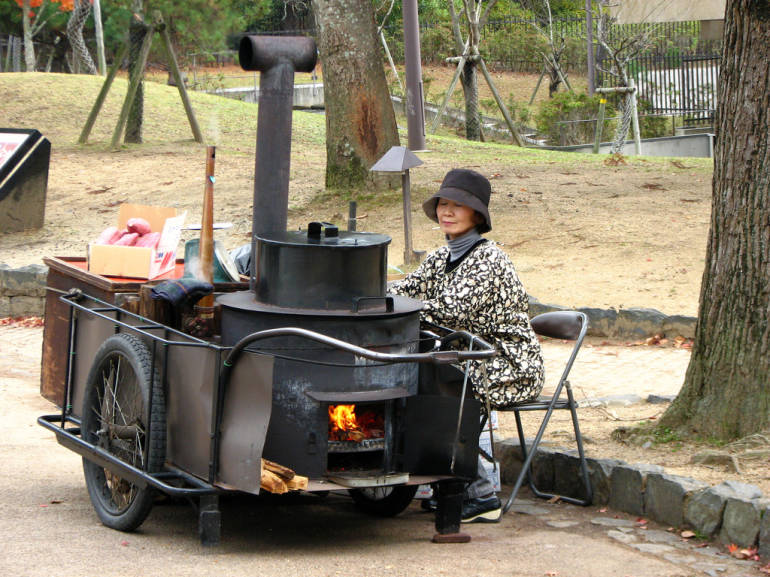 Photo by Chris Gladis used under CC
Yakiimo (Baked Sweet Potato)
Yakiimo (or baked sweet potato) is the original Tokyo street food. To indulge, you'll have to spot a sweet potato vendor pushing around a cart or driving around in a truck equipped with a stone oven in the back. If you try to find some at a summertime festival, know that they're not exactly festival food and definitely more of a winter/autumn thing; however, if you are here during summer and want to give it a taste, you're more likely to find some during the evenings. Also, yakiimo vendors are slowing becoming extinct, so if you see one, don't hesitate to get one as a real cultural treat (pardon the pun).