Kentucky Fried Chicken has entered the coffee shop market in Japan, in a direct challenge to the McDonald's McCafé format. From November 28th, the Colonel's Cafe in Kobe will be serving French press espresso and hot teas such as Earl Grey or Darjeeling, as well as cheese cakes and other desserts.
A new type of menu requires a new type of interior. The iconic red has been jettisoned for plants, snazzy flooring, and wooden tables seating 26. In other words, a Japanese city cafe. Much like McCafé, the regular KFC menu will also be available (fear not, the "C" from the name hasn't warped into "coffee").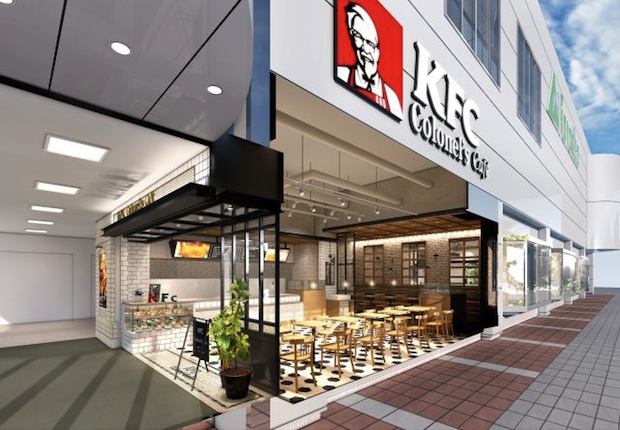 A few years ago McDonald's started opening stylish, spunked-up branches in key areas like Aoyama, Harajuku, Shibuya and so on. Certain restaurants later added standalone branded McCafé "barista" coffee bars offering cakes and lattes alongside the regular McDonald's counter, starting with the Omotesando branch. KFC also has some of these "luxury fast food" outlets (check out the one in Shibuya near the Apple store, for example). Ever the underdog trying to prove itself, KFC boldly opened a whisky bar in Shimokitazawa in 2012.
For its first coffee shop, KFC has opted to go down a slightly different path to McCafé, opening the debut cafe in a mall at JR Rokkomichi Station in Kobe at the end of this month. McCafé has succeeded, though, because while it expanded the McDonald's menu to include espressos and fitted in with certain higher-class environs, it ultimately remained the cheap choice and still undercut the prices of Starbucks et al. In my (relatively few) experiences visiting these "posh" fast food restaurants, the clientele is the same. The menu upgrade is intriguing but in the end, the new format is only a cosmetic one that makes the chain sit better in areas like Omotesando.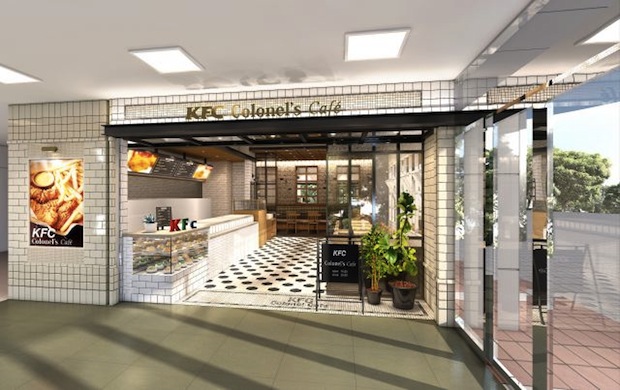 A quick glance at the Colonel's Cafe menu reveals the prices are a little higher than expected, certainly more expensive than dirt-cheap coffee shops like Doutor. But if shelling out nearly ¥500 for a Mexican coffee sounds too much like a trip to Starbucks, rest assured the ordinary cheap KFC coffee will also be available.
We will have to see if people like the Colonel's Cafe before branches start appearing in Tokyo. KFC does have at least one guaranteed income boost coming up next month. KFC is actually most popular in Japan at Christmas, where everyone lines up outside in the cold to get chicken on Christmas Eve.